INTERVIEW
By Peter Staunton
Though he was an established Ireland international, as well as a League Cup winner who worked under the legendary Brian Clough, Dave Langan was nonetheless ill at ease during his playing days.
"You see clubs going into administration almost every week; that was the reality we all faced back then. You never knew if you were safe or not," he admits in his forthcoming book
Running Through Walls
.
Jack Charlton scandalously extinguished his international career while a succession of injuries, attributed to the famous night in 1981 when Ireland defeated France in Dublin by a score of 3-2, eventually, excruciatingly curtailed his time on the club scene.
His immediate post-playing days were generally spent off the radar as he worked to overcome difficulties in his personal life.
An encounter with author Trevor Keane, however, prompted the genesis of the idea which eventually became
Running Through Walls
, and the once-reticent full back is again happy to step into the spotlight.
A full-blooded, renowned defender who marked Diego Maradona once upon a time at Lansdowne Road, Langan eventually found himself working as a car park attendant in Peterborough, where he finished his playing days in front of intolerant crowds, oblivious to his increasingly debilitating injuries and mounting financial concerns.
"I played during the 1980s, which was a dark time in England, the country was in a recession and there was not a lot of money around the place," he says in the book.
"When I finished as a footballer, there was no big insurance pay out; I had nothing. They would be shouting at me 'Look how far you've fallen'.
"I must admit I did feel embarrassed by it all but I needed the job, I had bills to pay and it was better than the dole."
So how did it feel, after the years out of the limelight, to take his first steps towards re-acquaintance with the public?
"I'm comfortable with it now," he told
Goal.com
. "The Twitter thing got me up and running. Trevor [Keane] got me on that to get me back in the public eye.
"And I've had loads of phone calls and interviews and I've been on the radio a lot so I've got back in now and I'm comfortable. I was very nervous to start with but I've got back into it now and I feel OK about it."
With the help of Keane and an Ireland fan in Dublin by the name of Con Meehan, Langan did indeed manage to 'get back into it'.
Upon hearing of the plight of one of Ireland's most dedicated servants, Meehan set in motion a chain of events which culminated in a Testimonial Dinner in 2008, as well as
Running Through Walls
, due out next week.
"Trevor rang me over a year ago to talk about the book
Gaffers
and he asked me for some quotes for that," Langan recounts.
"Then Con Meehan, who is in with the You Boys in Green group, spoke to Trevor and said 'Would you not do a book with Davy?' Trevor said, 'I don't know, we'll see'.
"Anyway, he changed his mind and he rang me and said 'I'll come over and see you'. So he flew over here and came down to the house and we had a chat. He had three or four hours of conversation with me and went away and then we decided we were going to go ahead with the book.
"We worked very hard on it and there were times when we were thinking we were going to call it a day but thankfully it's all come through now."
Keane collaborated with Alan Conway and gathered the testimonies of people within the game to paint an intimate, honest picture of Langan, with no figurative stone left unturned.
"It's about my life. It's my autobiography. Trevor's got other people's interviews in the book, and Alan Conway, the other co-writer.
"It is about the ups and downs I've had and just an honest opinion about where my life went."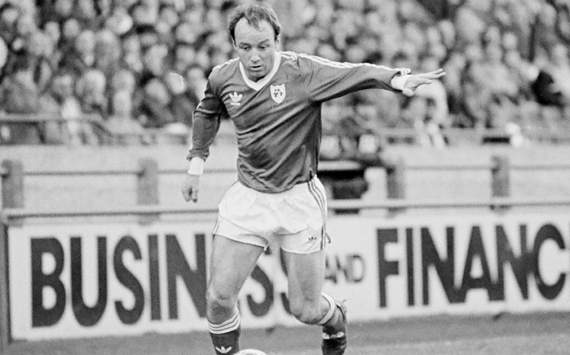 Running through walls |
Langan
in his Ireland pomp
Those 'honest opinions' include his account of being dropped from the final Ireland squad for Euro 88; a watershed moment in Irish football, considered 'Year X' to many fans who first saw the team on the big stage in West Germany.
Langan would play no part in one of the defining moments in Irish sport, jettisoned at the last minute by Charlton. Despite playing four qualification matches en route to the Championship, the phone never rang. He discovered his fate second-hand.
"A time in my life when I was on the cusp of something brilliant only to have it snatched away from me," he recalls in the book.
Chronic knee pain eventually would necessitate eight operations as the warmth of his playing days fizzled out and the froid of a life without football set in. He needs two new knees now but can't afford to take the necessary time off work to go under the knife, he reveals in the book.
Arthritis, back pain which is a lasting reminder of the physical hardship endured in recovery from knee injury and estrangements from his family - "I've not been the best of fathers," he says in his dedication at the start of his book - left him a world away from marking Maradona at Lansdowne.
"We can but imagine the subsequent
loneliness
, the stark sense of being forgotten, that flooded through his days then as career and home life splintered into a thousand unhappy pieces," writes Vincent Hogan in the book's foreword.
But back he's come.
"We've had people on Twitter read it so far and said they've thought it was a great read," he says of the reception to his story. "That gives a bit of confidence for when we have the book launch later on."
The title of the book brings to mind the gritty aggression with which Langan carried out his football, especially in the green of his country, for whom he played 26 times. He would happily have played for Ireland for free, he says, and the recent issues surrounding Stephen Ireland, Darron Gibson and James McClean leave him lamenting the prevalent attitude on display from a younger generation of Irish internationals.
"It's a general thing now in football," he says. "Players can sort of say what they want and do what they want because there's so much money in it now.
"If you're on one hundred and something thousand a week, you're not going to miss that (international football).
"I think that it's a disease in football now that players seem to think they can do what they want. And it's sad because it's a great game and it's being spoilt a bit."
A great game it may be and it gave Dave Langan his living for a while. But it left him broken. He's back on his feet now although the knees aren't as steady as they were that day he went steaming into a certain Argentina number 10.
'Running Through Walls' is available now for pre-order, priced £12.99, and will be on sale the first week of October. The Kindle version can be downloaded now.