COMMENT
By Brendon Netto
Marquee signings are a way of life for the biggest football clubs on the planet. Not only do they need top quality on the pitch to give them that extra edge but they also need marketable commodities off it. A high-profile signing helps expand their fan base, sell more merchandise, please existing sponsors and attract even more.
However, Real Madrid stand alone in their obsession with signing 'Galacticos'. Buying the world's most renowned players has become part of their philosophy. They have made a habit of coveting the most expensive toy in the shop window. Such is their fascination with the seemingly unattainable that they often prioritize the most sought-after player ahead of the practical option.
That's precisely what happened when the Liga giants shelled out a massive €81 million for Colombian sensation James Rodriguez this month. While the youngster lit up the World Cup with his stunning performances, he was virtually off the main circuit with Monaco and the hype surrounding him had been minimal in truth prior to the tournament.
A STAR TURN | James salutes all four corners of the roaring Santiago Bernabeu
Yes, he is a truly gifted player with fantastic potential but the way his market price shot up after six games is a little absurd. What are the odds that he was on Madrid's radar before his displays in Brazil? Slim to none. But now that he's the flavour of the month, they just had to have him.
Of course, there is not much wrong with that approach. They managed to land Cristiano Ronaldo the year after he won the Ballon d'Or for the first time and results since speak for themselves. Their persistent courting of Luka Modric and Gareth Bale paid dividends, too, and imagine their delight when they were able to recruit one of Germany's best in Toni Kroos for around just €25 million fresh from his World Cup win.


"It took me by surprise that they bought James when they already have Isco, who is young, can score and who can make an extra man on every inch of the field."


- Robert Jarni

However, in James' case, one can't help but think that Madrid's vanity blinded them to their priorities. The Golden Boot winner has been graced with the No.10 shirt at Santiago Bernabeu but attacking midfield is hardly the area that the team needed to bolster.
"Madrid have two great offensive midfielders in Isco and James - it will be very interesting to see how they will line up," former Madrid defender Robert Jarni told
Goal
.
"It took me by surprise that they bought James when they already have Isco, who is young, can score and who can make an extra man on every inch of the field."
With Karim Benzema never quite living up to his billing and Alvaro Morata off to Juventus, what the champions of Europe really need is a striker fit to spearhead an illustrious attack that includes Ronaldo and Gareth Bale.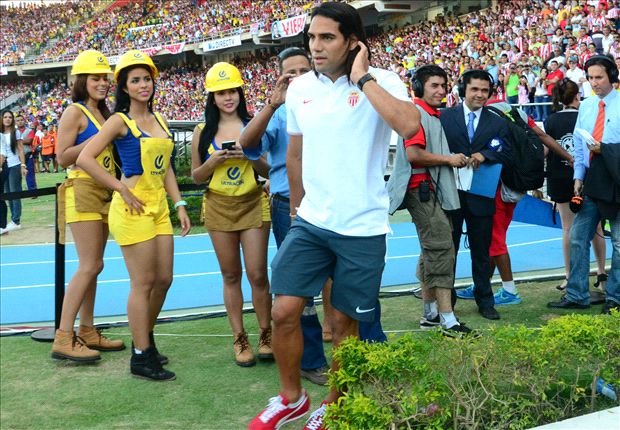 A GALACTICO IN THE MAKING? | Falcao receives a star's reception at the Emirates
For a long time Radamel Falcao was touted as the perfect candidate. Over four seasons with Porto and Atletico Madrid, the striker plundered 142 goals in just 178 appearances. He got off to a decent start to his career at Monaco as well, scoring 11 times in 19 games, but was ruled out for six months in January due to a knee injury.
Ironically, Falcao's set-back kept him out of the World Cup and allowed James to flourish with the spotlight all to himself. But a front three of Falcao, Ronaldo and Bale would be just what Madrid need to take them to the next level.
Last season, Carlo Ancelotti's troops stumbled towards the end of the league campaign when Bale and, more importantly, Ronaldo got injured. They finished just three points behind champions Atletico and if they had had a prolific striker they may have clinched an historic treble.
Benzema simply hasn't matched up to the quality he has around him. He has a tendency for being wasteful in front of goal. While Lionel Messi and Diego Costa missed 22 big chances each in the league last season, they made up for it by scoring 28 and 27 goals respectively. Benzema missed 21 big chances but only scored 17, 12 of which were clear-cut opportunities.
His link up play has always been good and his performances last term endeared him to many of the Madrid faithful as the 'BBC' link was fondly spoken of. But Madrid need an out-and-out goal scorer. Had it not been for their infatuation with James, they may have considered a move for Luis Suarez more seriously as well.


"It's a pity we lost James but we can count on Falcao staying. Regardless of what people say, he's our player."


- Jardim

What they need now is Falcao. James could well be a great signing but the fact is he wasn't a necessity, not with Isco, Modric and now even Kroos in the squad. While it's naturally dicey to buy a player who's just recovering from a six month lay-off, Falcao's track record speaks for itself.
Furthermore, the Colombian is a marquee signing in his own right. His stock may have dipped while he's been out of action this year but that's what makes taking a gamble on him a worthwhile risk. Madrid may be less enchanted at present due to his lengthy absence but it also means several million euros have probably been shaved off his market price at the moment - despite Monaco's insistence he will not be sold.
"It's a pity we lost James but we can count on Falcao staying. Regardless of what people say, he's our player. He's in the final stages of his recovery and he'll be with us this season," coach Leonardo Jardim said this week.
With Barca winning the race for Suarez, Falcao must now become Madrid's priority. At 28, he is fully matured and in his prime. If they're going to sign him, they must do so now, while he remains at potentially the peak of his powers. The only question is whether or not he still retains the allure to draw them in.