By Enis Koylu
For a long period of his career, it looked like Cesc Fabregas would be defined by two clubs. Educated at Barcelona and refined at Arsenal, he left the Emirates a hero to return to his boyhood team, where, in his own mind, he could cement his reputation as one of the world's finest playmakers.
A Catalan by birth and a fan of the Blaugrana, he would hone his skills alongside some of the best players of his generation such as Xavi and Andres Iniesta and become the eventual successor to Barca's No.6 in their famous midfield.
Crucially, too, he would add some medals to his collection, having won just one FA Cup during his time in north London.
Throughout his time at Arsenal, he was stark in his desire to represent the club he grew up loving, though there were many arguments against leaving the Gunners. There, he was the youngest captain they had had since Tony Adams and had a team built around his qualities. At Barca, he would be just another star face, well behind others in the pecking order.
Nonetheless, after many summers of wrangling between the two clubs, he finally got his move to Camp Nou. And, at first, it looked like a masterstroke from the Spanish giants. Fabregas started his Liga career with a string of goals and proved himself to be capable of playing a variety of roles.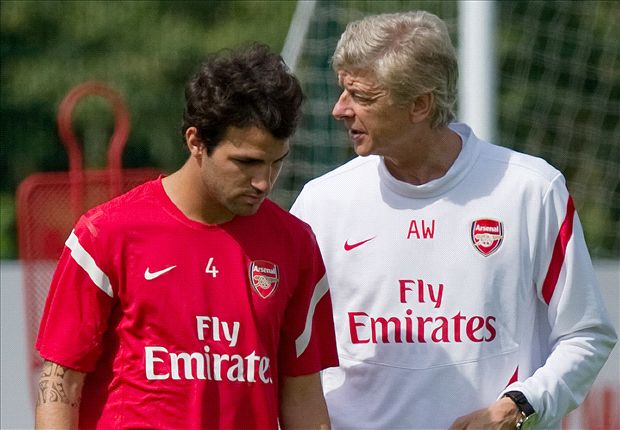 Father Figure | Fabregas is full of admiration for Wenger - but the Frenchman turned him down
The 24-year-old had used his unveiling at Camp Nou to pay tribute to Arsene Wenger, whose stubbornness during the protracted transfer process had come in for criticism from the Catalan press. "Were it not for him, I wouldn't be here today living my dream and I have to be grateful to him. I'll never have enough words to describe what I think about Wenger."
He voiced his optimism for how his old club would fare in his absence, adding: "Jack Wilshere will be the next England captain in a few years. He'll go on to be a top player of the future. Aaron Ramsey will become a big star. They are the future. They will be amazing for the club."
Just four months after he moved to Barcelona, he revealed that were he to leave Camp Nou, he could only envision himself returning to his old home. He may have departed, but his love affair with the Gunners had far from died.
Three years on from his move and things had turned sour. Booed by sections of the crowd at the tail end of the 2012-13 campaign, he was closely linked with a move to Manchester United, but the Spaniard resolved to fight for his place at Barcelona.
He insisted all along that a transfer could not have been further from his mind and he failed to speak out because it was never an issue, but the dye had been cast.
After a promising start to last season, his form fizzled out once more and questions over his future persisted. As recently as October, he was waxing lyrical about a potential return to Arsenal. "They are in my heart and always will be. It's a club that is always going to be there and will always open its doors to me."
But he was wrong. His third season with Barca proved to his last and he quickly went about looking to seal a transfer back to England. Arsenal had first option to sign him, but having brought Mesut Ozil in his preferred position as a No.10, decided that their money could be better spent elsewhere.
He eventually decided on a move to Chelsea that will undoubtedly be the cause of much consternation among Arsenal fans but his post-transfer statement was telling. "Everyone knows that Arsenal had the first option to sign me. It wasn't meant to be. I wish them well in the future."
Had he resolved to leave Camp Nou last year, his old club would have jumped at the chance to sign him. "Fabregas is an exception that I would try again, a world-class player you don't easily find," Wenger said in January 2013.
Whether right or wrong, Wenger chose not to bring home the Spaniard and Fabregas, ironically, will rebuild his career at the arch rivals of a club he loved so much.
Had he never left Arsenal, he would still be the skipper, a living legend and coached by his beloved Wenger. Instead, he has to prove himself away from one of the clubs he holds so dear.