SPECIAL REPORT
By Simone Rovera & Robin Bairner
It's late, but at 28-years-old
Yohan Cabaye
has finally arrived at a top club in the form of
Paris Saint-Germain
. Laurent Blanc won the tussle with the board over signing the player, aided by the inability of the club to secure the players considered priorities for the future: Paul Pogba and Miralem Pjanic.
Wednesday's arrival of Cabaye provides PSG with additional solutions in midfield but also raises many questions. The first, which is of course the most interesting, is his status with a team that wants to dominate Ligue 1 and dreams of winning the Champions League.
Will he start or be a replacement? And if he becomes a starter, who will drop out?
Traditional footballing cliches such as 'nobody is guaranteed to start' or 'everyone must fight for his place' are still valid in general, but at a big team such as PSG there are certain players who are exempt: Zlatan Ibrahimovic, Edinson Cavani, Thiago Motta and Thiago Silva will always have their places.
Italy international Motta, for example, will not be dropped: he has been too effective on the field, too influential in the dressing room and too impressive since the beginning of the season. He may benefit from a modest rest during the busiest periods, but he remains an indisputable starter at PSG.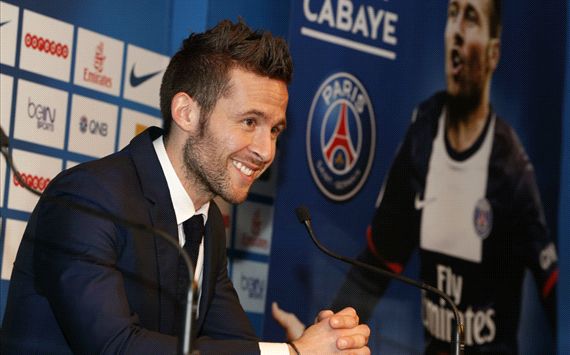 Calling a Cab | The midfielder is one of PSG's most expensive recent additions
Cabaye arrives in Paris as the fourth-choice midfielder and will battle for his starting spot with Blaise Matuidi and Marco Verratti. If Blanc chooses a midfield favouring technical qualities, similar to Barcelona, then Matuidi risks being dropped to the bench.
PSG president Nasser Al-Khelaifi said on Tuesday there were three reasons for the arrival of Cabaye
, including his French nationality, so we can imagine that the combination of the former Lille man and Matuidi might be quite attractive. In this case, Marco Verratti might end up on the bench because his style is similar to that of the new recruit who has, in addition, a powerful shot and an ability to score several times per season.
But for today's starters, there is not too much to worry about. Other major European clubs boast several midfielders who all get enough playing time, even if the competition is fierce. Barca, for example, have five players who have nearly all played between 20-30 matches this season: Sergio Busquets (24) Alexandre Song (19), Cesc Fabregas (29), Xavi (25) and Anders Iniesta (26). At Juventus, Pogba and Arturo Vidal have played 28 matches, Claudio Marchisio and Andrea Pirlo 21.
The only certainty is that the two players who will fall down the hierarchy are Adrien Rabiot and Javier Pastore, who was hoping that January might provide him with a huge chance to regain his place in the team.
For the first time, Blanc's PSG have signed a player eagerly sought by the coach but not necessarily by the dressing room. Cabaye may rely on a group of French players, who he works alongside in the national side, but his integration may be complicated by the fact that he arrives as a real competitor to certain stalwarts.
Some key players are not convinced of Cabaye's usefulness and would have preferred Pjanic. That does not mean the squad is totally against the signing, but the player must show his abilities in every minute of each game. Simply being Blanc's 'chosen one' is not sufficient to take a place in one of Europe's most successful sides any longer.
Signed for between €20-25 million, the France international is one of the most expensive signings in the recent history of the club, after Cavani, Pastore, Lucas Moura, Ezequiel Lavezzi and Marquinhos. But in Paris, the size of the deal certainly does not guarantee a starting berth - something three of the above can attest to.
For their part, Newcastle can feel they have made a good deal. At 28, without any truly significant medals, Cabaye was certainly not undervalued. Acting PSG sporting director Olivier Letang saw the risk of Roma and Juve increasing their valuations of Pjanic and Pogba respectively this summer, and that is why the French side have spent such a sum in January.
The final question to be asked concerning the arrival of Cabaye is why Paris preferred to sign the player at the very end of the transfer window, while the club knew there would be seven matches this month. The results of the last two games, in which the loss of form of some players has been rather obvious, may cause PSG regrets at the end of the season. The
faux pas
in Guingamp may not have any impact in Ligue 1, although their advantage over Monaco is now only three points; but defeat against Montpellier in the Coupe de France cannot be corrected.
Now what matters is Cabaye's play. If he manages to show the same qualities he did with Newcastle at one of the biggest clubs in the world, then the choice of Blanc, Al-Khelaifi and Letang will be a winning one.