Goal.com correspondent Greg Stobart was quizzed about some of the deals that could take place this summer, including who Arsenal, Chelsea and Manchester United may bid for
It's that time of year again when transfer talk dominates conversation - and
Goal.com
offered readers the chance to gain the inside track on all the main stories of the summer by grilling correspondent Greg Stobart on Friday afternoon.
Click here for a full transcript of the Q&A
- here are some of the highlights:
Q: Who is Manchester City's next target is? - Zipped1 Greg Stobart:
"Manchester City's priority at the moment is to sign Alexis Sanchez from Udinese. Should they lose out to Barcelona, expect them to move on to Valencia's Juan Mata or Lille's Eden Hazard. Roberto Mancini also wants a centre-back and City have made initial contact over moves for Gary Cahill and Jan Vertonghen."
Q: Will Arsenal swoop for Karin Benzema? - Balthazar KloppersGS:
"Arsene Wenger is a known admirer of Benzema and he would like to add a top class forward to support Robin van Persie. But although Wenger will probably spend more money this summer than he ever has as Arsenal manager, a £25 million move for Benzema is not in keeping with his philosophy on transfers.
"Real Madrid are saying at the moment that Benzema will stay for another season and I think Wenger would prefer to buy a cheaper player who he can mould into a superstar."
Q: What are the chances of Spurs signing Diego Forlan? - Garion VincentGS:
"I think Tottenham have moved on from Forlan so it would have to be a deal that suits the club. He was one of Harry Redknapp's top targets last summer but after a poor season his stock is nowhere near as high as it was after the 2010 World Cup.
"At the age of 32 he offers no sell-on value, which does not suit chairman Daniel Levy's philosophy in the transfer market, while his wages in excess of £100,000-a-week are out of Tottenham's bracket.
"The only way it could happen is if Atletico Madrid sell Forlan on the cheap and the player is willing to take a drop in wages to return to the Premier League."
Q: Will Wesley Sneijder replace Paul Scholes at Manchester United? - Misheck Chilekwa

GS:
"Yes, I think so. He's been a target for the last two years and everything seems to be in place for it to happen this summer.
"Manchester United are desperate for creativity in central midfield and Sneijder is extremely keen on a move to Old Trafford this summer. The £30-35m fee should not be too much of a problem for United given the way they are spending, but Sneijder will have to accept a cut in his wages of £170,000-a-week after tax. Chelsea are also interested."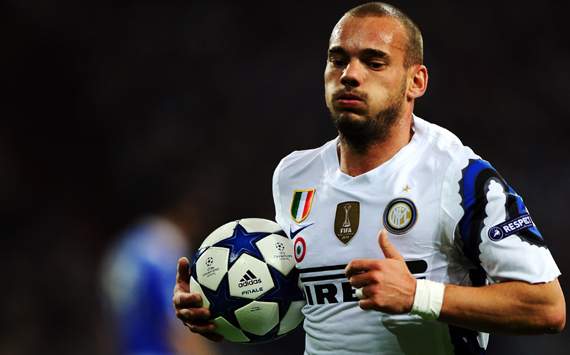 On his way? | Sneijder could be the man to replace Scholes at Old Trafford
Q: Will Radamel Falcao follow Andre Villas-Boas to Chelsea? - Poffy OguejioforGS:
"It is likely that Chelsea will sign Radamel Falcao – but it is not as certain as some may think. Roman Abramovich will want to back his new manager and Villas-Boas will want to show he's the boss, so for that reason it makes sense.
"It is also no problem for Chelsea to meet the €30 million (£26.5m) buyout clause in his contract and the player has made it clear he would like to move to Stamford Bridge. As brilliant as Falcao is in front of goal, Chelsea don't really need him as they already have loads of strikers and his style does not make him an obvious partner for Fernando Torres.
"Real Madrid, Arsenal and Tottenham are also interested – and the word in Portugal is that his agent, Jorge Mendes, would like to broker a move to Madrid."
Serie A expert Kris Voakes will be in the hotseat on Tuesday at 2pm (GMT) to answer your questions on transfers in and out of Italy.