*Further developments expected in next 48 hours
*No showdown talks expected as Wenger is overseas
*Spanish ace does not want 'convincing' of summer strengthening

Cesc Fabregas
is preparing to fly back to London today ahead of a critical 48 hours of soul-searching about whether to make the switch from
Arsenal
to
Barcelona
,
Goal.com UK
has learned.
The midfielder has told friends that he will mull over his future when he returns to England from Spain and could even make a decision in the next two days.
Barcelona today claimed that Fabregas wanted to move, suggesting that Arsenal were resisting talks. Commenting on the club's moves for Valencia's David Villa and Fabregas, Barcelona vice-president Rafael Yuste said: "Negotiations are progressing well, especially in the case of Villa.
"The situation with Cesc is different, because even if you have the will of the player, it's important to talk to the club and if you can, find an agreement. But what makes it easier is that both players want to come to Barca."
If the ash cloud that has caused flight restrictions across the UK does not force him into a rethink of his travel plans, Fabregas will return for treatment on the crack in his fibula that forced him to miss the last five weeks of Arsenal's season.
Yet it is understood that there are no immediate plans for Fabregas to hold showdown talks with manager Arsene Wenger, who is currently overseas.
Instead, the Spaniard will begin some agonising as he weighs up his loyalty to Arsenal and Wenger, who provided him with the platform to build a glittering career, and his desire to return to his boyhood club Barcelona and win the trophies that he fears could be beyond the Gunners' reach.
Arsenal remain confident that Fabregas, who is contracted to the club until 2014, will give assurances that he will remain at Emirates Stadium for one more season.
Yet there is a growing acceptance in north London that the 23-year-old is 'wavering' in his commitment to the club where he made his debut at 16.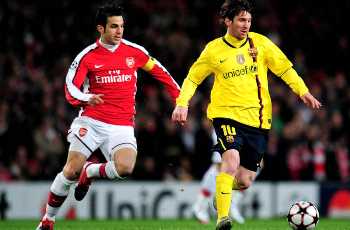 Heading home? | Fabregas tempted to join Messi
The midfielder confirmed last week that he wants to play for Barcelona, who won a second consecutive League title at the weekend, "at some stage".
He insists he wants the situation resolved before the World Cup finals begin, although Nou Camp sources say a deal is unlikely to be completed until after the Barcelona presidential elections on 13 June.
Fabregas, who was named in Spain's initial 30-man squad for the World Cup last week, is due to meet up with the his national colleagues on Monday week.
Arsenal accept that the player and his camp are not attempting to force the club into handing over an improved contract.
Fabregas' indecision is not about money. As
Goal.com UK
revealed last month, in the 2008-09 season Arsenal handed Fabregas a £3 million 'golden handcuffs' payment and upped his wages by nearly 50 per cent to £110,000-a-week to keep him at the club.
The player, who said in a recent interview that he has just had his best-ever season, believes he is approaching the half-way point of his career and wants to spend his peak years with a team that has a realistic chance of winning major silverware.
Wenger's failure to commit himself to an extended contract beyond the end of his current deal, which finishes next summer, is also believed to be a factor in Fabregas' uncertainty.
It comes amid reports today that the Barcelona board have given the green-light to an official move for Fabregas. Manager Pep Guardiola is reportedly also prepared to offer Yaya Toure in part-exchange for the coveted playmaker.

Become a fan of Goal.com UK's Facebook fan page for all the latest news and insight into everything related to the beautiful game!