COMMENT
By Kris Voakes | International Football Correspondent
After Juventus were eliminated earlier in the day, it was AC Milan who saved Italian football from experiencing a Black Wednesday in the Champions League, while Napoli were left to rue their bad luck despite a 2-0 victory over Arsenal at the San Paolo.
It was the cruellest of outcomes for the Neapolitans to go out of the competition on 12 points, while the same could have been said of their opponents had they suffered the three-goal defeat that would have seen them eliminated.
From the opening moments it was clear that the Partenopei were going to look to Marseille to do them a favour rather than go all-out looking for a three-goal victory. It might have been a risky tactic, but then so would leaving their centre-halves exposed as they sought a sizeable lead.
As it was, they still made enough chances to overturn Arsenal's advantage, with Christian Maggio and Pablo Armero both squandering great shooting positions before Gonzalo Higuain spawned the best opening of the night.
The Argentine didn't remain the villain for long though, taking Jose Callejon's pass and turning superbly to net the only goal of the game in the 73rd minute. He may have missed some big chances at crucial moments during this Champions League campaign, but he had delivered when Napoli needed him most - at least so it seemed at the time.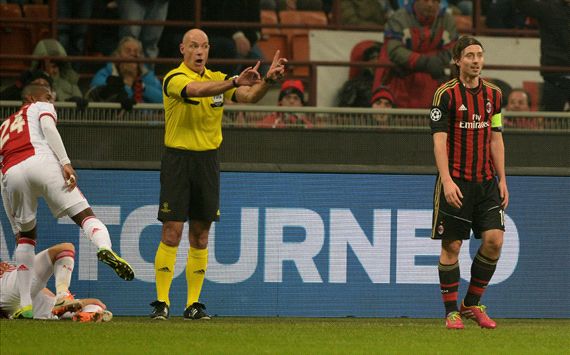 Marching orders | Montolivo trudges off after seeing red
Kevin Grosskreutz's late winner for Dortmund in Marseille spelt disaster for Rafa Benitez and his side, with Jose Callejon's injury-time goal being too little too late. Napoli go out with the rather unwanted distinction of being the most over-achieving losers in the competition's history. Four wins in six proved futile. Napoli earned more points than every other second placed qualifier, except Manchester City, and tallied the same number as two group winners.
At the other end of the scale were Milan, who not for the first time in recent history sneaked through to the last 16. They left it later and closer than even they have become used to, but just about got the job done after seeing out the final 68 minutes of their clash with Ajax with 10 men following Riccardo Montolivo's deserved red card.
Having offered up a fantastic chance to Christian Poulsen from an early corner and been left thankful for the intervention of the far post, the Rossoneri tightened up considerably after Montolivo's ridiculous late challenge on the Danish midfielder.
By full-time, Ajax had had more than 20 shots but never looked quite capable of breaking down Milan's resolute wall. The Rossoneri made it through thanks to sheer will rather than any kind of style, while the Dutch outfit will surely think about the late, late concession of a dubious penalty in Amsterdam when they are asked where it all went wrong for them.
Coach Frank de Boer claimed afterwards: "We had some chances, but unfortunately anti-football won... They stalled for 20 minutes, but there was only five minutes added on." He was wrong, but it was clear that he was frustrated his side hadn't managed to find their way past a side they had every chance of beating.
Milan were probably the second-best team in their group, but not by much. Just as with Galatasaray, Zenit St Petersburg and others, they made the most of getting an extremely favourable draw. Their form in Serie A, where they currently trail Genoa, Torino and Verona among others, has been mediocre at best and does not smack of a Champions League last-16 side. Between Milan and Napoli, Italian football fans were reminded that it is results that count. Results, and a little bit of luck.
Monday's draw will feature one Italian club. It won't be the current champions, nor the team who racked up 12 points in one of the competition's toughest ever groups. Instead it will be a side who lie 22 points off the top of Serie A and have beaten only Celtic during their Group H campaign.
Football is not always the winner.