COMMENT
By Kris Voakes | International Football Correspondent
As Napoli face up to the mountainous task of beating Arsenal by three goals to progress from Champions League Group F, they can blame nobody but themselves for the position they find themselves in.
BVB put horror month behind them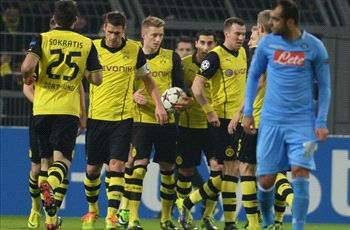 It's not been the greatest four weeks for Borussia Dortmund but a morale-lifting 3-1 win over the Partenopei will certainly banish the ghosts of their 3-0 home loss to Bayern Munich on Saturday. It will also help them overcome a terrible injury crisis.

It would have been unthinkable if last season's beaten finalists had gone out at the first hurdle this term but now they can breathe a sigh of relief, with their passage to the last 16 all but secure, and focus on another assault on Europe's biggest competition.

No one will want to play Dortmund in the knockout rounds.

Enis Koylu
Yes, they could very well collect 12 points from the so-called 'Group of Death' and still be eliminated, which is pretty tough luck. Yes, their fate has partly been conditioned by small moments which might have gone another way, such as Juan Zuniga's fluke late own goal against Borussia Dortmund, or Arsenal's smash-and-grab win in Germany.
But when all is said and done it is poor decision-making which has let them down badly and is likely to see them fall at the first hurdle, with Federico Fernandez's man-handling of Robert Lewandowski paving the way for their crucial 3-1 defeat to BVB on Tuesday. The Partenopei had easily been the better side in the opening stages of the game, but once Marco Reus dispatched the spot-kick the visitors were always playing catch-up.
Fernandez is not the first player, nor will he be the last, to concede a penalty kick in such a fashion, but it seems as though Italian sides are most guilty of the trait. Referees in Serie A may well usually allow the free-for-alls that can occur in the 18-yard area, but when it comes to representative football in Europe, there is just no getting away with it.
After Stephan Lichtsteiner had taken a heavy-handed approach to marking Celtic's Gary Hooper last season, the Juventus defender was the subject of much fist-shaking across Europe. And the previous campaign had seen Alessandro Nesta penalised for a similar pull on Barcelona's Sergio Busquets as AC Milan relinquished the advantage in their quarter-final on the way to eventual elimination.
One would like to think that this latest misdemeanour from Fernandez will catch the attention of defenders across Italy and that the eventuality will not arise again, especially given how vital this incident is likely to be in the final group standings, but that remains wishful thinking at this stage.
Napoli will be victims in the Group of Death simply because they played with fire and got well and truly burnt.
Follow Kris Voakes on