COMMENT
By Kris Voakes | International Football Correspondent
Luiz Felipe Scolari wasn't exactly the obvious choice to take the Brazil national team job earlier this year, and nor was he much of a fashionable selection in many people's eyes. Compare his appointment, though, with his decision to bring struggling AC Milan forward Robinho back into the Selecao ranks and it suddenly seems like the most forward-thinking masterstroke in football history.
Robinho has scored just four Serie A goals in the last 18 months. Beyond a penalty against Juventus last November, the only other teams he has netted against in that time are Torino, Bologna and Cagliari. Throw in the goal he scored recently against Barcelona in the Champions League and that makes five in all competitions - in 43 games.
'ROBINHO RETURN AN ACT OF DESPERATION'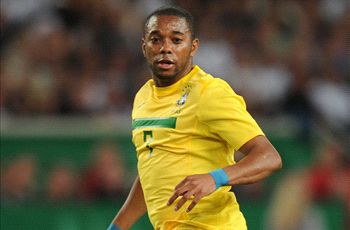 THE BRAZILIAN VIEW ON ROBINHO

"Felipao has made it clear that his priority is to form a group of experienced, strong-minded players, and while he has called up Bernard and Lucas Moura, mostly what he is looking for is to reproduce 2002. It's why he's brought back players such as Julio Cesar and Robinho, and why he overlooked Diego Costa while giving a chance to Pato, who has been less than remarkable this year.

"Having said that, Cruzeiro's case is very specific. They were not amongst the favourites before the season started, and their players were not considered special. Rather, players such as Nilton, Ceara, Borges, Willian, Egidio and Souza were deemed to be past their best and unreliable. But the team is really good as a whole, without many individual talents shining. Fabio's exclusion is probably the most debatable one. He has been amongst the very best keepers in the country for quite a while, even back when Cruzeiro weren't doing so well, but for some reason all the national coaches seem to overlook him.

"Robinho was probably a case of desperation more than anything. There were some players that were left out of the squad because their teams are involved in either title, Libertadores or relegation fights. That might have been the reason why we didn't pick Everton Ribeiro and Fabio, at the very least, in the latest squad."
Marcella Martha | Goal Brazil
When he was last in the Selecao set-up, he'd just finished alongside Zlatan Ibrahimovic and Alexandre Pato as Milan's top goalscorer in a Scudetto-winning campaign. His 14 goals in 34 games during the 2010-11 Serie A campaign had been crucial in the Rossoneri's triumph, but, since then, he has slumped back into the kind of form that saw him fall off the radar at Real Madrid and quickly lose his star status at Manchester City.
Last weekend's bore draw at Chievo summed up Robinho's last two years in microcosm form. Not considered good enough for a starting shirt against the league's bottom-dwellers, he came on for the final 25 minutes, hit the post with a one-on-one which seemed impossible not to score from and failed to beat the first man when Milan needed him to deliver a half-decent corner late in the game.
From his first-season form of 14 in 34, his return of five in 43 is a fair reflection of just how badly things have gone awry for the 29-year-old. While his strike against Barcelona gave some a momentary hope that the old Robinho may return, any belief that he can be as valuable again has quickly been dispelled.
His complete no-show in the return game of that Group H fixture was a case in point, with a half-time substitution coming as an act of mercy after a non-existent 45-minute performance. It was a reminder, too, that his most memorable contributions on the big stage in the last 30 months were a pair of indentical blasts into the crowd from open-goal chances against the Catalans in the Champions League.
Scolari insists that Robinho could still offer great value to the Brazilian national side. "He can play as the false No. 9, or on the right or left," he said when announcing Robinho's call-up.
"He has played in two World Cups. It's important at this time to give him the opportunity and see how he's going to fit in and show the spirit we want."
Clearly, Scolari is banking on his experience being the most important addition to a squad that has a big burden to shoulder on home turf next summer, but what benefit is his experience if he can't even use it to positive effect against the Parmas, Chievos and Udineses of the world? How will he manage to deliver any telling displays in the famed yellow shirt if he's only seen out a full 90 minutes for the struggling Rossoneri five times since May 2012? So low had Milan's belief in Robinho become last summer that they tried their hardest to sell him. The only reason he remains on their books is that there simply wasn't anybody interested in buying him.
His selection for the forthcoming friendlies should really be the last we see of Robinho in the national setup. Cruzeiro's league-winning squad somehow remains unrepresented within Felipao's panel and a man currently acting as reserve for a team sitting four points above the Serie A relegation zone is getting a look-in ... it really doesn't make a lot of sense. If this were a league competition, Brazil would be deducted points for fielding a weakened team.
By sticking with names he knows, Scolari has so far made a success of his return to the national role; the Confederations Cup triumph was built on a solid base of experienced players he had a fair idea would be able to handle the considerable weight of expectation. But come the World Cup, the need for quality will be cranked up a notch, and Robinho simply hasn't been able to produce the necessary level of performances that would be needed since last he was a Brazil regular.
If he is to win the World Cup for a second time, Scolari will need to bite the bullet and put some more faith in the very best players he has to call upon – whatever their age or level of experience – and Robinho is just nowhere near that bracket.
Follow Kris Voakes on