There are a few
Goal.com
rules that should never be broken. Never talk about politics, never mention Calciopoli to Inter fans, never make fun of Arsenal for fear of the website crashing, never give Xavi a player rating less than 9 unless you want to destroy your journalistic integrity. And, finally, always make the Monday Calcio Debate about Inter, Milan, Juventus or Roma because no one will read it otherwise. Yours truly has decided to break the last of these unwritten decrees today, and hopefully it won't be as catastrophic as either a pre-2006 Inter Scudetto challenge or a Gael Clichy injury time clearance in Sunderland…Oops, another two laws violated.
Tiny little Cesena, playing in only their eleventh Serie A campionato and first for 19 years – having participated in the Lega Pro two years ago - have been the revelations of the new Italian season and are currently top of the table at the end of week three. The Seahorses are unbeaten and have yet to concede a goal despite travelling to Rome's Stadio Olimpico, and welcoming Milan to the Stadio Dino Manuzzi.
The magnificent work of one of Italy's most prodigious young coaches, Pierpaolo Bisoli, who masterminded the successive promotions to Serie A before taking over at former club Cagliari this summer, has been continued by new boss Massimo Ficcadenti.
The early success of Cesena has been down to a few factors. In defence, the Emilia-Romagna based outfit are organised and tactically smart. Roma struggled to penetrate the backline in the 0-0 stalemate, the mighty Milan frontline of Ronaldinho, Ibrahimovic, Pato and Robinho barely created a chance all game as they were shocked 2-0, while yesterday afternoon the team played with ten men for 52 minutes during the 1-0 victory over Lecce.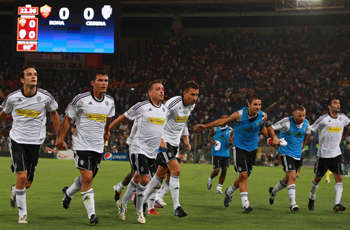 Cesena celebrate their draw in Rome

Former Milan and Roma goalkeeper Francesco Antonioli shows no signs of slowing down at 41, but the leader in defence has been Swiss centre back Steve Von Bergen, 27, who signed on a free transfer from Hertha Berlin in pre-season. The midfield has been solid and disciplined, with former Juventus schemer Stephen Appiah surprisingly rolling back the years having barely played at club level for what seems like an eternity.
But it is the three-man attacking trident, ably supported by left defender/midfielder Yuto Nagatomo, which has done all the real damage. Emanuele Giaccherini has been the star of these early weeks. Small, skilful, speedy, two-footed, with guile, awareness, balance and precise shooting, the 25-year-old has worked his way through the lower divisions and has now exploded onto the big scene. Giaccherini has already been compared by some to Barcelona hero Andres Iniesta. He ran rings around Roma's Marco Cassetti in week one, and repeated the trick against a host of different Milan full backs as Rossoneri coach Massimiliano Allegri repeatedly tweaked his backline in an attempt to deal with the diminutive forward.
After the Milan coup, the 5ft 5in wizard – who didn't even possess a Wikipedia page up until last week – declared that he "was watching Zlatan Ibrahimovic on television two years ago". But he also added that he "fears no one". Which really sums up Cesena as a whole – they really believe in themselves. The left hand side is certainly the outfit's strong point. Japan's equally miniature World Cup 2010 star Nagatomo – who arrived on loan in the summer from FC Tokyo – has also been superb. The 24-year-old is equally impressive going backwards and forwards, and is like a little bumble bee as he never stops running from the first whistle until the last.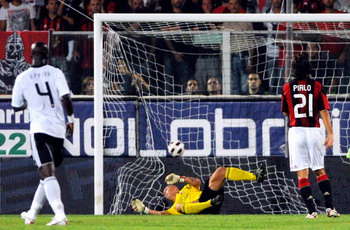 Appiah watches as Bogdani's header beats Abbiati
Alongside Giaccherini in attack is Ezequiel Schelotto on the right hand side. The Argentine-born Italy Under-21 international is an unorthodox wideman with an awkward playing style. He possesses a peculiar blend of strength and technique, and has also been causing left wingbacks all kinds of problems this term. In the centre is the veteran Albania journeyman Erjon Bogdani. The 33-year-old has been a tower of power in leading the line, hitting the winner yesterday and scoring one and making the other for Giaccherini against Milan. Bogdani has been a major surprise thus far, although it is questionable if he can keep this form up as he scored just 17 goals in his last five seasons prior to this one.
So there you have it. Not your usual Calcio Debate on this Monday morning, but then again Cesena are not your usual Serie A leaders so they deserve this five minutes of fame…and long may their fairytale continue.