COMMENT

By Mark Doyle
According to recent reports,
AC Milan
and
Juventus
have been locked in a tug-of-war for the services of
Didier Drogba
for some weeks now. That struggle is only likely to intensify in light of Thursday morning's
Champions League draw
.
The
Rossoneri
, of course, have been paired with familiar foes Barcelona, a daunting draw for a side who failed to beat the
Blaugrana
in four attempts last season. Given the fallen Italian giants have since been considerably weakened in the interim by the summer sale of their only two remaining world-class talents, (Stephan El Shaarawy is on his way, but not there yet), in Thiago Silva and Zlatan Ibrahimovic, it is fair to say that Barca will not exactly be dreading their return to San Siro. However, the arrival of Drogba, so often the
Catalans' nemesis during the veteran forward's glorious Chelsea career, would certainly give the tournament favourites plenty of food for thought.
The Ivorian, who is poised to part company with Shanghai Shenhua, is nearing his 35th birthday, but it was just eight months ago that he tormented Barca in the first-leg of an absorbing Champions League semi-final clash at Stamford Bridge, netting the only goal in a victory that laid the foundation for the Blues' wholly unexpected progression to the final. During his time at Stamford Bridge, Drogba, a powerful and potent predator with terrific technique, repeatedly proved a problem that Barca were simply unable to solve. Nothing has changed in the interim to suggest that he would be any less troublesome for the
Blaugrana
back four in this season's competition. The former Marseille man scored eight goals in 11 appearances for Shanghai and has been keeping himself in shape ahead of the African Cup of Nations by training at Chelsea in recent weeks.
Drogba's involvement in the AFCON is obviously a negative for any potential suitors, given he might not be available until just before the last 16 of the Champions League. He will not come cheap either. As evidenced by
the Super Bowl-style rings he recently bestowed upon his fellow Champions League winners at Chelsea
, this is a man of expensive taste. However, Milan, for one, are likely to find themselves in the rather unusual position of having cash to splash during the January transfer window, with the club expected to send both Robinho and Alexandre Pato back to Brazil.
Admittedly, at 34, Drogba does not exactly tie in with Milan's publicly stated desire to rejuvenate their squad. Indeed, Drogba cannot be considered anything but a stop-gap solution. However, as stop-gap solutions go, he is in a class of his own. As already alluded to, his wage demands will be exorbitant (believed to be in the region of €5 million per year plus bonuses) but the cost is offset by the absence of a transfer fee and his eligibility for the knockout stages of the Champions League.
Of course, that is precisely why Juventus are also in the hunt. The
Bianconeri
were touted as potential European champions before the season began, a status they have justified by eliminating the defending champions with a win over Shakhtar Donetsk that also saw them clinch top spot in Group E.
However, the very same reservations critics had about the Old Lady's dearth of prolific strikers remain very much in evidence.
The
Bianconeri
have averaged nearly two goals a game this season in Serie A, but those efforts have been shared about. Indeed, the Scudetto holder's top scorer is the only sporadically spectacular Fabio Quagliarella, who has just six goals to his name and is by no means a regular. Mirko Vucinic is the only forward guaranteed of his place in Antonio Conte's starting line-up - and yet the Montenegrin has netted just three times in the league. The last side to win the Champions League without a lethal finisher was Liverpool, all the way back in 2005, only serving to underline Juve's need to reinforce their forward line during the January transfer window.
Admittedly, Juventus have been handed a favourable draw, against Celtic, but Conte's men would be well served to sit down and watch the way in which The Bhoys frustrated the life out of Barcelona over the course of their two meetings in this season's group stage. The Scottish champions famously defeated the
Blaugrana
at Celtic Park, but they had also come within a few seconds of a deserved draw at Camp Nou. after doing an almost equally good job of nullifying Barca's much-vaunted forward line. In both games, Celtic shored up the centre of the park and invited the Catalans to go wide. The tactic worked a treat, given Barca's lack of a 'true nine'. Juventus could suffer a similar fate, but surely not if their rampaging wing-backs Stephan Lichtsteiner and Kwadwo Asamoah have a target man like Drogba to aim at.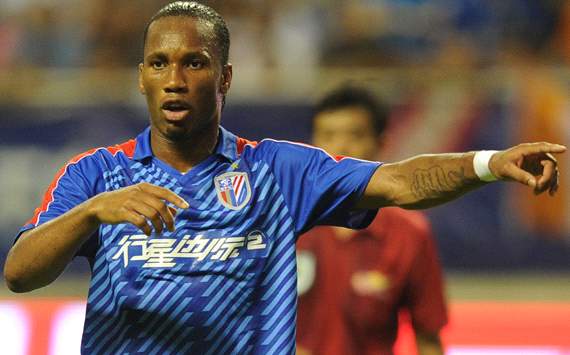 Devastating Drogba |
Both AC Milan & Juventus could benefit from his target man talents
Milan, of course, do not boast the same sort of width as
la Vecchia Signora
, and nor are they devoid of a natural goalscorer, with the aforementioned El Shaarawy having racked up 14 goals in Serie A this season. However, their attack is currently without a focal point and one imagines that El Shaarawy, who does most of his best work either drifting or cutting in from the left-hand side (witness his strikes against Lazio, Cagliari, Parma and Zenit St Petersburg this term), would prove even more productive if afforded the opportunity to feed off a forward as adept at holding the ball up as Drogba.
The
Rossoneri
are believed to also be keen on bringing Mario Balotelli back to Serie A, but to do so in January would be pointless, given he is cup-tied for the Champions League. The smarter move would be to meet Drogba's financial demands and let him lead the line against Barca. Should Balotelli arrive in the summer, one would hope that he would be willing to learn from the master.
Six months ago, Juventus erred horribly in making the "economical decision", as general director Beppe Marotta called it, by signing Nicklas Bendtner in a bid to bolster their attacking ranks. In January, they have the chance to put things right. As Marotta should well know, sometimes you have to speculate to accumulate.
Drogba may be ageing, and even fatigued after the African Nations Cup, but if Juve are in need of a goal in the second-leg of their last-16 tie against Celtic in Turin in February, who would they rather turn to - Bendtner or Drogba? The same goes for Milan against Barca: M'Baye Niang or Drogba? Both decisions are no-brainers.

As a forward, he has always had few equals; as a Bosman signing during the notoriously tricky January transfer window, he has none.