Werder Bremen edged Hamburg in the northern derby.
The returns of key figures Per Mertesacker and Claudio Pizarro catalysed Werder Bremen's 3-2 victory over Hamburg in tonight's northern derby. Before the game, coach Thomas Schaaf explained that his team's success was contingent on the form of the returning stars, who showed up at decisive moments as Werder took their first win in four matches.
A Marko Marin goal via a Guy Demel deflection put Werder ahead early, and Hugo Almeida doubled the hosts' advantage shortly thereafter. Ruud van Nistelrooy pulled one back after the break and levelled shortly after, but the instrumental Pizarro helped set up a late winner for Almeida. Van Nistelrooy had a chance to level late, but Mertesacker made an outstanding, last-ditch block to deny the Dutchman.
At the start of the game, Bremen coach Thomas Schaaf utilised an extremely aggressive 4-1-3-2 system, but Hamburg largely struggled to create opportunities. The visitors had just one good chance in the first half, but Ruud van Nistelrooy missed a tap-in after brilliant lead-up work by Ze Roberto and Marcell Jansen.
Hamburg were made to pay for their wastefulness just four minutes later, when they were caught out on the break. Claudio Pizarro fed a through ball to Marko Marin, whose chipped cross was deflected by Guy Demel into his ow net.
Three minutes later, Marin looked to have won two penalties after being felled by Joris Mathijsen and Tim Wiese in rapid succession, but referee Thorsten Kinhoefer waved play on. That did not stop Bremen for long; moments later, Aaron Hunt whipped in a free kick, and Hugo Almeida nodded in a second goal.
Having conceded twice in three minutes, Hamburg were stunned. They received a bit of good luck before the break, when Bremen fullback Clemens Fritz was forced to withdraw with an injury. Versatile playmaker Wesley moved into the right side of defence, which took much of the bite out of Werder's attack.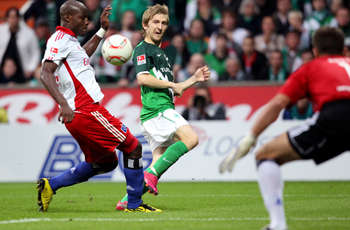 Hamburg were vastly improved in the second half, especially after Jonathan Pitroipa's introduction in the 53rd minute. The speedy Burkina Faso international injected much-needed urgency into the visitors' attack, and catalysed their comeback. On 59 minutes, he raced into the penalty box before squaring to Van Nistelrooy, whose effort deflected into the net. Minutes later, following a corner, Pitroipa collected the ball and blasted a brilliant effort inside the left post to level the score.
Both teams had chances late, but Bremen were just a touch sharper in front of goal. Almeida finished his brace following brilliant teamwork from Pizarro and Wesley, sealing three points for the hosts. Hamburg had a couple chances to level late, but Mertesacker's timely challenge on Van Nistelrooy, coupled with some questionable finishing, denied the visitors a point.
The result propels Bremen out of the relegation zone and up to 11th place in the Bundesliga table as they head into next week's Champions League clash with Inter. Hamburg remain seventh with eight points from six matches.