Los Che were left a little frustrated in the Champions League in midweek, so they'll continue their assault on third place with added determination...

Shop the latest footy kit
Don't Be Distracted
Valencia were held in European action this Tuesday night by Schalke, frustrated to a 1-1 draw by their German opponents after looking the more promising side for much of the match. While progress in the Champions League is of a high priority, it is also vital that Unai Emery's men ensure qualification for next season's top bracket competition, and to that end they'll seek three points at home against Sporting de Gijon.
Third place is very much up for grabs in the Primera Division, and los Che presently lead the way in the race, having overhauled Villarreal and pulled away from Espanyol, teams both ailing in the pursuit of a podium finish. Emery's side have been motoring along strongly in the league, winning seven of their last eight fixtures, but Tuesday's draw does leave them in a rather tricky position on the continent.
"We live on in hope. No way does this result mean the door is closed on our chances," goalkeeper Vicente Guaita explained after the midweek draw.
But Valencia cannot afford to be too distracted by the riches of Europe; their bread and butter remains La Liga, and after a fine 2-1 victory away to Atletico Madrid last weekend they should certainly be seeking maximum points.
While Emery's men can be amongst the most attractive to watch in Spain, they can also be one of the most frustrating teams too, as a lack of genuine killer instinct in their play renders many of their games tight. Los Che will seek a more comfortable passage than usual at the Mestalla this weekend.
Pure Gold
Sporting de Gijon may be one of a clutch of clubs hovering just above the relegation zone, but they should certainly not be dismissed before Saturday's fixture in Valencia. Recently, los Sportinguistas have been one of the most dangerous sides in the league, mustering a run of four successive victories prior to a defeat against Athletic Bilbao.
Another loss seemed inevitable when they hosted Barcelona last weekend, but despite commanding a meagre 24 per cent of the ball, El Molinon's finest made good use of their possession, striking in the first half through David Barral. They held on and held on after the break, but ultimately Barca's pressure proved too much and an equaliser was lost. Nevertheless, great heart can be taken from a promising display.
"For us the point is gold, and our recent performances have been much improved, but I tend to think that to play like that against the best team in the world should be worth a little more than a point," coach Manuel Preciado argued to the press. "We know that we will fight until the end, to welcome some of the smaller teams here and to also visit some of the great teams."
With only one win away from home all season, Saturday night's encounter in Valencia promises to be a very testing affair for the Asturians, but they will have gleamed a great deal of confidence from last weekend's result and should aim for at least a point against another one of Spain's best.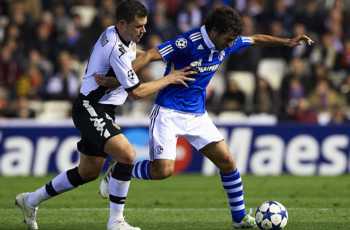 TEAM NEWS

Valencia

There have been no fresh problems reported after the midweek draw. David Albelda returns to the squad after a European suspension, but Marius Stankevicius and Miguel Moya continue to lie low.

Sporting
Manuel Preciado is reportedly considering a change of approach for this encounter, with as many as four switches in the first team squad. David Barral, last weekend's hero, is banned. Gregory Arnolin, who is just returning from suspension, is unlikely to break immediately back into the team, but Alberto Lora could feature. Sebastian Eguren should be involved after a shoulder problem.