Monday's encounter pits los Che against los Rojillos...
Competitive Against Anyone
The weekend's Primera Division action concludes with Valencia attempting to strengthen their push for a Champions League spot against Osasuna.
Going into the weekend, los Che sit one place behind Espanyol, who occupy the magic fourth spot, but the Mestalla outfit cannot hope to claim that prize from the Catalans immediately as there is a four point margin that first has to be bridged. Unai Emery's men will hope to take the first steps to doing that on Monday.
Over the course of the last week, los Che have been faced with two very testing matches. The first came away to Real Madrid and was largely a disappointing experience as Valencia failed to test the defensive solidarity of the rocking Blancos. Emery opted for a defensive approach and would be punished with a 2-0 defeat, albeit suffering only after David Albelda had been rather harshly dismissed.
Better would follow against Manchester United in midweek, when a 1-1 draw was earned at Old Trafford. Again this would be a performance tinged with some disappointment as the Spaniards were ahead but could not hold on.
"I clearly believe that Valencia are able to compete with anyone and play well at any field, as seen in our performance in Manchester," Emery explained to the media.
Los Rojillos are the challenge that has been next placed in front of los Che, so Emery's words will again be put to the test.
Split Personality
Jose Antonio Camacho's Osasuna side continue to be one-of the most two-faced in the league. A trip to the Reyno de Navarre is not a journey that many will relish, but equally hosting los Rojillos shouldn't prove to be too problematic given that they've earned only one point from a possible 21 on the road.
Even los Rojillos' terrific record at home wasn't enough to worry Barcelona last weekend as the defending champions romped to a somewhat flattering 3-0 success, despite something of an odyssey trying to reach the ground. Camacho praised the attitude of his players during that encounter, hoping that they can display similar resilience in future encounters.
A trip to Valencia doesn't promise a good deal for the Pamplona side, who were hammered 3-0 at the Mestalla last season. Camacho's men weren't a good deal better on the road last term, and failed to win a match on their travels apart from against the last four teams alphabetically in La Liga, who by some quirk of fate all went down against los Rojillos.
With a history of underachievement outside Pamplona, Osasuna cannot hope for too much against Valencia. Los Che can be erratic, and if their guests stumble into the kind of form that has seen them regularly impress at home then there is a slim chance of an upset.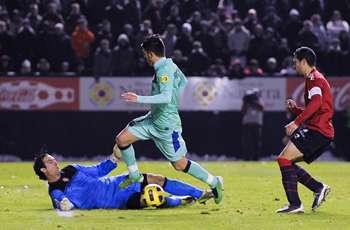 TEAM NEWS

Valencia


David Navarro and Cesar are both recalled, but Alejandro Dominguez, Mehmet Topal and Moya are injured.
Tino Costa and David Albelda are both suspended.

Osasuna

Damia, Ruper and Camunas are the three selection issues troubling the visiting sides.