Held by Rangers in midweek, los Che will be looking to swiftly get back on track domestically with a win over the Barralets...
Midweek Disappointment
Valencia lost the leadership of La Primera Division last weekend as they slipped to a defeat against Barcelona on Saturday evening and then suffered a further set-back in midweek when they failed to overcome Rangers in the Champions League, leaving them in need of a victory against the Glasgow club in a fortnight to kick-start their European campaign.
Coach Unai Emery certainly wasn't happy with what his side produced during the 1-1 draw in Scotland. "I could say the draw was a fair result but you have to be self critical," he told
The Sun
. "The truth is we didn't expect Rangers would create as many chances as they did.
"We did a bit better against them in the second half but Rangers still created chances. They hurt us. But we did get a draw and have the chance to put it right at the Mestalla."
Los Che cannot afford to look ahead immediately to that fixture. They are in the thick of a four-way battle for the leadership of the Spanish league and home fixtures against Mallorca and Zaragoza over the course of the next fortnight give them a very real chance to stay right at the sharp end for the time being.
If Valencia are to become a genuine third force in the long haul, it is matches such as this they have to ensure they win.
Ready To Rebound

It's not often that Mallorca lose at the ONO Estadi, but they slumped to a surprising defeat at the venue against Espanyol last weekend. The Balearic Islanders rarely got into top gear against their Barcelona-based opponents and deserved the defeat, which leaves them on eight points, away from the bottom three by only a couple of marks.
Coach Michael Laudrup has pinpointed an improvement in the club's away form as the biggest difference he can immediately make. Els Barralets were imperious on their own soil last term, but their dreadful performances on the road cost them the chance to seriously make an impression on the top four.
Having suffered the blow of being knocked-back from the Europa League this season due to the messy state of their finances, which have also forced them to lose several of last term's best performers, a scrap towards the foot of the table is more likely this term. That doesn't mean that they will accept defeats against the likes of Espanyol lightly.
"We are really angry to have lost to Espanyol, as this wasn't expected. We have to take the mistakes we made and learn from them before the next match," goalkeeper Duda Aoute fumed to the media at the start of the week.
It's not been an entirely negative week for Laudrup's men, as they have secured contract extensions for Kevin Garcia and Emilio Ensue. Mallorca will now want to cause a real stir by registering a win at the Mestalla, however unlikely to odds suggest it is.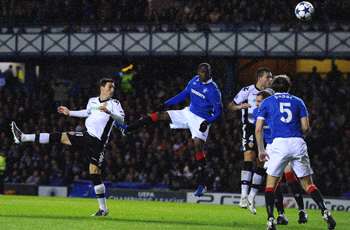 TEAM NEWS

Valencia
Marius Stankevicius was ineligible in midweek and comes back into contention for the weekend's fixture, but Joaquin, Miguel and Sofiane Feghouli are all expected to sit out once again due to physical complaints. No fresh worries have yet been voiced after the midweek Rangers clash.

Mallorca

Michael Laudrup has been focussing especially on his offence in training over the last week. The Dane will be delighted that he has a full panel of players available for this fixture.
Goal.com is proud to be a premier partner of Digg.com and as such is pleased to offer exclusive invitations to our users to become a participant in the Alpha launch of the new Digg.com. Click here for your access code for the alpha site - act now as invitations are limited!