The Barcelona striker put the Czechs to the sword with two second half goals...
A deadly double from David Villa handed Spain a 2-1 comeback win over Czech Republic in their Group I Euro 2012 Qualifier, and in the process sealed his place in history as his nation's all-time record goalscorer.
Having been level with Raul on 44 goals prior to kick off, the Barcelona striker hit two second half goals to ensure the points belonged to Vicente del Bosque's side, despite Jaroslav Plasil opening the scoring with a neat left-foot shot.
The modest ground in Granada played host to the occasion of Xavi's 100th cap, and he took his place in midfield as del Bosque once again opted for a 4-2-3-1 formation.
The Czechs however made it clear that their intention was to defend from the outset. They immediately piled men behind the ball, and while La Furia Roja enjoyed passing the ball around, they enjoyed little penetration in a tepid opening twenty minutes.
Suddenly though, the World Champions were behind, thanks to a sweet strike from Plasil. In a rare foray into Spanish territory, the former Osasuna wide man fired in a low shot that whizzed through the legs of Gerard Pique and in off Iker Casillas' post.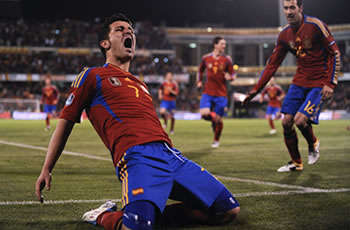 Spain were stunned, but through David Villa attempted to redress the balance instantly. He twice tested Petr Cech with good efforts that the keeper did well to respond to, and the Czechs were able to go in ahead at the break.
Del Bosque knew that changes were necessary. Fernando Torres replaced Xabi Alonso, and not long after Santi Cazorla came on for club colleague Joan Capdevila.
Chances began to arrive. Ramos headed wide before Iniesta struck in a powerful shot that went centimetres wide of Cech's post.
The breakthrough was inevitable, however, and eventually arrived in the form of Villa. Having been fed by Iniesta, he cut inside from the left and drilled a low shot past the dive of Cech to level the scores, and in doing so claim the mantle of Spain's all-time record goalscorer in his own right.
Minutes later, Villa made it international goal number 46. Iniesta was recklessly felled by Rezek inside the area, and 'El Guaje' confident converted the spot kick to hand the Iberian side the lead that their attacking play had, in the main, deserved.
The Czechs never looked like fighting back into the match, and although Torres had a late chance to add gloss the win, del Bosque's side will be content to escape a difficult situation with their 100 per cent record in Group I intact.