If los Nervionenses are to continue to dream of Europe next term, three points against los Granotes are an absolute must...
Dreaming Of A Brighter Future
Gregorio Manzano's Sevilla side are starting to show signs of clicking into gear after a wretched end to 2010. Los Nervionenses endured a five match losing streak prior to Christmas, but 2011 has brought a new start for the Andalucians, who have earned two Primera Division wins and a spot in the Copa del Rey semi-finals over the course of the last three weeks.
A defeat against Espanyol last weekend was certainly a major blow to any lingering aspirations Sevilla had of competing in the Champions League next season, but much of the damage to those hopes came in December, when the Ramon Sanchez Pizjuan side looked distinctly out of sorts.
Glory is still attainable, albeit in the Copa del Rey, and Tuesday's 3-0 victory over Villarreal in the cup should be considered a staging post for better things to come. "We competed in a very tough match," Manzano said, satisfied, after the game. "In addition, this victory will raise the self-esteem of the squad. We want to reach the final, and now we are only one step away. We can dream of doing something important."
There was further happy news for Sevilla in midweek as Sergio Sanchez made his long awaited return to competitive football after a heart complaint. With morale starting to rise, los Rojiblancos should be considered increasingly dangerous opponents as they continue to gather positive momentum.
Sinking Back To The Depths
Slowly but surely, Levante have been sucked into the Primera Division's relegation zone. The Valencia club have offered up only periods of resistance this season and have tended to allow themselves to be beaten with far too much regularity. Indeed, their tally of 12 defeats in 19 matches is an ominous figure that points to a difficult few months ahead.
Luis Garcia's side have been surprisingly competitive, however. Though they have lost a whole mountain of matches, only on three occasions have they slipped to losses of greater than one goal, and two of those games came in the opening two matches of the season.
August's 4-1 humbling by Sevilla pointed to defensive problems ahead, and these haven't been successfully rectified over the course of the campaign. But it's not been volume of goals lost that have necessarily killed Levante, it's the fact that they've consistently leaked one or two in every match.
Last weekend the east coast side were dealt a heavy blow in Zaragoza, going down 1-0 only a week after losing their derby against Valencia by a similar score. "All I want is to kill someone," Ruben Suarez passionately exclaimed after the match to the media, rather summing up los Granotes' feelings of frustrations having seen what they perceived to be a just goal disallowed.
Time remains on Levante's side, but the results must start to follow soon, else they will find themselves in big trouble.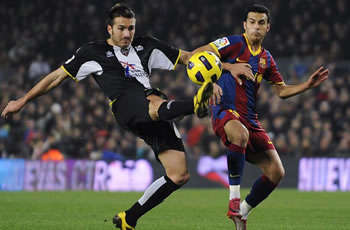 TEAM NEWS

Sevilla

There's a dose of good news for Sevilla ahead of the weekend clash. Andres Palop, Ivica Dragutinovic and Federico Fazio have all successfully completed training and should be available to face los Granotes, giving Gregorio Manzano virtually a full panel.
Alexis is banned, however.
Levante

Nano and Sergio are both absentees. A hamstring problem keeps the former out, while Sergio has swelling in his left leg after a collision on Tuesday and will miss approximately two weeks. Ballesteros and Juanfran return from suspensions to feature, while Miguel Perez and Nacho Gonzalez are still troubled by problems.