The weekend's action in Spain begins with the Yellow Submarine visiting los Manos...
Build From The Back
Javier Aguirre is searching for his first victory as Zaragoza coach, though it will not be easy to come by at La Romareda this weekend, when third placed Villarreal visit on Saturday.
The Mexican coach only took over as los Manos' boss little over a week ago, and in his dugout debut for the Aragon club would have watched with a fair degree of content as his side held out for a 1-1 draw against Getafe, despite being depleted to 10 men because of Leo Ponzio's dismissal. Nicolas Bertolo had Zaragoza ahead at half-time, but Adrian Colunga responded from the spot just after the restart.
Aguirre, however, was not entirely impressed with what he saw. "Getafe were superior," he explained to the media after the game. "I think the point rescued by my players was only achieved with effort and great attitude. In football we could not elaborate. Getafe were superior in possession.
Indicating that he will "first try to organise [the team] from back to front" shows that the coach craves some kind of defensive stability from his men. Aguirre believes that 19 goals conceded after 12 matches is too great a tally, though better this ratio against a dangerous offensive side at the weekend will not be easy.
Zaragoza may have only achieved one win in league play to date all season, but the Yellow Submarine are a team vulnerable on the road, and Aguirre will be keen for his players to provide a good showing in his home debut.
Racing For Bronze
If Villarreal had any lingering pretensions that they could keep pace with Barcelona and Real Madrid over the course of the campaign, they have been obliterated over the last couple of matches, which have seen the Yellow Submarine earn just one point in six and watch the two superpowers of the Spanish game go almost three wins clear.
Juan Carlos Garrido's side have come up against some of the best Spain has to offer over the last fortnight, but they fell short against Barcelona in Camp Nou and were forced to work hard to wrestle a home point from Valencia – only the second time under the charge of their present coach that they've failed to win at home.
"All we can do is keep going at our own pace and fight our own battle. We have to keep working towards our objective of a Champions League place," Marcos Senna was quoted as saying on FIFA's official website, clearly giving up hope of getting back onto the coattails of the big two.
At present, the club from El Madrigal are almost entirely reliant on their home form, which is a dangerous game to play over the course of the season. On the road, they've mustered only eight of their 24 points, so they will be on high alert on Saturday evening, when they have the opportunity to strike the first blow in the race for third spot.
With Garrido signing a new three-year deal this week, things are clearly in a stable state at El Madrigal.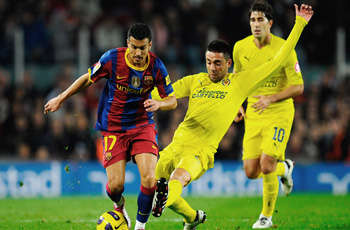 TEAM NEWS

Zaragoza
Italian defender Maurizio Lanzaro and midfielder Ander Herrera won't be aligned for this fixture due to injury problems. Angel Lafita should feature from the outset, however.
Leo Ponzio is suspended after last weekend's dismissal.
Villarreal
Juan Capdevila will be missing for three weeks due to a sprained ankle. Joan Oriol will take his spot.
Borja Valero is suspended.
Goal.com is proud to be a premier partner of Digg.com and as such is pleased to offer exclusive invitations to our users to become a participant in the Alpha launch of the new Digg.com. Click here for your access code for the alpha site - act now as invitations are limited!