The Andalucians continue to search for their first home win of the campaign when they host los Rojillos...
Moving Towards Safety

A welcome dose of hope was injected into Zaragoza's season last weekend. Bottom of the table almost exclusively since Round 4 of action, los Manos boosted their survival hopes with a crucial 1-0 victory over struggling Levante. Javier Aguirre will hope that win can spark new life into his side, and the weekend's fixture against Deportivo La Coruna will certainly be targeted for more points.
What little success the Aragon side have enjoyed this season – three league wins in total – has come solely at home. La Romareda may have seen its team lose on five occasions, but the 11 points Zaragoza have won at the venue comprise the vast majority of their present tally.
Last weekend, the bowl of a stadium witnessed an all-too-infrequent success this season, though it did come against a direct rival, doubling the value of the victory. Levante didn't put up a great fight, and Gabi's goal on the stroke of half-time could prove a priceless strike for the struggling northerners.
"We failed to kill the game with few chances we had and from there we suffered," Aguirre said, expressing his concern at his side's lack of goal scoring instinct. "We are still a little short on time, so we cannot afford to be average."
Though Depor are uninspiring, they are unlikely to gift three points to los Manos, who will have to be on their mettle if they are to earn three points.

Starting To Flounder Again

Copa del Rey elimination on Wednesday night against Almeria wasn't particularly sore for Deportivo La Coruna to take, as coach Miguel Angel Lotina had explained from the outset of the tie that his side were primarily focussing their efforts on their league campaign. So far, the Primera Division isn't going especially smoothly for the Galicians.
Defeat against Valencia last weekend left Depor languishing firmly in the bottom half of the table, though after a dreadful start to the term little more could be expected by this stage. Indeed, a five point gap to the relegation places may even seem pretty healthy for the north easterners.
Their defensive face was firmly on view at the Mestalla in the 2-0 defeat, but Lotina's side were somewhat more enterprising in midweek. After losing the opening leg 1-0, there was little prospect of a comeback for the goal-shy side after the Andalucians took a 19th minute lead. Pablo Alvarez and Adrian briefly offered hope of a resurrection, but this was short-lived as Lotina's men went down 3-2.
A difficult run of fixtures has seen only four points from the last five games return to Galicia, but a match against the league's bottom club will make for an appetising fixture for Depor, who need their season to come back to life before they slip into further difficulties.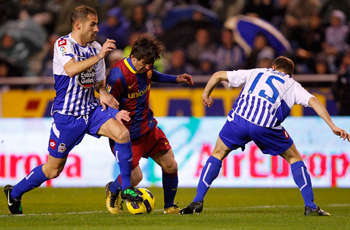 TEAM NEWS

Zaragoza
Once again, coach Javier Aguirre is playing his cards close to his chest, not revealing much about his squad's state before the weekend game. Jiri Jarosik overcame slight muscular problems to play last weekend, and no fresh worries have been named in the press over the course of the last week.

Deportivo
Riki and Andres Guardado are back training with the main squad, but Claudio Morel and Saul are yet to overcome their injury problems. Rested in midweek, Knut Olav Rindaroy, Alberto Lopo and Juan Rodriguez will all be involved.