Having enjoyed a 5-0 win at Camp Nou last week, Barca are all but safe from los Beticos...
Not So Bad
Prior to the first leg of their Copa del Rey encounter against Barcelona, Betis had tried to get the fixture reversed so that they would play in Sevilla first. This was not a move designed to give the Segunda Division side an advantage in the tie, it was simply because they were all too aware that their fans may not turn out to watch a cakewalk in the second leg.
Sadly for the underdogs, their fears have been realised and they go into this match in a hopeless position, trailing 5-0.
"For 50 minutes, we made things difficult for them," coach Pepe Mel explained after the first leg, clearly proud of his side's achievements before a late collapse put the tie completely beyond their reach. "We resisted for quite some time and we quite happy with this, as we lost to the best team in the world."
"We created more chance than an average Primera Division side. In the end, we fell short."
Back on league duty at the weekend, los Beticos took another step closer to mingling with the elite on a regular basis by maintaining their lead atop the Segunda courtesy of an easy 3-0 home victory against Alcorcon. Six points clear of their nearest rivals, Betis are seemingly cruising towards promotion and can view Wednesday's match as a bonus encounter to be enjoyed.
A Good Week
Barcelona have enjoyed a very productive seven days, effectively booking themselves a place in the Copa del Rey semi-finals while extending their lead atop the Primera Division to four points – a tally that many pundits already see as decisive.
Prior to Real Madrid's surprising 1-1 draw in Almeria, Pep Guardiola's men had carried out the expected against Malaga, defeating the Andalucians 4-1 at Camp Nou. With only 36 minutes on the clock, the match was effectively over as a contest. The home fans had already celebrated goals from Andres Iniesta, Pedro and David Villa, and after Duda had the cheek to pull one back, Barca were quick to reassert their dominance by striking again through Villa.
Winning is a habit well ingrained in this Barcelona side, and even though they boast the most comfortable of advantages going into the second leg on Wednesday evening, they will be hungry to pick up another success. Guardiola named a strong squad for the first leg but may be reticent to do so again given the circumstances; even his superstars need a break sometimes.
Barca will have their eyes on a couple more records in the Primera Division after being named winter champions with a remarkable 52 points. Real Madrid's all-time scoring record of 107 looks set to be smashed – Barca are on course for 122 – while Real Sociedad's unbeaten run of 32 games could also be bettered.
Silverware is ultimately the most important thing to this winning machine, and they will move a step closer to another Copa del Rey triumph in midweek.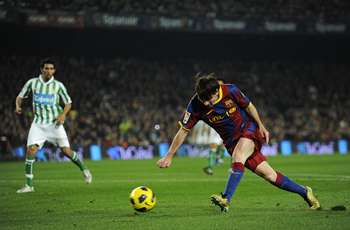 TEAM NEWS

Betis
Star man Achille Emana continues to miss out, and it could be another three weeks before he's back in action. Antonio Dorado and Benat are also sidelined.
Momo and Miguel Lopez are nearing fitness, but neither will be available for the midweek clash.

Barcelona

Pep Guardiola has named a virtually full strength squad for this encounter. Daniel Alves and Carles Puyol miss out because of injuries, but all the other big stars are present.