The home side will be confident of further stretching out of the reaches of the relegation zone...
Maintaining The Momentum
Parma have been preparing for their encounter against Juventus on Thursday since the morning of the new year. Against a Juve side unbeaten in 18 competitive matches, the Ducale club performed admirably and didn't just beat them, but beat them black and blue, winning 4-1 in Turin to turn Juve's morale upside down.
The victory lifted Pasquale Marino's side to 11th in the Serie A standings with 22 points from 18 matches, a healthy seven points above the relegation zone. It was Parma's second win on the road in the league this season and one that could turned their season around.
Parma have an encouraging home form too as they have lost one of the nine matches but Marino warns, "We must stay focused. We have a lot of work to do to defend our Serie A status. We are on the right path but there are many battles left to play and we must be humble.''
Staying Positive
Cagliari could have garnered an encouraging point against Milan on Thursday as they were on course to holding the Scudetto favourites to a goalless draw but succumbed to a late goal. The result meant that the Sardinians drop to 16th in the league standings with 20 points from 18 matches, five points above the relegation zone.
Cagliari will go into today's encounter two points behind Parma and will know that three points today would ease pressure on them as far as getting dragged into the relegation quagmire is concerned.
However, Roberto Donadoni's side have a dismal away form in the championship as they have won just once on the road.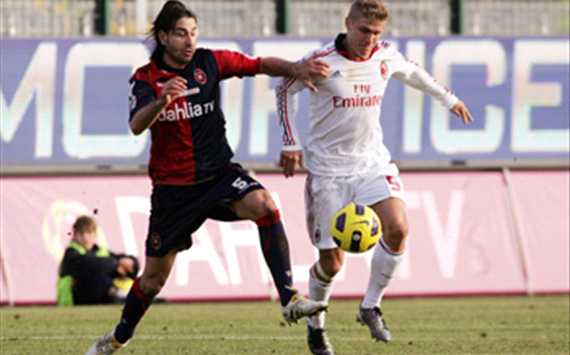 TEAM NEWS
Parma
Marques is injured and will sit out the match against Cagliari.
Cagliari
Lazzari is injured for the Sardinians.