The home side need to address their lack of a cutting edge in attack...
Palermo drew a blank in their first match shorn of their star strike duo from last season - Edinson Cavani sold to Napoli and Fabrizio Miccoli who was absent through injury as Cagliari enjoyed the better of a scoreless draw at the Stadio Renzo Barbera.
The visitors started brightly and had the first meaningful effort on goal thanks to an early shot from distance from Andrea Lazzari which was tipped wide by a full-stretch Salvatore Sirigu in the Palermo goal.
Palermo grew into the game however met stiff resistance in the form of a well organised Cagliari side looking to come to terms with the departure of Massimiliano Allegri to Milan.
Cagliari then came close on fourteen minutes when Nene linked up with Andrea Cossu however the former's effort went agonisingly wide of the goal.
Moments later Cavani's replacement, fellow Uruguayan Abel Hernandez linked up with playmaker Javier Pastore but his shot was comfortably saved by Michael Agazzi.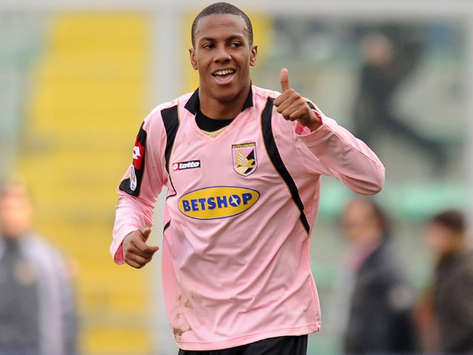 Hernandez's strike partner Massimo Maccarone, newly signed from Siena, then had a speculative effort from 30 yards out which Agazzi was forced to divert behind.
Cagliari moved in the summer to bring back Robert Acquafresca for what they hope will be a fruitful second spell at the club. Though he did not start, once he came off the bench he linked up well with Cossu and a neat one-two almost led to a comeback goal.
Clear cut chances were few and far between in a match sorely lacking in quality and Abel Hernandez's shot from distance was typical fare. He unleashed a fizzing effort on his left peg that was beaten away by the impressive Agazzi.
The match was punctuated by a string of errors by both sides in the midfield, which did not lend itself to an interesting spectacle. There were late chances for Nene and Cesare Bovo however given the pattern of play, it was perhaps fitting that neither side broke the deadlock.
In the end, it was a relief when referee Emidio Morganti blew the final whistle after three minutes of stoppage time. Cagliari will be pleased with their discipline and organisation against a side expected to push for a European place. Palermo need to quickly find their verve in attack if they are to be challenging where they want to be come next spring.