The Sicilians will hope to make a winning start to the new campaign...
Rebuilding Process
Palermo came close to finishing in the top four in Serie A last season but had to eventually settle for fifth. This implied that the Sicilians were slated to feature in the Europa League this campaign, and they secured qualification on Thursday.
However, things have looked bleak for Delio Rossi's side over the summer as they have seen key players leave for pastures anew. Midfielders Fabio Simplicio and Mark Bresciano left as free agents, while defender Simon Kjaer and Davide Lanzafame departed too.
But Palermo should still be hopeful of yet another successful campaign in the Italian top flight. Key striker Fabrizio Miccoli has stayed back and playmaker Javier Pastore has developed, while Massimo Maccarone has been signed. Last season the Aquile remained unbeaten at home in the league and a win againt Cagliari will be a perfect way to start the new season.
Modest Ambitions
Cagliari are one of the few also-rans in a very competitive Serie A. In 2009-10 the Sardinians finished 16th in the table, nine points above the relegation zone, and this time too they will hope to avoid the drop.
The Sardinians had a poor away record last season in the league and have won just once in their last 11 opening fixtures played away from home in the Italian first division. However, Cagliari will be encouraged by the fact that the only time they faced Palermo on the opening weekend of a Serie A season was back in 1968 and they won 3-0 at home in that fixture.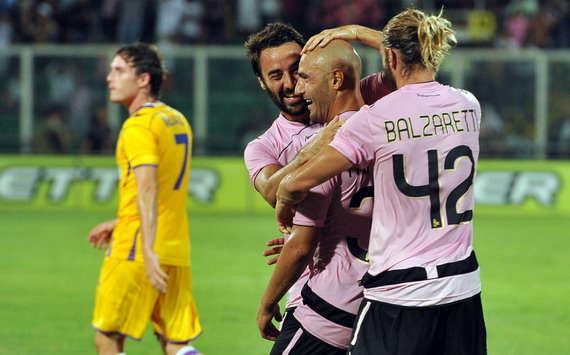 TEAM NEWS

Palermo
Miccoli and Goian are absent. The departure of Simon Kjaer means that the Sicilians will have to forge a new backline this season, starting from the match against Cagliari.
Probable Lineup (4-3-1-2):
Sirigu, Cassani, Munoz, Bovo, Balzaretti; Migliaccio, Liverani, Nocerino; Pastore; Hernandez, Maccarone
Cagliari
Agostini is unavailable and so is Ragatzu, who is suspended.
Probable Lineup (4-3-2-1):
Agazzi, Pisano, Canini, Astori, Ariaudo; Biondini, Conti, Lazzai; Cossu, Pinardi; Matri