Julian Schieber, Robert Mak, and Almog Cohen netted for Nuernberg, who won their fourth consecutive match tonight.
Nuernberg earned a 3-0 win over Eintracht Frankfurt on Friday, marking the Bavarians' fourth consecutive win in the Bundesliga. Julian Schieber, Robert Mak and Almog Cohen were on target for FCN, who have stormed up the table to ninth place.
The hosts always looked the more dangerous side tonight, but it took 67 minutes and a calamitous error from Oka Nikolov to break through. Schieber blasted in a low free kick that the Frankfurt goalkeeper only partially blocked before sailing into the net.
Mak doubled the Bavarians' lead on 87 minutes as he won the ball off Aleksandar Vasoski and brilliantly chipped Nikolov from distance before Cohen fired in a long-ranged blast at the death.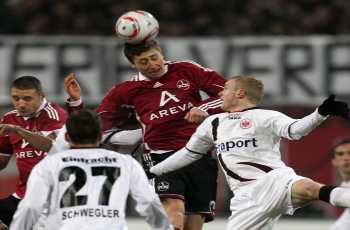 Nuernberg were only minimally dangerous in the first half, and the best opportunity came from a near own-goal by Marco Russ. Cohen also came close with a header, but missed the right post.
After the break, Frankfurt looked better, and Sebastian Rode volleyed in an emphatic finish, but had his effort called back for offside. Seven minutes later, Schieber stunned the visitors, who collapsed in the latter stages of the match.
While Nuernberg move into the top half of the table, the result is a particular disappointment for Frankfurt, who still have yet to score in 2011. Die Adler are 12th now, with 27 points from 22 matches.