Els Barralets are enjoying a fine start to the season and will hope to continue it against los Boquerones...
Confident
Mallorca may have been expected to flag after a difficult summer, but they are instead thriving in La Primera Division and find themselves eighth. On the other hand, hopes were high that Malaga could achieve a strong finish this term, but that doesn't look at all likely after a dreadful start to the campaign. Having experienced contrasting seasons to date, the two sides face-off on Sunday.
This campaign has already had some highs for Michael Laudrup's side, drawing against both Real Madrid and Barcelona, but arguably their best result to date was their 2-1 victory in Sevilla last weekend. Michael Pereira put els Barralets ahead at the Ramon Sanchez Pizjuan, though the three points seemed to have been squandered when Luis Fabiano struck an 88th minute leveller. Pierre Webo was on hand to strike a dramatic late winner for the Islanders, however.
"We were convinced we could win, and we did. It was an important game and we responded, so we are happy and satisfied," the Cameroonian frontman explained to
Diario de Mallorca
. "We did not lose our cool. We knew that we could build our strategy. We had patience and got a positive result."
While the Balearic side have undoubtedly made strides with regards to their away form, they haven't been quite as strong as they were last season at the Iberostar Estadio. Nevertheless, they've only slipped to one reverse in front of their home support this term and will be confident of earning another positive result on Sunday afternoon.
Cut Out The Errors

If former Real Madrid and Villarreal coach Manuel Pellegrini expected that he could step into the Malaga dugout and immediately change the fortunes of the Andalucian club he has been proven wrong. A 1-0 win at home against fellow strugglers Levante was certainly cause for optimism, but last weekend's heavy loss away to Deportivo La Coruna was a stark reminder of the deficiencies of his squad.
Pellegrini will have been especially concerned at the state of his side's defending from set-pieces following the loss at the Riazor. An early penalty was conceded for a needless tug in the box from a corner, and then the Galicians' second goal, which arrived on the half hour mark, was a header into the net from an identical situation. Malaga have to get the basics right before they can start moving up the table.
"The defeat is just, but what was amazing was to lose 3-0," Pellegrini lamented after the fixture. "For the first and the second goals there were big errors that unbalanced the game because until then we had chances."
Travelling had appeared to be a strong suit of Malaga in the early weeks of the season under Jesualdo Ferreira, but after starting so positively on the road, the Boquerones' poor form has seeped into this aspect of their play too. Presently on a run of three successive away day losses, the Andalucians make the weekend's journey simply trying to break that run.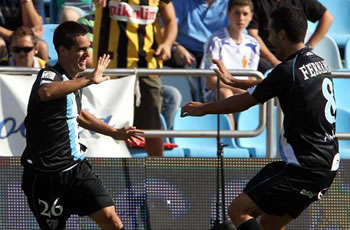 TEAM NEWS

Mallorca
Gonzalo 'Chori' Castro is doubtful due to an adductor injury. Sergi Enrich is absent because of a hamstring problem. He will miss around 10 days of action.
Tuni, Enrique Corrales and Marti are out.

Malaga
Patrick Mtiliga is los Boquerones freshest injury concern. He is toiling with a hamstring problem in his right leg and is rated as a doubt. Edinho has been suffering from gastroenteritis but should feature.
Apono faces three weeks on the sidelines with adductor problems, but there is some good news as Ruden Martinez and Jose Rondon have both returned to training.
Sandro Silva is suspended.
Goal.com is proud to be a premier partner of Digg.com and as such is pleased to offer exclusive invitations to our users to become a participant in the Alpha launch of the new Digg.com. Click here for your access code for the alpha site - act now as invitations are limited!