The hosts bagged three important points...
Substitute Sami Allagui put the icing on the cake in the waning minutes of the game with a lobbed finish as Mainz inflicted a second consecutive loss on the Bavarian outfit, who despite fighting valiantly, ultimately fell victim to Thomas Tuchel's men ruthless efficiency.
It was a scrappy affair in the early going with two yellow cards shown to each side in the space of six minutes. The tempo was very high right from the beginning, indicating that there was going to be much to see as both teams seemed motivated to put in a good performance.
The first chance of the game fell to Maik Franz in the 10th minute, when he unleashed a shot from just outside the box that was saved. Moments later, on the other side of the pitch, Eugen Polanski created a wonderful opportunity for the hosts, but Adam Szalai was blocked before he could finish.
Nuernberg threatened to open the scoring through Ilkay Gundogan and Julian Schieber, but barely managed to create clear-cut chances.
Mainz managed to pick themselves up from Nuernberg's aggressive play and started to step up their game. They were rewarded for their efforts with the go-ahead goal in the 27th minute, when
Schuerrle
scored at the left post with an instinctive finish, following a corner on the left.
The hosts continued to dominate the game in the remaining minutes of the first half as the Bavarian team seemed nervous and lacking concentration. Christian Fuchs had a chance to double his team's lead from a free-kick on the right, but his shot met the side-netting in what proved to be the final moment of interest before the break.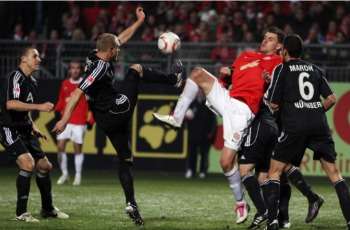 Nuernberg showed their intentions to get back into the game right after the restart and it was Gundogan who was leading the charge. The Manchester United target blasted a dangerous shot just over the bar with Christian Wetklo beaten.
Just as Nuernberg were starting to pick up momentum, Mainz delivered a killer blow. The hosts' captain
Noveski
scored with a deft touch from close range in the 55th minute as Nuernberg failed to organize their defence against set-pieces yet again.
Four minutes later the Oh-Fives should had a more than valid penalty claim for a foul on Schuerrle by Andreas Wolf turned down by the referee as the visitors looked downbeat. Der Club struggled to penetrate Mainz's water-tight defence and were leaving much space for the hosts to exploit on the break.
Substitute
Allagui
finished off Nuernberg with a lobbed finish, following a fast break in the 85th minutes as the Oh-Fives bagged the three points.
Following tonight's result Mainz are second in the table, four points behind the league leaders, while Der Club sit in tenth place. The Oh-Fives next league game to Eintracht Frankfurt on December 4, while Nuernberg host Borussia Dortmund the following day.