Schalke look for their first points against joint league leaders Hoffenheim.
Hoffenheim Off To A Sparkling Start
Currently joint Bundesliga leaders alongside Kaiserslautern, Hoffenheim have rebounded from last year's sophomore slump in style. Their 4-1 triumph over Bremen in matchday one was phenomenal, and while they struggled to break St Pauli's defence in their second match, the Sinsheim club eventually won through Isaac Vorsah's late strike.
Thus far, Hoffenheim have exhibited two factors that the team lacked in 2009-10: resilience and perseverance. A year ago, the village side might not have had the mettle to turn around the early 1-0 deficit they faced against Bremen, let alone score four unanswered goals. Similarly, last year, Hoffenheim might not have had the persistence required to fight to the last minute and take three late points from St Pauli. But two weeks ago they did.
Following the international break, Hoffenheim have plenty of reason to be confident, but coach Ralf Rangnick is wary of the competition his side will face.
"If we manage to latch onto our performances so far and improve upon them, we can beat Schalke," the coach said.
"It will be a tough task, but we are looking forward to it."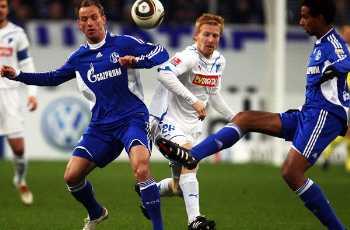 New-Look Schalke In Hunt For First Points Of Season
Two games and not yet a single point: this is not exactly how Schalke had intended to start their season. Successive losses to Hamburg (away) and Hannover (home) have stunned the 2009-10 Bundesliga runners-up, who have struggled especially at the defensive end.
During the summer transfer window, coach Felix Magath allowed three reliable members of his back line, Rafinha, Marcelo Bordon, and Heiko Westermann, to leave. In their wake, a number of stand-ins have yet to find the right chemistry together, and Schalke have suffered.

Die Knappen
were forced to make a number of hasty transfers, including injury-plagued centre half Nicolas Plestan as well as veteran fullback Hans Sarpei. Last-minute dealings in the transfer market also saw Jose Manuel Jurado and Klaas-Jan Huntelaar join the Gelsenkirchen side, adding a touch of class to the team that has long had difficulty scoring.
Though the additions of Jurado and Huntelaar in particular have come as major positives, Schalke have plenty to be worried about this weekend. Fullback Atsuto Uchida is expected to miss the game with a suspected broken toe sustained while playing for Japan, and winger Jefferson Farfan is doubtful from the start, having only just returned from international duty in the United States.
On the plus side, Huntelaar is in outstanding form, having scored five goals in two games for the Netherlands, and is likely to make his debut for the royal blues as a starter. Their opposition will be fierce, but following the international break, so will Schalke's resolve.


TEAM NEWSHoffenheim
Matthias Jaisele and Chinedu Obasi remain unavailable due to injuries, but new signing Gylfi Sigurdsson could make his debut in Ralf Rangnick's side. The Icelandic midfielder is not expected to be granted a starting role, but could play as a substitute. Rangnick is expected to keep faith in his previous starting lineups.
Probable Starting XI: Starke - Beck, Simunic, Vorsah, Eichner - Weis, Luis Gustavo, Salihovic - Mlapa, Ibisevic, Ba
Schalke
Felix Magath has a bit of a squad selection problem heading into tomorrow's match. While Benedikt Hoewedes is set to return following a suspension, the young defender will likely feature at right back in place of the injured Atsuto Uchida, allowing Joel Matip to retain his central role. Jefferson Farfan is unlikely to start due to fatigue, and will likely join newcomer Jose Manuel Jurado on the bench. New signing Klaas-Jan Huntelaar is epected to partner Raul in attack.
Probable Starting XI: Neuer - Hoewedes, Matip, Metzelder, Sarpei - Kluge, Jones, Schmitz - Rakitic - Huntelaar, Raul