Los Azulones will attempt to give Barca more reason to doubt...
Difficult Times

After suffering from more midweek disappointment in the Europa League, Getafe must pick themselves up for a challenging Primera Division encounter against champions Barcelona, though at least the Madrid-based side have home advantage in the Sunday evening clash.

Presently el Geta are in a rather miserable run of form, which was kicked off by a 1-1 draw away to minnows Portugalete. The problems for Michel's men mounted over the weekend as they were easily dispatched 3-0 by Athletic Bilbao, though arguably the performance during a similar reverse at home to Stuttgart was a new nadir.

Defeat to the Bundesliga side leaves los Azulones' European ambitions hanging by a thread, and judging by their start in La Liga, they won't be making a quick return to the continent next season. Already they lie in a mid-table position, and having won only one game from their last six in all competitions, it's easy to tell which direction the capital side are presently moving in.

At the Coliseum Alfonso Perez, Getafe usually make for stiff opposition. Already they have recorded three wins from four fixtures at the venue this season, but rivals don't come a great deal tougher than Barca. In the midst of a disappointing run of form, the Catalans will not make for welcome guests.

Still Not Peaking

Despite a tour de force last weekend, a midweek draw against Copenhagen showed the Barcelona are still not at their best level. Though the Danes have proven themselves to be worthy opponents in the Champions League, Pep Guardiola's men were still expected to have the strength to brush them aside, yet the Catalans had to be content with only a point after being held 1-1.

"We knew that if we won, it would have been as good as sorted, but now we'll go to Greece to get the three points," midfielder Andres Iniesta explained after the midweek fixture. "The sooner we qualify the better."

Securing a place in the last 16 was a priority for Guardiola, who is aware that once progression is locked in, it can potentially mean the opportunity to rest players. With Xavi still struggling with tendonitis, such a luxury should not be downplayed.

But the Primera Division takes top billing just now for Barca, who are presently trailing Real Madrid by a couple of points. They have been accused of falling beneath their high standards in the opening nine weeks of action, but against Sevilla last Saturday night they offered a tremendous reply, defeating one of Spain's best teams 5-0 with comparative ease.

Getafe are unlikely to offer the kind space los Nervionenses allowed Barcelona to attack into, and los Azulones should provide obstinate opposition for a Catalan side not entirely themselves.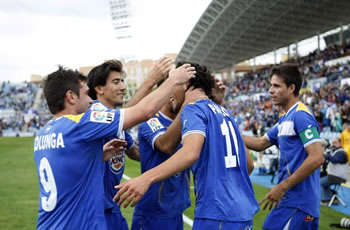 TEAM NEWS

Getafe

Adding to the problems of los Azulones' poor form is their chronic injury problems. Mario Alvarez is around five months away from recovering from a ruptured Achilles tendon, and though none of the other injuries in the squad are quite as serious, they are certainly plentiful. Jaime Gavilan, Miguel Torres, Daniel Parejo and Manu del Moral are all missing, and all would have been competing to start.

Barcelona

Pep Guardiola has been advised by the club medics to rest Xavi, who continues to suffer from tendonitis. Jefrren Suarez is back on the training pitch but won't be named in the panel.
Goal.com is proud to be a premier partner of Digg.com and as such is pleased to offer exclusive invitations to our users to become a participant in the Alpha launch of the new Digg.com. Click here for your access code for the alpha site - act now as invitations are limited!