The Grifone are gradually pulling themselves out of the messy situation but defeating the Sicilians will not be easy…
Escaping The Trouble
Genoa have had a very bad start to the 2010-11 season and coach Gian Piero Gasperini is under pressure to deliver. The Grifone, who splashed the cash in the summer to allow themselves to compete for a top four finish in Serie A, are struggling in 11th place at the moment, with just eight points from seven matches.
More worryingly for Gasperini, club patron Enrico Preziosi is reportedly not happy with the situation and wants his coach to repair the damage as soon as possible. The Grifone have been largely inconsistent so far with several of the big name players failing to perform; there have been a number of injuries too which have hampered the creation of a new identity of the Genoa team.
In midweek Genoa needed extra-time to defeat Grosseto at home in a Coppa Italia tie. Genoa will be expected to perform better than they did then when they welcome Catania on Sunday.
Going Strong And Steady
Catania are still in danger of battling for survival as the season progresses but the Sicilians are doing their best to avoid that situation. At the moment Marco Giampaolo's side are ninth in the table with nine points from seven matches.
Of course, the congested league table and the competitive nature of the Italian top flight means that Catania are just a couple of points above third-from-bottom Udinese but there are several clubs in a similar situation.
Nevertheless, Catania should tread with caution as they have failed to win a single away game in the league so far this season and have also conceded four times on their travels.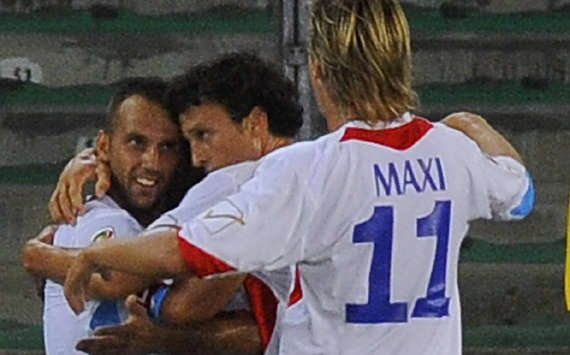 TEAM NEWS
Genoa
The Grifone have a host of injury concerns as they are without Jankovic, Veloso, Palacio and Kharja. Genoa will field a 3-4-3 system again in which Luca Toni will be the targetman flanked by Sculli and Rudolf.
Catania
Augustyn and Ledesma are unavailable for the trip to Genoa because of injuries. The Sicilians will play with just Maxi Lopez as the striker; Mascara, Izco, Biagianti and Ricchiuti will be the four attack-minded midfielders and Carboni will be responsible for protecting the backfour.
Goal.com is proud to be a premier partner of Digg.com and as such is pleased to offer exclusive invitations to our users to become a participant in the Alpha launch of the new Digg.com. Click here for your access code for the alpha site - act now as invitations are limited!