Les Bleus meet the Selecao in a replay of the 1998 World Cup final...
Special Occasion
Wednesday's encounter between France and Brazil will take fans of les Bleus back 13 years to remember the balmy July evening their side recorded a 3-0 success over the Selecao to lift the World Cup. Laurent Blanc should have captained his country that day, but for an unjust suspension, but returning to the Stade de France in midweek he will lead his side from the dugout.
Zinedine Zidane's brace helped cement the No.10's reputation as one of the game's all-time greats, and it is notable that les Bleus are without a player of such calibre at present. French football has fallen upon some rocky times over the course of the decade or so, but Blanc is showing signs of being able to put their pieces back together after a dreadful World Cup 2010.
A shock home defeat against Belarus was an inauspicious start on the competitive front, but the results have started to flow, with wins in Bosnia and England included in a four-match winning sequence enjoyed by the French. The Selecao certainly represent their biggest test under 'Le President', who has indicated his desire to pit his men against the best as often as possible.
"Taking on one of the top two teams in the world in front of our own fans could help the team grow in confidence," Blanc told the media, according to FIFA's official website. "We don't get that many chances to play against them, either in friendlies or in the World Cup. The players are well aware that this is a unique opportunity, and my guess is that there were a lot more French players waiting on the announcement of the squad than usual."
Les Bleus are unbeaten in five meetings against Brazil dating back to 1992, and if that record is maintained, Blanc will be very happy come full-time.

Building For The Summer
Like France, Brazil didn't enjoy the best World Cup in South Africa, though their collapse was not nearly as spectacular. Still, for a country who almost expect to be lifting the trophy come the day of the final, it was something of a shock for them to be eliminated at the quarter-final stage by a superior Dutch side.
Dunga, whose rather dour approach to the game had won him few fans, was allowed to quietly leave, and in came Mano Menezes, a coach who has spent over a decade coaching on the domestic front.
The 48-year-old has injected new life into the side since taking the reins, ignoring some of the nation's more established players and putting his faith in youth. This approach has largely been successful to date. USA, Iran and Ukraine have all fallen to the new-look Selecao without so much as conceding a goal, but on the other hand, rivals Argentina were too good for the Brazilians in Doha last November.
In an attempt to ready themselves for the summer's Copa America, fixtures against France and Netherlands have been confirmed, allowing Brazil to test themselves against two of Europe's top sides before plunging into the continental competition in which they will be expected to excel. Expectations are always high on Brazil sides, and this unit has no room for error.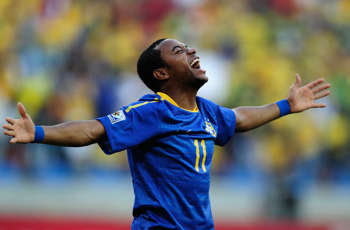 TEAM NEWS

France

Laurent Blanc's panel has remained unchanged since it was named last Thursday. Patrice Evra and Jeremy Toulalan have both been overlooked, while Franck Ribery and Samir Nasri are the main injury absentees.
Brazil
Neymar will play for the Under-20s instead of the full team this week, while familiar faces such as Maicon, Felipe Melo and Luis Fabiano cannot break into Mano Menezes' squad, which contains a mixture of youngsters and more hardened pros.