Having sacked Jesualdo Ferreira, los Boquerones will want an immediate impact when they meet los Periquitos...
Keep It Up

Espanyol's start to the Primera Division could be described as little but positive, though there was a significant set-back for Mauricio Pochettino's side last weekend when they were easily dispatched by Deportivo La Coruna, and if they don't want to lose momentum then they must pick up maximum points against a Malaga side who have had a managerial change this week.

Los Periquitos have been a little two faced at the start of the season, romping to four home victories in succession but struggling on the road, where they've picked up only three points and have suffered some heavy losses, including last weekend's reverse at the Riazor. Thankfully for the Catalans, they are at home on Saturday.

Last Sunday's performance was a thoroughly miserable showing from the Barcelona outfit, who have at least been competitive for spells of their previous trips. On this occasion they were hopeless, though at least they stayed in contention until the final 15 minutes of the game, when the hosts would strike twice.

Pochettino won't be especially concerned about the home-away split of his side's form, as it is not a new phenomenon, though of course it is an issue he will wish to remedy. Over the course of last season Espanyol were difficult to beat at the Cornella-El Prat, but were rather easier pickings on the road. They've yet to draw this season and they've also yet to suffer back-to-back losses, so expect the Blanquiblaus to respond strongly.

Not Smelling Of Roses

Malaga's beginning to the season has been thoroughly depressing. After being bought in the summer by a member of the Qatari royal family, there were genuine hopes that the Andalucian club could push into a comfortable mid-table position. Rumours of relatively big stars joining los Boquerones never materialised, and the most high profile addition was arguably coach Jesualdo Ferreira.

Little more than two months into the season, the former Porto boss was unceremoniously jettisoned to be replaced by ex-Real Madrid coach Manuel Pellegrini, whose greatest crime at the Bernabeu was being unable to usurp a Barcelona side in record-breaking form. The Chilean, who previously enjoyed a highly successful spell with Villarreal, arrives at La Rosaleda with a point to prove but plenty of work to do.

Almost from the outset the southerners have been a disaster. Away victories over Zaragoza, in which a stunning display early in the game had Ferreira's men 5-0 up only to be pegged back to 5-3, and Getafe did give some hope, but a 2-1 reverse against Real Sociedad on Monday evening proved to be the last straw as far as the board were concerned.

Pointless at home this season, at least Malaga have been going rather better on their travels, though a 3-0 loss away to Osasuna a fortnight ago was rather symptomatic of their alarming decline. A trip to an Espanyol side so reliable in front of their home fans is by no means the easiest introduction to life with los Boquerones for their new boss.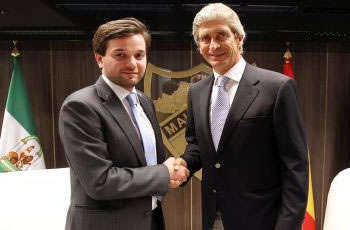 TEAM NEWS

Espanyol

Aldo Duscher faces a lay-off of between two and three weeks after picking up a muscular problem in training this week. This comes as a blow to the hosts, for he has been a regular in their starting XI this season. Javi Chica won't play either due to tendonitis.

Ernesto Galan is still out with a broken leg, though he is making slow progress to a return to the field, while there are doubts over Javi Marquez (inflammation of the big toe).

Ivan de la Pena and Felipe Mattioni remain sidelined.

Malaga

Albert Luque will miss the weekend's clash in Barcelona, though a serious injury has been ruled out for the former Newcastle United and Ajax attacker.

Jose Rondon faces a month out of the game due to a problem in his quadriceps, while Ruben Martinez is the only other player sidelined.
Goal.com is proud to be a premier partner of Digg.com and as such is pleased to offer exclusive invitations to our users to become a participant in the Alpha launch of the new Digg.com. Click here for your access code for the alpha site - act now as invitations are limited!