Following a comeback win in Conakry, Egypt return home in the hopes of taking a big step towards qualification to the next round of a tournament they know better than anyone

EGYPT

El Hadary
Fathi, Hegazi, Fathallah, Moawad
Elmohamady, Shawky, Aboutrika, Ghaly
Geddo, Salah


CENTRAL AFRICAN REPUBLIC
Lembet
Zimbori, Anzite, Enza-Yamissi, Keita,
Kago, Lignanzi, Dagoulou, Saoudi
Momi, Kethevoama

Less than a week after their riveting come from behind 3-2 victory in Guinea, Egypt are back home to attempt to secure a place in the next round of 2013 Africa Cup of Nations qualifiers. The Pharaohs will face the Central African Republic at the Borg El Arab Stadium in Alexandria, the venue where they beat Mozambique by the score of 2-0 on June 1 in their first match on the road to Brazil 2014. This first leg was initially scheduled to be played in February but was postponed to June 17 due to the events of Port Said. It has since been pushed up by 48 hours to June 15 given that Egypt's run-off presidential election continues on June 17.
On the field of play, Bob Bradley's team are so far the only side alongside Tunisia on the continent to win two out of two World Cup qualifiers and one of three sides to have posted away wins as well. The American coach has proven successful in countering the cancellation of the 2011-12 Egyptian Premier League season with numerous national team training camps and friendly tests against sides of varying difficulty to keep his players in form. His recall of Mohamed Aboutrika has proved to be a master-stroke as well, as the evergreen Al Ahly midfielder has been decisive since his return.
Meanwhile, the Central African Republic have had their fortunes change wildly over the past two weeks. On June 2, they earned their first ever World Cup qualifying win against Botswana thanks to two goals on either side of half time by Foxi Kethevoama and then were unable to answer a brace from Ethiopia's Saladin Said in Addis Ababa. The loss was a let down in what would otherwise have been a huge upturn in results. Nevertheless, Herve Loungoudji's side are surprisingly in second place of Group A, behind the Black Lions by one point and ahead of group favourites South Africa and Botswana.
It is not a bad position to be in considering that 'Centrafrique' had their French coach Jules Accorsi walk out on them just before qualifying began in protest over six months of unpaid work. All things considered, the team has coped rather well with the chaos and arrived in Cairo on Tuesday to get settled before one of the biggest tests they have faced in a long time. Thankfully for them, the match will be played behind closed doors.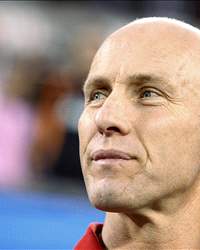 Egypt have played 14 games under Bob Bradley and the only loss they have suffered has come against Brazil. The former USA coach has the Pharaohs off to their best World Cup qualifying start in over 24 years.
Friday's match will be the first of its kind as these two sides have never faced each other before.

Bradley has declared that he will be taking an improving Central African Republic very seriously for this clash and that he hopes his players will earn a positive result in order to make the return leg a simpler affair.
The Central African Republic are one of the main reasons that Algeria did not qualify for the 2012 Afcon. Their 2-0 win over the Fennecs in October of 2010 sentenced the north Africans to a must-win game against Morocco in Marrakech, a game which they lost 4-0. During that same campaign, Les Fauves also managed to hold Morocco to a goalless draw in Bangui.
Loungoundji's were on a four-game streak without a win prior to their surprise 2-0 victory over 2012 Afcon participants Botswana. Their most recent win before that was a 2-1 home triumph against Tanzania in early 2011.
While the Pharaohs are considered the giants of Africa with seven continental titles, including an unprecedented three in succession, Les Fauves have never even made it to the final stages of the tournament.