Tunisia face their first away test of 2014 World Cup qualifying and come up against an islanders team that have not lost a match at home in close to four years


CAPE VERDE

Ernesto,
Stenio, Nando, Stopira, Souto
Varela, Babanco, Fortes
Nhuck, Carlitos, Ze Luis



TUNISIA
Mathlouthi,
Boussaidi, Ifa, Jemal, Chammem
Ben Yahia, Hatira, Hammemi
Jemaa, Harbaoui, Khelifa
Although they began their 2014 World Cup qualifying campaign with a 2-1 loss away to Sierra Leone, Lucio Antunes' team will go into Saturday's match against group favourites Tunisia feeling rather confident considering they'll be playing at their home stadium, a venue where they haven't experienced a loss in four years.
In fact, despite their low profile, the Blue Sharks are actually one of the rising teams in Africa, ranking ahead of more established sides such as Burkina Faso, Angola, Togo, Sudan, Niger, and Malawi. Plus they're not far behind Benin, Morocco, South Africa, Guinea, and Cameroon in the latest Fifa rankings. Coach Antunes would have loved for his team to at least pull out a draw in their match against Sierra Leone last weekend, but a win against the Carthage Eagles would re-open the doors of qualification for the islanders.
Tunisia were made to suffer in the first half of their home qualifier against Equatorial Guinea on Saturday after unfairly being denied a goal and conceding one against the run of play. The north Africans recovered in admirable fashion in the second period though, scoring three unanswered goals after inserting Hamdi Harbaoui into the lineup and switching from a 4-4-2 to a wider 4-3-3 that stretched the opposition's defence.
Already missing the likes of Yassine Chikhaoui, Aymen Abdennour, and Zouhaier Dhaouadi, coach Sami Trabelsi has yet more selection problems on his hands as Montpellier's Jamel Saihi has his own wedding to attend on the day of the match and star winger Youssef Msakni failed a fitness test ahead of the Carthage Eagles' flight to Praia.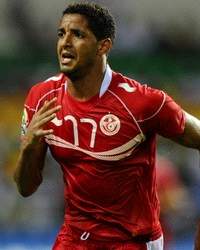 Tunisia have never faced Cape Verde in an official Fifa match.
Although he played for Tunisia at youth level, it took years for Hamdi Harbaoui to earn a place in the senior national team. He's quickly made himself a crowd favourite by scoring two goals in two games and creating others for team-mates in both appearances.

Chadi Hammami scored his first international goal for Tunisia against Equatorial Guinea. It was an important one as it assured the Carthage Eagles of their first three points of 2014 World Cup qualifying.
Cape Verde faced difficulties in their preparations for 2014 World Cup qualifiers as they had an away match against Angola cancelled at the last minute.
Coach Antunes has defended his decision not to include Levante winger Valdo in his squad by stating that the player needed rest and time to reflect on his future following a taxing season with the La Liga outfit.
Cape Verde have 16 European-based players in their roster, 10 of which play in Portugal.