Halilhodzic and his Fennecs will seek to get their 2014 qualifying campaign off on the right foot while Rwanda would be pleased to collect a solitary point in Blida on Saturday


ALGERIA

M'Bolhi,
Hachoud, Medjani, Bougherra, Mesbah
Guedioura, Lacen, Feghouli
Boudebouz, Ghilas
Djebbour



RWANDA
Ndoli,
Albert, Nshutiyamagara, Nahimana, Gasana, Niyonzima, Mugiraneza, Claude, Sibomana,
Birori, Karekezi
After a period of coaching instability following their participation at the 2010 World Cup, the Algerian national team seems to be on the right track again since the arrival of former Cote d'Ivoire coach Vahid Halilhodzic, who replaced Abdelhak Ben Chikha. The Franco-Bosnian has presided over a four-game win streak that included an important 2-1 comeback win against Gambia in Banjul during 2013 Africa Cup of Nations qualifying. Ever since that performance, there is a new air of confidence about the Fennecs who had to pick themselves up from a heavy 4-0 defeat against Morocco that they would rather forget.
It has not been all too easy for Halilhodzic either as he has had to contend with the sudden international retirements of Antar Yahia and Karim Matmour. He has also taken a courageous decision with regards to overlooking a crowd favourite in Karim Ziani and begun building a younger squad that is based around the talents of players such as Sofiene Feghouli. On the injury front, he will have to contend with injuries to Ryad Boudebouz, Mehdi Mostefa, and Madjid Bougherra following a reassuring 3-0 friendly win over Niger.
While Algeria look to be on the rise, it has been far from an easy tune-up for the visiting Rwandans and their newly hired Serb coach, Milutin Sredojevic. Rwanda's best result under him is undoubtedly the goalless draw against Nigeria in 2013 Africa Cup of Nations qualifying but it is clear from recent friendlies that much more needs to be done if his team hope to eliminate the Super Eagles during the return leg in Abuja.
The Wasps have since lost heavily to two north African opponents, 2-0 against Libya and a 5-1 drubbing against Tunisia. Both matches evidenced huge defensive problems and a lack of efficiency in front of goal that will need to be addressed prior to this weekend's match against the Fennecs. Rwanda culminated their preparations with a 1-1 draw against Chad, which is a step in the right direction but hardly awe-inspiring.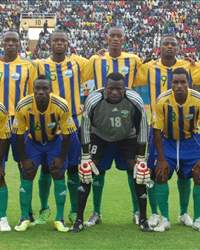 Algeria began their successful 2010 World Cup qualifying campaign with a goalless draw against Rwanda in Kigali. At the time it appeared a missed opportunity given that Zambia had held Egypt to a 1-1 tie in Cairo but the Fennecs managed to qualify regardless.
The Wasps have faced their north African opponents four times before but have never beaten them. Algeria has won two and two matches have finished in draws.
The biggest win in a clash between these two sides was by Algeria during the return leg of their 2010 World Cup qualifier in Blida, which the hosts won 3-1.
Halilhodzic showed his players video of their second goal against Niger as an example of how he wants them to attack the Rwandan defence.
Aside from the 2014 World Cup qualifiers, Rwanda have an opportunity to get closer to their second ever Afcon qualification. Scoring a valuable away goal in Abuja could create an upset.
Rwanda have never qualified for the final stages of the World Cup while Algeria have made it a total of three times (1982, 1986, 2010).

The southern Africans are mourning the loss of veteran midfielder Patrick Mafisango, who died in a car crash in May.