Ghana begin a journey to Brazil 2014 with a home game against the Crocodiles, that happens to be coach Kwesi Appiah's first major outing since taking charge in April


GHANA

Kwarasey,
Opare, Addy, Boye, Vorsah
Annan, Boateng, Badu, Acheampong
Asamoah, Muntari



LESOTHO
Kuenane,
Maile, Ntobo, Masualle, Lerotholi, Mokhahlane, Moletsane, Mothoana, Moleko,
Tale, Ramabele

Ghana coach Kwesi Appiah is revealing his first strategy and starting 11 since he took over as Black Stars coach in April. The 2014 World Cup qualifying game against Lesotho is his first major assignment and he cannot afford to disappoint.
He is the most advantaged of the two men on the touchline. Appiah is not only playing at home, but he has a complete squad with rich foreign league experience. His counterpart from the southern African nation began building a new senior national team with an Under-20 side last year.
The odds favour Ghana. Little is known of the Crocodiles, and the strategy of opting to stay out of the 2012 Africa Cup of Nations to build a solid side will be tested against the Black Stars on Friday at the Kumasi Stadium.
There are no injury worries from both camps, and this game should be an interesting one, with the men from Lesotho with nothing to lose and the Ghanaians knowing that a good start is vital.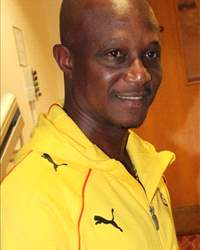 This is the second time coach Kwesi Appiah is fully in charge of the Black Stars at the Kumasi Stadium.
Ghana have scored seven goals in their two warm-up games ahead of the Lesotho encounter.
The Black Stars have an entirely new technical staff with many new faces in the team.
Lesotho did not enter the 2012 Africa Cup of Nations qualifiers, focusing instead on its youth team.
The Crocodiles were in senior national team football exile for two years and that led to a total overhaul of the team ahead of the 2013 Nations Cup and 2014 World Cup qualifying games.
One of their few foreign-based players, Bokang Mothoane, helped US Monastir win promotion back to Ligue 1 in Tunisia in 2011.
Lesotho are currently ranked 163th on the Fifa rankings.