Egypt have no room for error if they wish to continue on their path in 2013 Afcon qualification as only a two-goal win margin will do on Saturday against a motivated Fauves side

CENTRAL AFRICAN REPUBLIC

Lembet
Zimbori, Anzite, Enza-Yamissi, Keita,
Kago, Lignanzi, Dagoulou, Saoudi
Momi, Kethevoama


EGYPT
El Hadary
Fathi, Hegazi, Fathallah, Moawad
Shawky, Aboutrika, Ghaly
Geddo, Meteb, Salah

Less than a week after their 3-2 win over Guinea in Conakry in 2014 World Cup qualifying, Egypt were shockingly on the opposite end of the same score-line against the Central African Republic at the Borg El Arab stadium in Alexandria.
Even though they did not look their freshest physically, all started relatively well in that match as Mohamed Zidan gave the Pharaohs an early lead only for him and his team-mates to twice allow the Central Africans back into the game and then stunningly concede the winner in the second half.
While the defeat represented only Bob Bradley's second loss during his Egypt tenure, it was a particularly difficult one to swallow as it has put Egypt in the unenviable position of needing to win by at least a two-goal margin in Bangui in order to avoid the unthinkable: A second consecutive elimination from Africa's elite tournament which they had previously dominated for years under the guidance of Hassan Shehata.
On the other hand, Herve Loungoudji will have to find a way to convince his players that playing too conservatively could backfire given that the Pharaohs are poised to throw everything they have at the Fauves on Saturday. His men are not necessarily used to conserving such positive away results and are generally short on experience so this will be a huge test for them in that regard.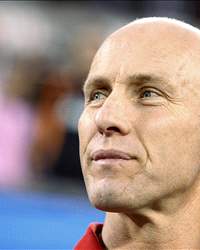 Egypt's Ahmed Elmohmady did not make the trip to CAR due to a hamstring injury and Bob Bradley has responded to Mohamed Zidan missing training by calling up Emad Meteb for this match.
While the Pharaohs are considered the giants of Africa with seven continental titles, including an unprecedented three in succession, Les Fauves have never even made it to the final stages of the tournament.

Egypt have only once before failed to qualify for the Africa Cup of Nations and that was last year when Niger surprisingly finished ahead of them, South Africa, and Sierra Leone.

The Central African Republic have recently had a good run of results at home against Arab sides, most notably their 2-0 win over Algeria and a goalless draw against Morocco in 2012 Africa Cup of Nations qualifying.
Centrafrique's 3-2 win over Egypt in Alexandria represented the first meeting ever between the two teams.
Pharaohs defender Mahmoud Fathallah has told the Egyptian media that although him and his team-mates clearly underestimated CAR in the first leg, he expects a show of character in the second in order to obtain the desired result in Bangui. "The true nature of Egyptian footballers comes to life in difficult conditions and we will fight to get through this phase. I believe we can do it," he said.