After a slow first half, Mexico came alive after halftime and put in five goals against El Salvador at Cowboys Stadium. Chicharito recorded a hat trick. Old memories showered over those who watched Mexico dismantle the United States in the 2009 final on the first day of this year's Gold Cup.
This time, however, it was El Salvador that suffered the wrath.
After a frustrating first half that left very little positivity amongst fans, El Tri came out firing in the second half and destroyed El Salvador with a full offensive arsenal in a 5-0 victory in the spectacular Cowboys Stadium.
Javier 'Chicharito' Hernandez recorded a hat trick for Mexico in front of over 80,000 fans, many of whom were there to see the CONCACAF region's best-known player.
Despite being ineffective in front of the net in the first half, the Mexicans quickly got on the board in the second half as Efrain Juarez shouldered the ball in after having his initial shot blocked by Miguel Montes.
That opened the floodgates. The next 12 minutes delivered three more goals for Mexico.
Aldo de Nigris put his team up two with a combo of skill and luck as he attacked three El Salvador defenders before putting the ball past Montes. Chicharito followed that up with a header past Montes in the 60th minute.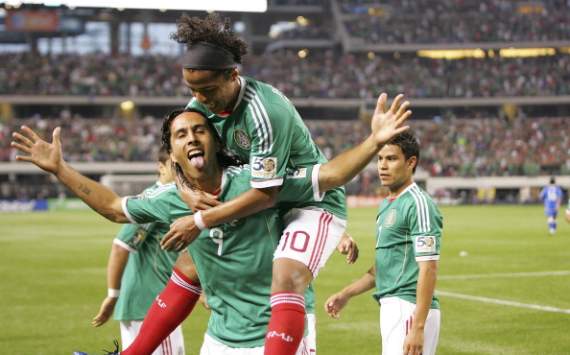 Six minutes later, Chicharito continued to pour it on El Salvador after a great combination. The Manchester United striker took a long pass behind the defense and was able to slot the ball past Montes to continue the rout.
Despite falling to 10 men due to Pablo Barrera's cramping in the 82nd minute after all three subs had been completed, Mexico still was able to score the fifth goal of the match.
Hernandez had one more in him after he took a great pass in the area and was brought down by Marvin Gonzalez. A penalty kick ensued, which Hernandez took almost disrespectfully by flicking the ball over Montes softly, as the El Salvador man dove to his right.
Mexico earned three points in Group A with two more matches left in group play. It will face Cuba this Thursday in Charlotte, N.C.
Follow Goal.com on

. Get the latest football news direct... Check out Goal.com's

page; be part of the best football fan community in the world!