It promises to be an exciting Round of 16 tie at the Renzo Barbera...
Coppa Adventure Beckons
Palermo have been looking very good as far as the league standings are concerned as the Aquile are very much in with a chance of finishing in the top-four in Serie A this season and qualifying for next season's Champions League.
With 31 points from 19 matches, Delio Rossi's side are fifth in the table and are just a point off the fourth spot. Unbeaten in their last five competitive fixtures, Palermo will now aspire to embark on the Coppa Italia adventure on a positive note.
Today's clash with Chievo at the Renzo Barbera will see Palermo face the Flying Donkeys twice in the space of four days. On Sunday in the league the Rosaneri were held to a goalless draw in Verona and today they will be aware that Stefano Pioli's side can be as tough and resilient.
Taking Encouragement From The Weekend
Chievo are in a wretched run of form as the Veronese club have not won in their last six competitive matches. Granted, two of those encounters include credible draws with Roma and Juventus, but defeats to Bologna and Lecce show that Pioli needs to inject more confidence and alter their shape to return to winning ways.
On Sunday afternoon the Flying Donkeys did show their resilience as they held Palermo to a goalless draw in Verona. The one point gained means that Chievo are 14th in the league standings with 22 points from 19 matches and are just four points above the relegation zone.
Chievo have already embarked on their Coppa Italia campaign and dispatched Sassuolo 2-0 in the third round and Novara 3-0 in the fourth round. Today's visit to Palermo will be the first time that they would have to confront a top-flight opposition in the Cup and it will be tough for them.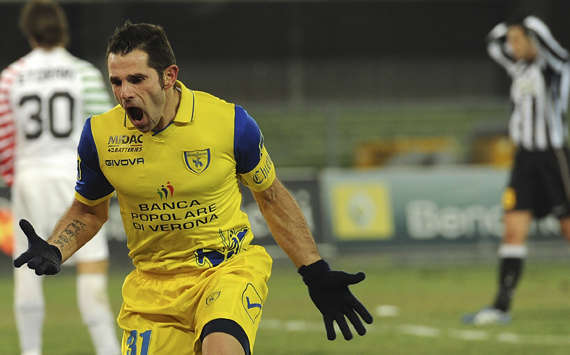 TEAM NEWS
Palermo

Delio Rossi has called up 23 players for today's game. Miccoli is expected to start upfront with Pastore and Ilicic playing behind him as the creative minds from the midfield.
Chievo


26 players were named in the squad yesterday evening. Pellissier and Moscardelli are expected to be the two strikers upfront. Constant is likely to line up just behind them as the side's playmaker.