On Form
San Jose Earthquakes
: Starting with the obvious: Chris Wondolowski, who grabbed himself a deserved hat-trick against Toronto. His clever runs and movement can befuddle MLS defences and have catapulted him from a bench player to a tie for third in the MLS scoring charts. Furthermore, he now leads MLS with seven game-winning goals. Just as crucial as Wondolowski in the Earthquakes' offensive effort was Geovanni, who pulled the strings in midfield, and Ryan Johnson, who notched two assists and showed signs of his 2009 form. Despite the two goals conceded, the central defensive pairing of Jason Hernandez and Brandon McDonald looked good and the midfield controlled play for a good part of the game.
Chicago Fire
: I may sound like a disgruntled reporter, but I honestly sat for several minutes today thinking about who I could possibly tab as being in on form, and I've got nothing. The last six weeks or so of the season the Fire has collectively been an awful team. Even Sean Johnson, who has been great ever since he took over in goal, did not have his best game over the weekend. This Chicago team is confusing, because they typically play hard, but they just have not been able to put it together.
Off Target
San Jose
: The Earthquakes seemed to lose a handle on the game in the last 20-25 minutes, conceding possession too easily and nearly letting Toronto escape with a draw. The 'Quakes also struggled in the final part of the previous game against Philadelphia and were lucky not to drop two points to a team they needed to beat. While there is a lot to be said for sitting and defending a lead in the final parts of games, the emphasis there is on defending. The defence did a good job to keep out most everything that was thrown at them, though did did let a few late chances through. While Toronto and Philadelphia may not have punished San Jose, you can bet that teams with more quality will take advantage of any defensive lapse late in the game, and Frank Yallop and his team must work to keep things tight.
Chicago
: This one is a bit easier believe it or not. Chicago has never found a rhythm on the offensive end. The problem is not so much finishing -- although that isn't their forte either -- but rather the lack of creativity in the final third. When Freddie Ljungberg joined it seemed as if they had remedied this issue, but they clearly have not. I have said it before, but what this team needed was to be assembled at the beginning of the season. It is certainly too little too late.
Tactics
San Jose
: With this home game sandwiched in between weekend away games on the East Coast, fatigue will almost certainly play a factor in Frank Yallop's decisions for the game against Chicago. While he is likely to go with a nearly (if not exactly) similar line-up to the one that faced Toronto, depending on the progress of the game don't be surprised to see some substitutions to rest key players ahead of the weekend visit to Columbus.
The Earthquakes have not traditionally been a possession-oriented team, but with Geovanni and Khari Stephenson settling nicely into the midfield, expect the Earthquakes to look to control possession a bit more. Furthermore, although Chris Wondolowski started the Toronto game at right midfield, he tended to get forward while San Jose was in possession, making the formation more of a 4-3-3, or 4-3-1-2, if you accounting for Geovanni dropping between Toronto's defensive and midfield lines. Expect to see a similar setup against Chicago.
Chicago
: It seems like no matter what Carlos de los Cobos has done this season tactically it has ended up not working. Early on it was all through Nyarko and Pappa on the wings, and then when Ljunberg and Castillo arrived it was more about playing through those two behind a lone forward. To be honest I am not quite sure what the tactics will be, and pretty sure De los Cobos is not sure either. I would like to see McBride and Ljungberg play together again up top because those two seemed to connect well.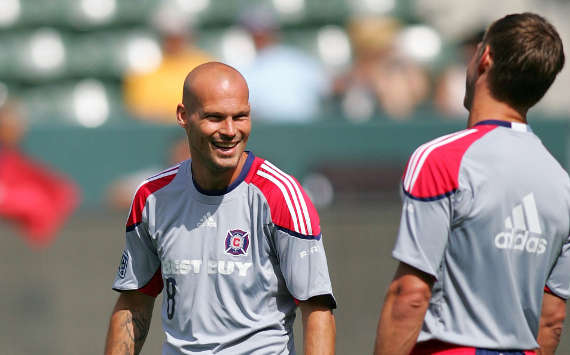 Intangibles
San Jose
: As mentioned previously, the Earthquakes have a particularly tough run in that sees them fly across the country twice in a week with this game against Chicago in between. Although they should still benefit from the ten days of rest prior, how Frank Yallop manages the stress of travel (the 'Quakes also travel to D.C. United a week after the trip to Columbus) and the six games in four weeks could play a crucial role in how the team looks coming into the play-offs. With a play-off berth looking increasingly likely, the team must now strike a balance between staying healthy and ensuring they can place high enough to get a favourable play-off matchup.
Chicago
: While the play-offs aren't technically out of the question, you can pretty much stick a fork in Chicago's season because they have been playing too poorly and there are too many teams ahead of them. It will be interesting to see how Chicago responds to a long road trip to San Jose for a midweek game that does not really matter at this point.
Prediction
San Jose
: It's got to be San Jose this week, but they will find a way to keep it interesting, like always. 2-1 'Quakes the final.
Chicago
: At this point a win on the road seems too tall a task for Chicago and I see them falling 2-0