Samp will hope to recover from the weekend's drubbing but could find it tough against the Sardinian visitors...
Slipping Into Mid-Table Mediocrity
Sampdoria commenced the 2010-11 campaign riding on the wave of optimism as they were one of the potential 10 sides who could finish in the top-four. At one time the Genoa-based side did look good enough for at least a Europa League slot but things have degenerated since the ostracism and subsequent sale of talisman Antonio Cassano.
As things now stand, Domenico Di Carlo's team are very much likely to finish in mid-table. Currently placed 11th in the league standings with 27 points from 21 matches, Samp are seven points above the relegation zone and nine points off a European place.
Encouragingly, they do have a game in hand but having won just one of their last six league counters, the Blucerchiati are as good as finished in terms of playing in Europe next season is concerned.
At the weekend Sampdoria crashed to a 4-0 defeat in Naples to Napoli - it was their third successive Serie A fixture without scoring a goal and with star striker Giampaolo Pazzini having left for Inter, their woes upfront are only going to multiply.
The Donadoni Turnaround
Cagliari confront a similar problem up front as they sold striker Alessandro Matri to Juventus on Monday. They received €2.5 million for the initial loan deal and will get a further €15.5m at the end of the campaign should Juve decide to make the contract a permanent one, and for an also-ran like Cagliari this is indeed good business.
Coach Roberto Donadoni, though, believes that they can cope without Matri for the rest of the season and enthuses, "Matri is a great player. He is a striker that makes the difference. However, we were not Matri dependent. We have also done well without him.''
The Sardinians are nine points above the relegation zone in ninth and under Donadoni have undergone a rejuvenation of sorts. At the weekend Cagliari defeated Bari 2-1 in what was their third victory in five league fixtures in January.
However, the Isolani have a poor record on the road in Serie A this season and Donadoni has warned his side to be at their best in Genoa, stating, "Sampdoria have some problems but, with a team like theirs, they are designed to solve those and give a different complexion to their season. We will do our best and play like Cagliari - with respect and without fear.''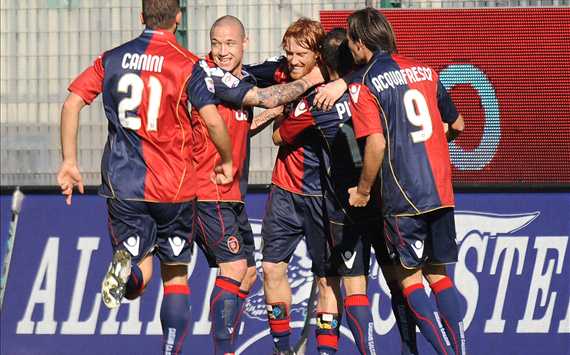 TEAM NEWS

Sampdoria
Semioli, Gastaldello, Lucchini and Pozzi are out injured and Perticone is suspended.

Cagliari
Laner is injured for Cagliari and will miss the trip to Genoa.