Gunners' season effectively came to an end after goals from Pennant, Jones and Walters won the match for a Stoke team on top form.

Shop the latest footy kit
Arsenal's tilt at the title officially came to a halt today as they were put to the sword in a 3-1 defeat by a Stoke City team, and Jermaine Pennant in particular, on top form throughout the match.
Pennant set up the first goal for Kenwyne Jones, before adding a spectacular second goal in the first half. Robin van Persie seemed to have earned a way back into the match with his goal 10 minutes from time, but Stoke responded immediately through Jon Walters to put the match to bed.
The match began with some choice chanting from the Stoke fans about Arsene Wenger following his comments deriding their so-called 'rugby tactics', and also criticising Arsenal for their "boring, boring" style.
Arsenal were dominating possession as expected, but the Stoke defence was holding out intelligently, holding off the Gunners and keeping a solid line at the back.
Aaron Ramsey carved open the Stoke defence to create Arsenal's first chance of the afternoon after five minutes for van Persie, but the Dutchman's effort was hurried and struck over the bar.
The first flashpoint came in the 15th minute, with Jack Wilshere's challenge on Dean Whitehead slightly after the ball had gone causing parties from both teams to get involved. The England midfielder avoided a booking, however, as referee Mark Halsey kept the situation under control.
The next 10 minutes passed largely without event, until Andrey Arshavin conceded a cheap free-kick on Jermaine Pennant down the right-wing. Pennant picked himself up and put in a delicious delivery that Arsenal did not deal with at all.
Van Persie missed his header, allowing Jones to bundle home from two yards to the delight of the Stoke fans, breaking out into renditions of "1-0 to the rugby team", before "Swing Low, Sweet Chariot" rang around the Britannia.
Arsenal really didn't trouble Asmir Begovic in the Stoke goal at all in the first half, and it was almost unsurprising when Stoke increased their lead in the 40th minute.
Ramsey, at the scene of his horrific injury last year, cheaply gave the ball away to Pennant, highlighting Arsenal's sloppy play in the first half.
Former Arsenal player Pennant then drove at the Arsenal centre-backs, and when no challenge arose, he drove a shot from long range, which took a very favourable deflection of the boot of Johann Djourou, and looped over the wrong-footed Szczesny.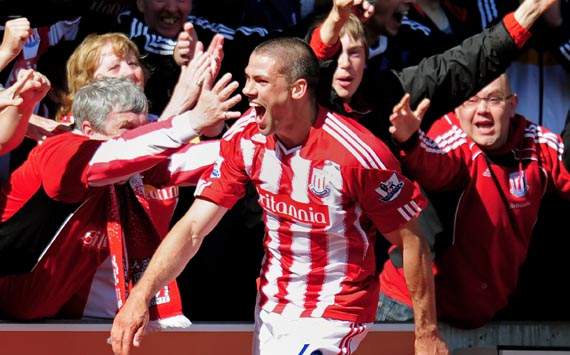 Potter gold | Jubilation at the Brittania after sealing victory
It was the last real action of the half, as Arsenal stuck to their plan 'A' in trying to break down Stoke with quick passing 30 to 40 yards from goal, but it simply wasn't working against the organised defence.
By the end of the half they were attempting more crosses, but to no avail as the centre-back pairing of Robert Huth and Ryan Shawcross easily dealt with any intrusion into the box.
Wenger rang the changes for Arsenal at half-time, bringing off Ramsey and Arshavin for Nicklas Bendtner and Marouane Chamakh, as the Gunners went in search of goals.
The second half almost started terribly for the visitors, however, when Huth headed just over from a Pennant corner. After the header, a terrible case of handbags broke out as the German defender seemed to get an elbow in the face from Alex Song, having dragged the midfielder to the ground.
Only a minute after the incident, Huth was on the floor again, and was soon forced from the field with injury, putting him in doubt for next Saturday's FA Cup final with Manchester City, though the Stoke medical team later stated they were optimistic he would be fit for Wembley.
It took until the 58th minute for Arsenal to get their first shot on target, and it was hardly a test for Begovic, stooping down to pick up a tame effort from van Persie.
And in the 61st minute came the first booking of the match, to the substitute Bendtner. It was Arsenal's 8th foul of the game, compared to Stoke's solitary indiscretion, a statistic which perhaps shows why Stoke feel they have unfairly been labelled as a dirty team.
10 minutes later the match threatened to boil over, as Wilshere put in a poor studs-up challenge on Pennant. After the referee had blown, Wilshere was then taken out by Andy Wilkinson. After this challenge, Wilshere was confronted by Pennant, full of rage.
Plenty more shoving was promptly cut short by a combination of referee and linesman, and a booking was given to both Wilshere and Pennant.
Arsenal then came as close as they had all match, as Bendtner slipped Van Persie through on goal, but Begovic was off his line quickly to close down the shot and make a fantastic block.
Tony Pulis then made a quick substitution, bringing off Pennant to a standing ovation, all too aware that a red card would earn him a suspension for next week's marquee event at Wembley.
Van Persie looked to have got Arsenal back in contention, with a sublime solo effort as he took on Stoke's defence almost single-handedly before striking low into the net with his right foot in the 80th minute.
But Stoke went straight up the other end and restored their two-goal advantage, as Djourou attempted to clear a shot, only for it to bounce straight to Walters, who clipped a neat finish over the advancing Szczesny.
It was a performance of the highest order from Stoke. Their defence excelled in robbing Arsenal of possession before setting up Jones and Walters to counter attack. Arsenal lacked in any sort of incisiveness, and did not seem to have any way through Stoke's wall-like defence, barring the individual brilliance of Van Persie.
For Stoke, it was the perfect way to approach next weekend's match with Manchester City, and they will arrive at Wembley full of confidence after this victory. For Arsenal, it only posed more questions about their style and even personnel, questions that Arsene Wenger will need to answer if they are to win the league next season.
Our

provides the best breaking news online and our

football fan community is unmatched worldwide. Never miss a thing again!