The striker came off the bench to help his team earn the three points ...
HSV emerged victors against Eintracht Frankfurt in a tightly contested affair at the Imtech Arena on Friday evening. After a quiet first half, the game came to life after the break with Mladen Petric netting the winner to fire the hosts to sixth place in the standings.
Hamburg started the game brightly and tried to take advantage of Eintracht Frankfurt's high offside trap. Oka Nikolov was called into action in the ninth minute when Anis Ben-Hatira managed to find himself in shooting position, but the goalkeeper was on guard.
The tempo of the game dropped, however, in the following minutes and most of the action commenced in midfield. Martin Fenin had a shot from the left side of the box saved in the 17th minute in what was a refreshing moment in a period that saw plenty of fouls.
There was some bad news for both teams in 33rd minute as Gojko Kacar and Alexander Meier were forced to leave the pitch after colliding with each other in their efforts to head a high ball in HSV's penalty box.
Ben-Hatira was presented with another chance in the 39th minute when he sent a timid header from 12 yards out after beating the offside trap. This proved to be the final moment of interest in an uneventful first half.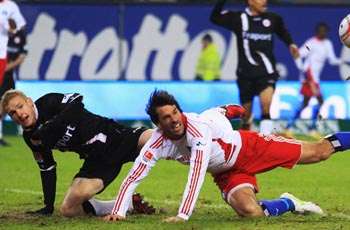 HSV took the second half by storm and nearly took the lead in the 48th minute when Eljero Elia was denied by Nikolov, who collided with the ball rather awkwardly. The hosts were looking increasingly dangerous with every second and it seemed like it was just a matter of time before they broke the deadlock.
In the 65th minute substitute
Petric
found himself at the right place at the right time to tap in from close range after being set up by Ben-Hatira on the right. Petric could have scored yet again in the 78th minute, but his finishing let him down as his shot flew wide of the post.
The visitors were rather unfortunate not to draw the game level in the 84th minute when Marcel Heller headed from close range only to see his finish rebound of team-mate Theofanis Gekas' head.
There were suspicions of a penalty for HSV in the final minutes of the game when Ricardo Clark contacted the ball with his hand, but it did not matter in the end as the hosts bagged the three points.
Following tonight's result HSV are sixth in the standings, while Eintracht Frankfurt are eighth. HSV's next league game is a visit to Nuernberg on the January 29, while Eintracht host Borussia Moenchengladbach a day later.