Barca keep chalking up the wins, but the new-look Boquerones will be hoping to spring a surprise...
No Stopping Them
Barcelona look as strong as ever. In the early stages of the season, Pep Guardiola's side were questioned, with critics citing a lack of goals, not to mention surprising home slips against Hercules, who won at Camp Nou, and Mallorca, who earned a draw. Those days of late summer are now a long forgotten memory, with Barca powering away at the summit of the Primera Division.
Challenges difficult for normal teams are made to look easy by the Catalans. A cross-town trip to Espanyol looked a difficult match on paper, with los Periquitos boasting a perfect home record, but la Blaugrana claimed a 5-1 victory with seemingly impossible ease. And as for their goal scoring problems? Forty-three goals in 10 Liga matches answers that question.
It's not only the excellence of this Barcelona side that is remarkable, their consistency and desire to produce that level on a regular basis is perhaps more so. Against Betis in the Copa del Rey, Guardiola's men could easily have relaxed, perhaps asked for a rest, but it is telling that Ballon d'Or winner Lionel Messi struck a hat-trick against the Segunda side, with fellow nominees Xavi and Andres Iniesta also prominent.
There is little chance of Barca resting on their laurels for a Liga encounter against Malaga. By the time they kick off, la Blaugrana could be second in the standings, but they will approach the game with the same relish as ever.
Big Test For New Look Side
Floating dangerously close to the relegation zone, it's not been a great surprise that nouveau riche Malaga have opened their chequebook this month. After a disappointing start to the campaign under Jesualdo Ferreira, Manuel Pellegrini has been tasked with the recovery process of the Andalucian club, and already the former Real Madrid coach has several new players to work with.
The Chilean made it clear from the outset that he was not impressed by the club's defensive record, and having been unable to greatly improve it with the tools initially at his disposal, he has added Argentina international Martin Demichelis to his ranks, not to mention promising young goalkeeper Sergio Asenjo on loan from Atletico Madrid. Additionally, Barcelona centre-back Gabriel Milito could be another to sign up on a temporary deal before the end of the month.
But Malaga won't be travelling to the Catalan city simply to try and complete the Milito deal; they are going with the intent of shocking la Blaugrana. Defensive solidarity may not be a hallmark of their game, but Asenjo believes his team-mates can fashion a few chances to score of their own, particularly since adding Julio Baptista to their ranks.
"It will be difficult, but we will have our opportunities," he told the press. "This is the last game of the first round of the season, and although we will go hoping to not lose the match, we will attempt to play to our own strengths."
Los Boquerones' form remains a little erratic, but under Pellegrini there have been signs of improvement, and the team will want to display that against the best at the weekend.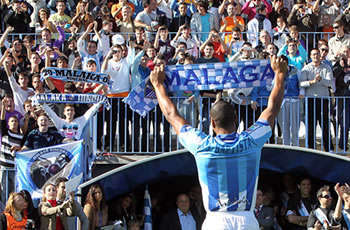 TEAM NEWS

Barcelona

Pep Guardiola will be delighted with Barca's injury position. La Blaugrana should have a complete panel of players on Sunday evening.

Malaga
Julio Baptista could debut on Sunday, joining other recent signings Sergio Asenjo, Martin Demichelis, Enzo Maresca and Ignacio Camacho in the squad.
Jose Galatto, Helder, Eliseu, Sandro Silva and Baha could all sit this game out.