El Geta host el Barralets after suffering midweek disappointment...
Been Better

Getafe have managed to install themselves firmly in a mid-table position, but there appears to be little prospect of the kind of heroics that saw them climb into Europe this term. On the other hand, Mallorca, whose expulsion from the Europa League opened the continental door for the Madrid club, are on something of a charge under Michael Laudrup.
Michel's side may not have slumped in the manner predicted by some in the media, but they are unlikely to pull away from their current mid-table standing in La Primera. Additionally, they are out of Europe after failing to overcome Odense on Thursday evening, thereby allowing the Danes an unassailable advantage over them.
Pedro Rios opened the scoring for the Spaniards, but the hosts levelled through Hans Henrik Andreasen deep in stoppage time to send the Madrid club home disappointed.
"We've been better," the coach confessed, though he was not too despondent. "We wanted the win. In the first half we had more control, we even had good chances."
Having failed in Europe, el Geta can now start to focus fully on their league campaign, which has been riddled with inconsistency thus far. Five wins and six defeats in 13 matches tell a story of a two—faced side, though after beating Mallorca 3-0 back in March, the capital-based club shouldn't go into this fixture too depressed.
Preparing For Stiffer Tests
Sixth in the Primera Division standings, after 13 rounds of action, Mallorca can look down and find themselves immediately ahead of Atletico Madrid and Sevilla, two outfits who had genuine Champions League aspirations at the start of the season. Michael Laudrup, however, was expected simply to plot against relegation, though els Barralets' form has proven rather better.
After travelling to los Nervionenses to pick up a remarkable 2-1 victory a fortnight ago, the Balearic club then recorded a highly creditable 2-0 victory over a Malaga side under new management. Pierre Webo and Gonzalo Castro, who is rumoured to be bound for the transfer list in order to raise funds, grabbed the goals just after half-time, earning the Islanders three merited points.
"We deserved the win, even though we played poorly in the first half, when we were not good," the Cameroonian told the Diario de Mallorca. "The coach corrected some details and we did it correctly, because we were much better later in the match."
Mallorca may be going comparatively well, but they certainly won't rest on any laurels. "We have defended well, and we have 21 points that sum up how the team is playing, but the second round of the championship is always the hardest," goalkeeper Duda Aouate stated.
Not as vulnerable as they once were on their travels, Mallorca will hope for three points against el Geta.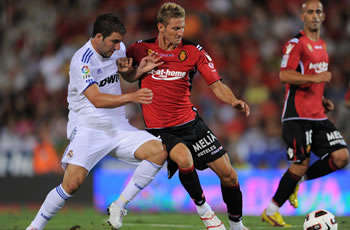 TEAM NEWS

Getafe
Mario Alvarez, Francisco Javier Casquero and Javier Arizmendi missed out on the midweek tie due to injury problems.
Mallorca
Sergio Tejera and Tomas Pina, who could be out for up to six weeks because of a knee problem, are fresh injury problems for the Islanders. Sergi Enrich, Tuni, Enrique Corrales and Marti are all residual issues from last week.
Goal.com is proud to be a premier partner of Digg.com and as such is pleased to offer exclusive invitations to our users to become a participant in the Alpha launch of the new Digg.com. Click here for your access code for the alpha site - act now as invitations are limited!