A victory against les Verts is imperative as Marseille aim to retain their Ligue 1 crown...
In Close Pursuit

Thanks to favourable results elsewhere, Olympique de Marseille remain firmly in the title race. Les Phoceens currently sit third in the table, six points behind league leaders Lille and one behind second-placed Stade Rennes, having collected 10 out of a possible 12 points since the winter break. With Lille and Rennes playing on Sunday, a win against AS Saint-Etienne would take Marseille into second, and leave them only three points off the summit ahead of the first leg of their Champions League last 16 tie with Manchester United on Tuesday.

Last Saturday's 1-2 away victory at FC Sochaux was an excellent result, particularly after les Phoceens were booed off the pitch by their own supporters following a slender home win over relegation-threatened Arles-Avignon the previous weekend.

"The fans are demanding, and it's normal," midfielder Edouard Cisse told OM.net. "The whistles in the last match were timely. They weren't satisfied with the way we were playing and nor were we. We won 1-0 but there were no war cries in the changing room. We did the job but no more."

Likewise, coach Didier Deschamps is confident that his team's hard-fought victory last weekend will have appeased their fans: "At Sochaux the supporters were plentiful, and they were very happy and proud of our performance. The public are not our adversary. We will need them on Saturday when our rival will be green and white."

The Stade Velodrome has proved to be something of a fortress this season, with Marseille's only Ligue 1 home defeat coming against newly-promoted Caen on the opening day of the season.

Shattered Confidence

After a crushing 4-1 home defeat against bitter rivals Olympique Lyonnais last weekend, Saturday's visit to the defending champions is undoubtedly the last thing that AS Saint-Etienne would have wanted. Although leading the Derby du Rhone 1-0 after the first 15 minutes, les Verts' subsequent capitulation has left them occupying sixth position in the Ligue 1 table, 10 points behind Lille and four points short of a Champions League place.

Unsurprisingly, the players are circumspect about the task that awaits them at the Stade Velodrome. Speaking to the official Saint-Etienne club website, midfielder Laurent Batlles, who scored in the 1-1 draw with les Phoceens at the Stade Geoffroy-Guichard in October, anticipated a testing encounter: "When we play at Marseille or at other clubs who are competing for the title, it is always complicated: the demands are always high.

"Marseille is always a very dangerous team. It's a team that blends highly experienced players and great quality. Marseille is always a candidate for the title of champion of France, as are Lyon and Lille."

Having lost three out of their last five matches in all competitions, Saint-Etienne might have hoped for a less challenging encounter to rebuild morale. Indeed, their away form this season has proved particularly ominous, contributing only 16 from a possible 36 points.

Les Verts will nevertheless be encouraged by their improvement from last year, when they faced a relegation battle and ended the campaign with a mere 40 points. Taken in this context, their current return of 35 points appears nothing short of extraordinary.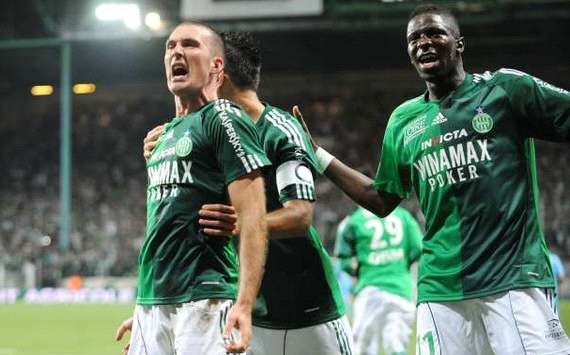 TEAM NEWS

Olympique de Marseille

While Mathieu Valbuena is still recovering from a knee injury and will not feature before Marseille's midweek Champions League match, Didier Deschamps will be relieved by the return of striker Loïc Remy following an illness earlier in the week. The heart of defence, however, may pose more of a problem for les Phocéens, where both Rod Fanni and Stéphane M'Bia are unavailable due to hamstring injuries.


AS Saint-Etienne

It will be a fairly complete Saint-Etienne squad that travels to Marseille. Substituted against Lyon after suffering an injury to his right thigh, right-back Loris Nery is unavailable, as is midfielder Alejandro Alonso, who injured his ankle prior to last weekend's derby. Although coach Christophe Galtier included 16-year-old defender Kurt Zouma and 18-year-old goalkeeper Germain Sanou in Tuesday's training session, it is uncertain whether either will feature on Saturday.