live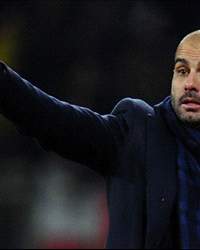 Chime in with Goal.com and other users and share your opinions.
Chelsea 1-0 Barcelona, follow all the action LIVE!
Join Goal.com for all of tonight's action from the Champions League semi-final at Stamford Bridge, as we bring you the latest team news, press conferences and analysis. Contact us on Twitter @goal_intl with any questions...

Hosted by Luke Matthews
204169
2012-04-18 22:57:21
Well my friends, that's it from me,
Luke Matthews
. Tonight we saw
Chelsea
earn a narrow 1-0 win against
Barcelona
to take a first leg advantage to Camp Nou next week, with Didier Drogba grabbing the only goal of the game.
Before I go, here is our rather impressive match report from tonight, even if I do say so myself.
Chelsea 1-0 Barcelona
Match Report
Thank you for joining on another action packed evening of Champions League football. Make sure you join us next Tuesday where I will be bringing you all of the news, action and reaction in the second leg semi-final between Chelsea and Barcelona at Camp Nou, while we will be around on Wednesday for Real Madrid versus Bayern Munich. Until next time, goodnight and God bless!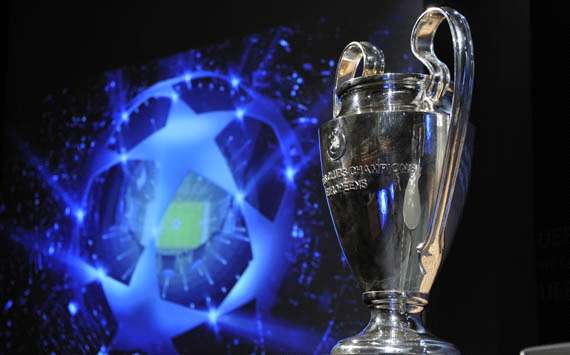 204168
2012-04-18 22:48:26
So before I bid you farewell this evening, here are all of the post-match reactions Goal.com have produced this evening. Remember to keep tuned throughout the rest of the evening and tomorrow as we will have even more comments to come from those involved tonight.

Iniesta bemoans Barcelona's poor finishing against clinical Chelsea

Guardiola: Chelsea are favourites to go through now

'We'll do the business in Barcelona' - Confident Terry backs Chelsea to progress to Champions League final

'It's still 50-50' – Di Matteo warns of tough second leg after Chelsea beat Barcelona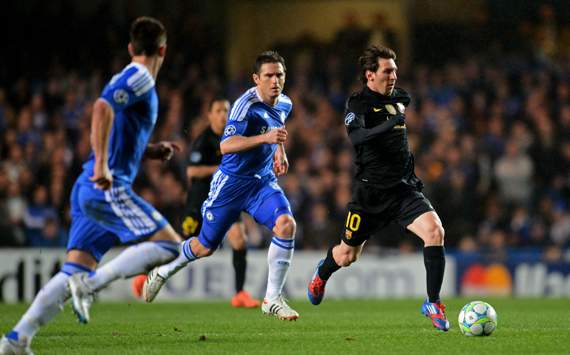 204167
2012-04-18 22:39:44
Earlier tonight we brought you a few words from Pep Guardiola but below you can read everything the Spanish coach had to say after Barca's defeat and the 41-year-old apparently believes Chelsea are now favourites to advance. Hmm, mind games perhaps?
Guardiola: Chelsea are favourites to go through now
204165
2012-04-18 22:34:43
We have some final reactions of this evening now from Barca's Pedro who used some pretty emotive words to describe his team's 1-0 defeat to Roberto Di Matteo's side tonight.
"We were better and it's a shame we couldn't win. I'm very confident that we can be able to overturn it. However, we feel disgraceful because we played a great match and we had this bad result. We looked like fools when they scored because we were clearly dominating."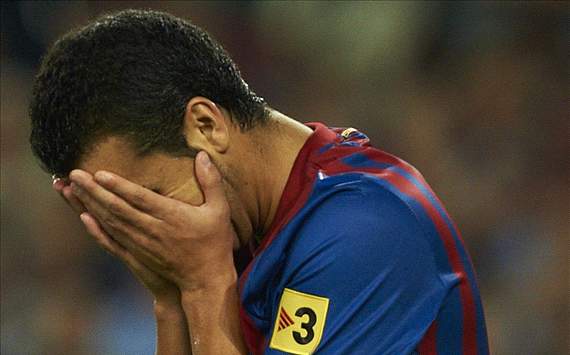 204164
2012-04-18 22:26:17
Time for some of your reactions via our Twitter and Facebook pages now with Mohammed Abu stating: "If Chelsea can defend like they did again in the second leg then why can't they qualify for the final? It seems a lot of people still have Barca as favourites but I do not see this myself."

Someone who would disagree with Mohammed is Chris Abi who believes: "Barca were not at their best tonight but they will still get past Chelsea as they are a different side at Camp Nou. 3-0 to Barca in the return leg with the Chelsea players left in tears!"
204163
2012-04-18 22:14:34
To add to our previous editorial on Barcelona misfiring tonight, here is Wayne Veysey's feature on Chelsea's night to remember at the Bridge and our correspondent was particularly impressed by Didier Drogba.

Didier Drogba - surly, theatrical, frustrating... but still Chelsea's doyen of destruction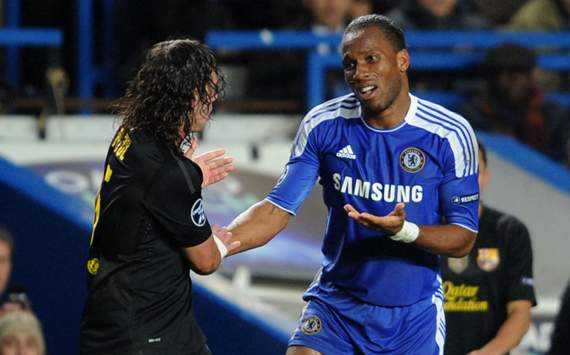 204161
2012-04-18 22:07:48
Time for some more reaction from Barcelona and Victor Valdes had the following to say to reporters after tonight's defeat to Chelsea in the Champions League first leg semi-finals.

"We are confident that we can overturn this, we generated many goal chances and we don't have to forget that, we will have our fair share in the return leg and I think we will make the most out of them, no matter what."
204160
2012-04-18 22:05:13
For those of you looking to place a nifty bet on who will win the Champions League with the semi-final first legs over, here is our piece on all the latest odds concerning Europe's elite football competition.

Barcelona now 11/10 for Champions League victory after 1-0 defeat against Chelsea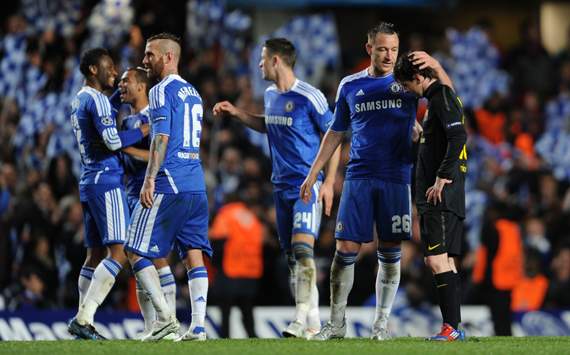 204157
2012-04-18 21:54:02
Amazing statistics for you here. Barcelona completed 782 passes tonight compared to Chelsea's 194. However, the home team ran a total of 107,342 metres compared to the Blaugrana's 104,917m.
204156
2012-04-18 21:50:26
204154
2012-04-18 21:44:36
Petr Cech was talking to Sky Sports after his side's victory this evening and the Czech goalkeeper was full of praise for his team-mates.

"There was amazing quality in the team, everyone gave 100 per cent. We are not used to playing all the time, 90 minutes without the ball. Mentally it is difficult to keep the focus. They are an exceptional side. They will always create something. We have been brilliant all over the pitch, the commitment to defend and cover everyone, we had a bit of luck but everyone did as they were asked.

"Let's see [what will happen] the last time we got a clean sheet at Camp Nou and we got a 1-1 here and we went out. This time they didn't get an away goal.

"The game are coming thick and fast and we don't really have time to think, every game is a big focus. Next we play Arsenal, which is a massive game and then we go back to Barcelona.

"We can be proud of what we have done today, it's never easy to say 1-0 is an advantage against Barcelona."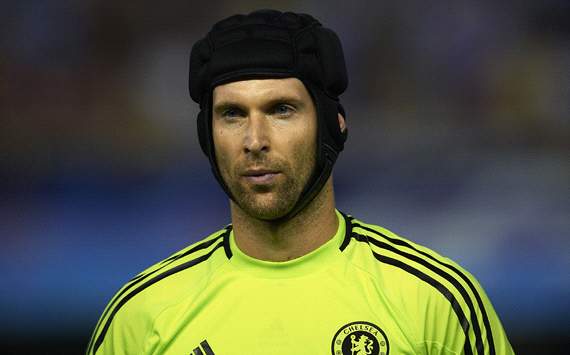 204151
2012-04-18 21:35:45
Now let's hear from Roberto Di Matteo who I think you will all agree, is doing a sterling job in charge of Chelsea. If he's not careful, he might ACTUALLY get the job at Stamford Bridge. Dangerous times...

The Italian was being interviewed by ITV SPORT after the game.

Was that a perfect game?

"Almost. It's a great result for us. You know when you play Barcelona, you're going to have to do a lot of defending. I watched them against all the other teams – [AC] Milan, Real Madrid – and they're going to have a lot of possession. You just have to try to limit their threat and then just be clinical when you get your chances."

Sum up Drogba's performance...

"He scored a crucial goal for us but it was a collective performance by the whole team. We knew that we were going to get chances and we managed to score the goal – he was in the right spot at the right time."

What have you proved tonight?

"Absolutely nothing. I think this group of players have shown again tonight their determination, their courage, and to play against the top team in the world, they showed what quality there is in this team."

Who are the favourites now?

"It's still 50-50. There's still the second leg to play away from home and, as we all know, it's going to be a difficult one."
204148
2012-04-18 21:30:58
And the award for quickest-ever post-match editorial goes to...Mr Kris Voakes. Our Kris has penned this speedy feature on Barcelona's failure to break down Chelsea this evening. Make sure y'all read it!

Messi misfires & Barcelona blunder as Chelsea claim unexpected first-leg cheer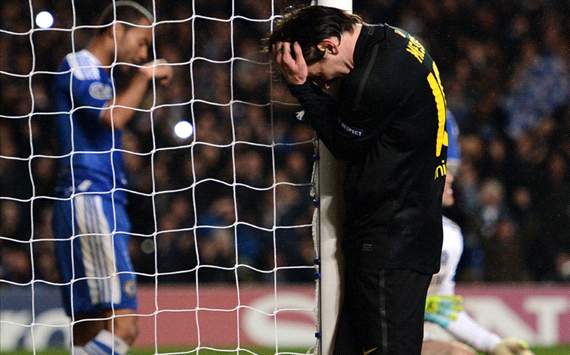 204144
2012-04-18 21:27:14
Pep Guardiola has been speaking to the media after his team's 1-0 loss to Chelsea tonight and we have a snippet of the comments he made. Full quotes to come of course.

"If football is about counting possession we would win every game. The game is putting the ball in the net."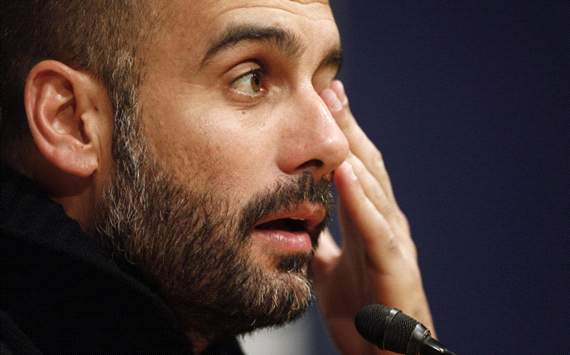 204141
2012-04-18 21:24:02
Guess who just tweeted the following: "Didier Drogba's newest fan. Holy s**tballs."

It's none other than Hollywood superstar and Arnold Schwarzenegger's big-little brother...Danny DeVito!

It seems the striker's diving antics are appreciated by at least someone.
204134
2012-04-18 21:14:36
Did you know?

Barcelona (24) had 20 more shots than Chelsea (four) this evening, the biggest difference by a side to lose in the Champions League this season
204132
2012-04-18 21:12:11
Following on from Drogba's comments to ITV Sport, John Terry also spoke after the game and was full of praise for his Ivorian team-mate.

"I thought tonight we had to be patient, we had an awful lot of possession early on, I don't think we touched it the first 10-15 minutes they are obviously a great side. We had to be really patient. It was a great, tireless performance by everyone.

"He [Drogba] is incredible, it's what he's all about these big occasions, you saw it on Sunday against Tottenham at Wembley. What he did to the Spurs back four, he put fear into them He's up there against some of the best defenders in the world on his own. It can be frustrating for him at time but he holds it up so well.

"I think clearly its going to be tough going there, we cleared a couple off the line, quite clearly they are going to have chances there on a big pitch, they are a great side, we showed tonight we respect them but we are not in awe of them and we'll do the business."
204127
2012-04-18 21:07:40
We can now bring to you the reaction of tonight's match-winner, Didier Drogba who I can confirm did manage to stay on his feet during the interview with ITV Sport.

"I think we learnt [from 2009 defeat]. We improved from three years ago because we didn't concede that goal, we are just happy for the result. It's a good one, 1-0 at home, is a good result. We will go here and try to score another goal and qualify.

"I think every Champions League game is going to be the same question [if it is his last in a Chelsea shirt at Stamford Bridge] and all I can say is that I am really happy to play these type of games.

"We came from a difficult time and now we are winning, it was difficult tonight but the most important thing is to win."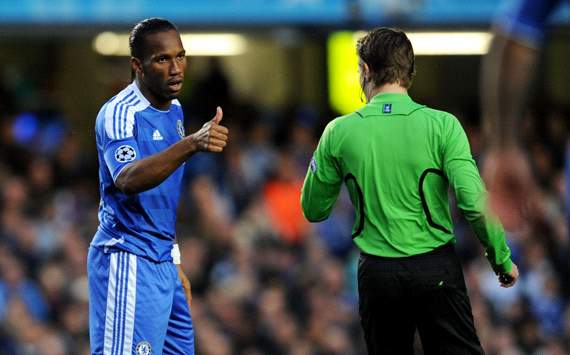 204120
2012-04-18 20:59:40
Did you know?

Since Roberto Di Matteo took over as interim manager at Chelsea, the team have won 10 games, drawn two and lost one in 13 matches.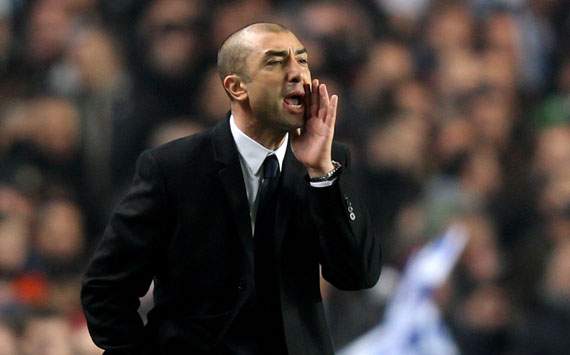 204117
2012-04-18 20:55:01
We can bring you now some final words of wisdown from Wayne Veysey who was at the game tonight watching Chelsea's 1-0 victory over the Catalan giants.

"Out-passed and outclassed but not out-fought, Chelsea parked the bus to wonderful effect here to take an against the odds advantage to the Camp Nou in six days' time. Barcelona dominated possession but were guilty of some dreadfully wasteful finishing and Chelsea rode their luck to keep the blue flag flying high. Commendations for Cole, Cech, Drogba and Ramires, who were all excellent."
Borussia Dortmund
FC Bayern München
Prediction Submitted
Most Popular Predictions
Borussia Dortmund 2-1 FC Bayern München

22.8 %

Borussia Dortmund 1-3 FC Bayern München

12.2 %

Borussia Dortmund 1-2 FC Bayern München

11.58 %