live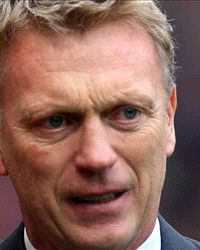 Real time, real news: Goal.com LIVE! brings you the action as it happens.
371942
2013-09-12 13:07:32
That's your lot from me today.

Mesut Ozil is an Arsenal player, you can stop pinching yourself.

Follow Goal this weekend as the Premier League gets back underway. We should see Ozil, along with the likes of Maraoune Fellaini, Victor Moses, Christian Eriksen and Samuel Eto'o all in action for their new sides.

Until then, it's goodbye from me!
371941
2013-09-12 13:03:49
He's only been here for two minutes, but the pessimists among you have already started...

@Goonerniketh: "if you dont win anything at arsenal after four years will you still extend your contract or will you move to other clubs? #AskOzil"
371940
2013-09-12 12:54:50
"A MAN'S SPORT"

A lot of you are a bit miffed about this constant talk of how physical the Premier League and if Mesut Ozil can cope.

This next tweet sums up many of your sentiments:

@VineshParmar4: "Such an archaic interpretation of the Premier League. Yes it's high intensity, but likes of Mata/Silva/Cazorla have flourished."

Germans are stronger than Spaniards anyway, right?
371939
2013-09-12 12:46:04
WENGER ON THOSE FINAL FEW HOURS ON DEADLINE DAY

"I looked a bit lonely when I said I was optimistic [about a big signing]. At the Tottenham game I thought we would manage it"

"We were open to bring one more player in, or two."
371938
2013-09-12 12:34:18
OZIL ON HIS HOUSE HUNT

"I'm still trying to find a flat or a house here. I've only been here for two days but I'm sure I will find somewhere nice."

Got a spare mattress at mine while you're looking Mesut...
371937
2013-09-12 12:31:05
WENGER ON HIS ARSENAL CONTRACT

"My own situation? We are not in a hurry. We are in September and my contract ends in June. There's a long way to go. There are no talks planned. I want to do well for this club, at the end I will sit down and decide how I have done for this club. Then I will say yes or no. You judge a manager on how he does with his team."
371936
2013-09-12 12:26:49
WENGER ON BALE, REAL MADRID AND THE DEADLINE DAY RUSH

"I wouldn't say it was easy. It was very complicated because the timing was short. On Sunday, just before the Tottenham game, I thought we had managed to do it. We were 90 per cent there.

"What's important for us is to find world class players and there aren't many around.

"Honestly, I think it was linked with the Bale transfer. I don't know why Madrid sold him - was it financial reasons? Was it because they had to let somebody go? I was surprised, yes.

"Of course [it's a statement]. We had to go through some years with restricted financial potential and the target was to stay in the CL during this period. We were able to do it and now we are strong financially."
371935
2013-09-12 12:24:39
WENGER ON OZIL'S POTENTIAL DEBUT

"I haven't decided whether he will play against Sunderland."
371934
2013-09-12 12:21:42
OZIL ON RESPECT AND TRUST

"I would have come here for nothing. That wouldn't have been a problem. Of course I'm proud of this but the most important thing is that the manager trusts me - this was the crucial point for me.

"I did not get the respect and the trust in Madrid. It was a bit difficult and when I talked to Arsene on the phone he was full of respect. As a player I need the respect. I felt that here and that's why I wanted to come. The topic of Madrid is good and I want to look ahead. I have wonderful years ahead he and I want to win trophies."
371933
2013-09-12 12:20:07
OZIL ON THE PREMIER LEAGUE

"I look forward to playing in this league, I've watched a lot of Premier League games because Spanish games were always so late in the day. Of course it's physical but it's a man's sport. I want to prove myself in England, it's the best league in the world. I've proved myself in Germany and Spain and I know I will prove myself here as well."
371932
2013-09-12 12:18:56
WENGER ON HOW HE CONVINCED OZIL

"We speak in German. When Mesut [Ozil] went to Real Madrid we were already in touch back then, I wanted to get him to Arsenal. I didn't get him but that was the start of the relationship. the second time it worked - and I think the first contact really helped."
371931
2013-09-12 12:17:02
"I'M A GUNNER" - OZIL'S FIRST* WORDS IN ENGLISH
*And only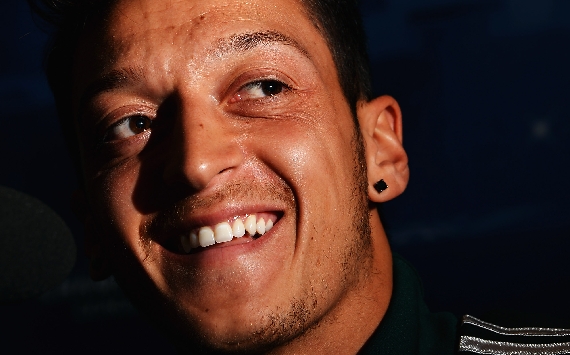 371930
2013-09-12 12:15:22
OZIL ON HIS CURRENT TEAM-MATES

"I look forward to playing with the whole team. It would be wrong to name a few individual players - I'm looking forward to playing with everybody."
371929
2013-09-12 12:14:47
OZIL ON ARSENAL'S PLAYER DEVELOPMENT

"I know how successful Arsenal have been and players like [Thierry] Henry and [Cesc] Fabregas. I know the move here is the right one for me. Many young players came here, improved and became the best players in the world."
371928
2013-09-12 12:12:52
OZIL ON THOSE WHO HAVE CRITICISED THE MOVE

"I'm not disappointed. I'm at Arsenal now, one of the biggest clubs in the world. Of course I had a very good time in Madrid, I have lots of friends there and good moments. You could see the fans and players didn't understand the move but this is football and you always have to look ahead. I'm in the strongest league in the world and I have to improve myself here. I'm at the right club."
371925
2013-09-12 12:08:27
OZIL ON REAL MADRID

"I don't want to say anything bad about Real Madrid because I had three wonderful years there. We achieved trophies and I had a great time there. The people who know me know how professional I am. I played 159 games - you can't play that many games if you're not professional. I don't care about the rumours, people know how professional I am. I'm in london now, we have big goals here and we will work hard to reach them."
371924
2013-09-12 12:06:03
OZIL ON WINNING TROPHIES AT ARSENAL

"I can't promise to win trophies but as a team we will give our all to win trophies. We want to play attractive football. I know the team, the talent we have here. Arsenal is one of the biggest clubs in the world, we want to achieve something in this team.

"The league is the strongest in the world but we will give everything to have success."
371923
2013-09-12 12:04:20
ARSENE WENGER ON HOW OZIL WILL FIT IN

"The plans are quite simple - that he plays at his best. He has the style of play that fits in our game - technical ability, creativity - and all the attributed to succeed in this team."
371922
2013-09-12 12:02:06
OZIL ON WENGER

"It was the most imporant for me what he thinks about me what his plans are for me. I decided to come to Arsenal because I had the trust and a family environment here. He told me what he thinks about me and that's why I chose Arsenal."
371921
2013-09-12 12:00:22
OZIL ON ZE GERMAN CONNECTION AT ARSENAL

"Of course I couldn't really think much about Arsenal because I had to focus on the National Team. I spoke to [Lukas] Podolski and [Per Mertesacker] Mert about Arsenal and how the club works. Of course I'm new here and I'm curious. I only heard good things. This is a successful club with young players who develop well here and this is one of the reasons I've come here. I'm really happy to be here under such a big manager."