live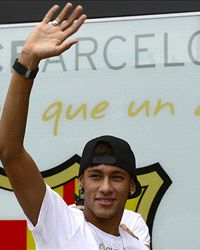 Real time, real news: Goal.com LIVE! brings you the action as it happens.
337336
2013-05-25 19:28:02
Right, let's check in with Dortmund fan Stefan Dorin, who, unsurprisingly, is loving the fact that Jurgen Klopp's men have given their massive travelling contingent plenty to shout about in the opening 40 minutes.

"Great game! Borussia clearly is clearly dominating the match and, of course, the stands. But it's a shame that the score is still 0-0. But it's good to see our team standing up to Bayern again, especially in midfield. The tension is immense, though!"
337331
2013-05-25 19:23:17
This one is really warming up now, with both Robben and Lewandowski having been denied in their respective one-on-ones with Weidenfeller and Neuer. Ladies and gentleman, I'm growing increasingly confident we might have a classic on our hands. Now, all we need is a goal ...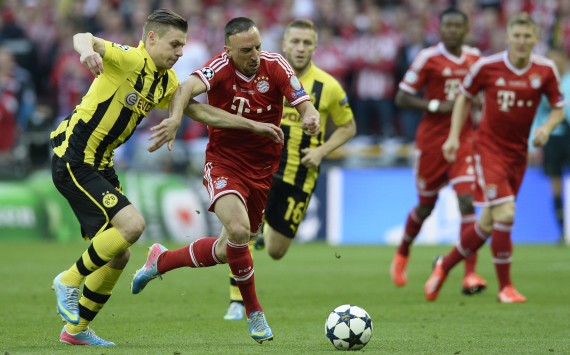 337328
2013-05-25 19:20:43
Mario Balotelli might not be involved tonight but you can't keep an incredibly loud man down/quiet, and he's taken to
Twitter to voice his support for Dortmund
, who of course played their part in dumping the forward's former club Manchester City out of this season's group stages.
337325
2013-05-25 19:17:41
BAYERN HAVE WOKEN UP! After sleepwalking their way through the opening quarter of this game, Bayern arise from their slumber to draw a stunning save out of Weidenfeller, who somehow managed to get his fingertips on a fine header from Mandzukic and tip the ball over the bar. Seconds later, Javi Martinez nods just over from the resulting corner. Bayern literally arrived 20 minutes after Dortmund - and it's been the exact same story in terms of the game.
337315
2013-05-25 19:11:45
More from our man about the town, Jay Jaffa:

"I would say it was an even battle between both sets of supporters outside Wembley but Dortmund are definitely edging it in the pub I'm in. The streets of central London are quieter than usual and every bar I walked past is spilling out onto the road. London is at a standstill.
337314
2013-05-25 19:10:02
Reus is involved again, drawing another decent stop out of Neur. Early days, of course, but Bayern look like they might bottle another final! Die Roten fan Tobias is somewhat concerned - but feels Dortmund will pay for their profligacy.

"It is a match where every situation feels like the decisive one. Our start is certainly not good, with Dortmund putting lots of pressure on us. Maybe that was unexpected.

"But look at the bright side: A team that did not convert one of three chances against us probably won't win. We do not give away way more chances than that."
337308
2013-05-25 19:04:06
TERRIFIC STOP FROM NEUER! Just moments after a corner forced by a long-range strike from Lewandowski, Gundogan angles the ball wide to Reus, who picks out Blaszczykowski at the near post. The latter connects with the cross first time, but Neur is equal to it. That was a fine reaction save, but Dortmund should be ahead. And you know what, Dortmund deserve to be ahead. We're 15 minutes in but Bayern haven't started yet.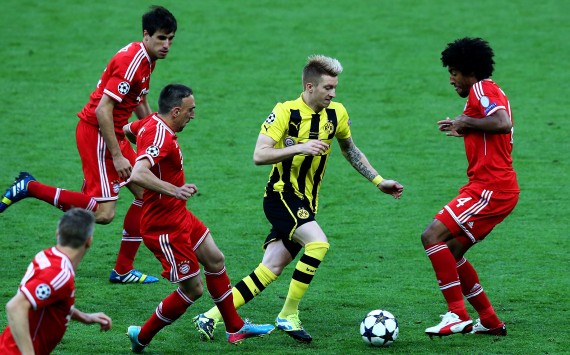 337299
2013-05-25 18:59:07
Nothing to get too excited about just yet from a Dortmund perspective, but they are looking more purposeful than their heavily-fancied opponents, and Blaszczykowski has just had the first real shot in anger. It was a dreadful attempt, to be fair, but there's no denying that Dortmund have demonstrated the greater attacking intent thus far.
337295
2013-05-25 18:53:56
Bit of a cagey opening at Wembley. Hardly surprising, of course. Familiarity breeds contempt, as these two have shown in recent years, but it also breeds caution and it is worth remembering that both of their Bundesliga meetings this seasoned ended all-square.
337291
2013-05-25 18:47:49
I'm happy to report that not only is the Champions League final under way, Bastian Schweinsteiger is a part of it having shaken off that knock he received during the warm-up.
337286
2013-05-25 18:46:13
We're just about ready to roll. I'll be keeping you up to date with all of the action right here, but if you want play-by-play commentary, check out our
LIVE Match Centre
here
.
337278
2013-05-25 18:43:06
Right, folks, the teams are in the tunnel and we're just about ready to go. This promises to be an absolute cracker, so fingers crossed it lives up to its billing. It's Borussia Dortmund versus Bayern Munich in the final of the 2013 Champions League and we're just three minutes away from kick-off!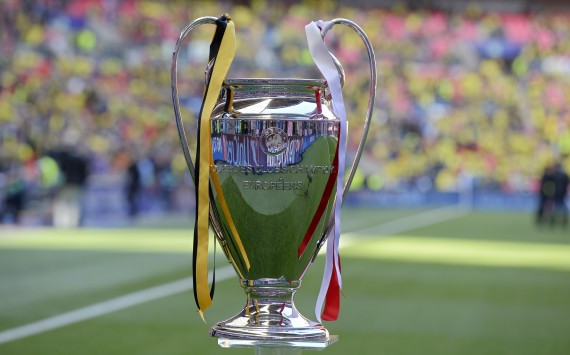 337271
2013-05-25 18:40:36
However, former Dortmund attacker Marcio Amoroso believes the fact that Bayern are being widely tipped to win counts for nothing tonight.

"Everyone says Bayern are the favourites, and I believe they are. But when it comes to the real thing, that doesn't exist. They'll be playing in neutral field, with split fans... When it comes to the fans, I think Borussia is much better served."
337262
2013-05-25 18:37:02
Let's here from a couple of Brazilians with a keen interest in this game. First, former Bayern midfielder Ze Roberto, who has some interesting things to say on this all-German final.

"The German school has always been one of strength rather than technique. Today, they have found the perfect balance between the two things. That's why they've grown so much in the last few years. This final between two Germans shows the strength of the country's football.

"But the biggest difference between my Bayern and today's Bayern is that today the team is really forward-driven. It's a strong group, that plays together for a long time. They have a very experienced coach. And the players are all of international level. I see Bayern more prepared for the final.

"It will be a very good final, but I think Bayern has the advantage."
337255
2013-05-25 18:32:36
Very worrying scenes for Bayern fans!!! Bastian Schweinsteiger is struggling. He's receiving treatment on an apparent ankle injury after being levelled by a strong challenge from Mario Mandzukic during the warm-up. Yes, you've read that right: Schweinsteiger has been injured by his team-mate!

However, the watching Christoph Metzelder is in no doubt that the Bayern midfielder will still start, telling Sky Germany: "As long as he can shoot he will play."
337250
2013-05-25 18:29:14
Right, just to explain, we have three representatives at Wembley tonight:
- Tim Rohn, Goal Germany correspondent
- Stefan Doring, Dortmund fan
- Tobias Kind, Bayern fan
Let's check in with Tim to get a taste of the pre-game atmosphere inside the ground ...
"30 minutes to go until kick-off and the atmosphere is already amazing. Both groups of fans sing songs to rile the other ones. But everythings is peaceful. Jurgen Klopp stood some minutes alone at the kick-off-point and let all the Wembley madness have an effect on him."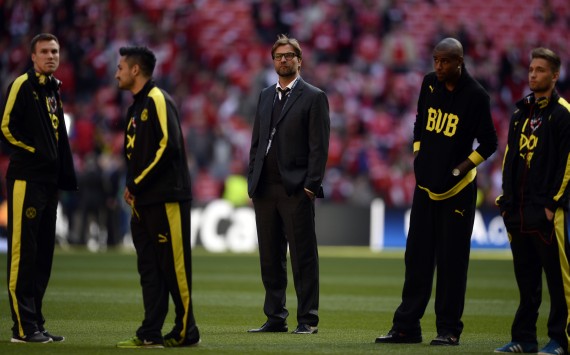 337242
2013-05-25 18:25:14
The phrase 'mixed emotions' seems made for Matthias Sammer, the legendary sweeper who inspired Dortmund to Champions League glory in 1997 but who is now employed by Bayern Munich. However, he's doing a pretty decent job of putting his old allegiances to one side ahead of tonight's final.

"It is hard to talk about feelings ahead of a match," the Bayern sporting director told Sky Sport Germany. "We want to show what made us strong all these weeks.

"We may not forget that Dortmund lost twice and drew twice in our last four matches. But they will present themselves differently tonight, that is for sure."
337230
2013-05-25 18:19:09
And one final question for Carlo ...

@OmarAb96: What is the most important battle on the pitch tonight?

CG: This is going to sound like a cliche, and probably not the answer you are looking for but whichever team is more clinical will win the game. That is the real battle, more so than any individual contest because these are two sides who value the collective. I expect Bayern to have more possession, but Dortmund are still incredibly dangerous on the break. Bayern may create more chances, but Dortmund will have their opportunities too. It really depends who is more efficient.

And like I said earlier, the first goal will be crucial. If Bayern score first, it will be very difficult for Dortmund to come back.
337219
2013-05-25 18:13:11
Carlo's now had his attention turned to the intiguing arrival of a certain Spaniard at the Allianz Arena this summer ...
@A_Mostefa17:
Do you think Bayern will be even better with Guardiola next year or will it all go wrong for them?
CG:
Everything suggests that Guardiola's Bayern will be a great team. The setups at Bayern and Barcelona are comparable, both on and off the pitch. Only Barcelona have monopolised more possession than Bayern over the past two seasons, while the Germans have enough top quality young players for Guardiola to build a great team around.
Everything is there for Guardiola to do well, the problem is that if Bayern win tonight and clinch the treble - as expected - how on earth do you better that? The simple answer is you can't. So Guardiola will almost be in a no-win situation from the outset, and that is never an easy starting point.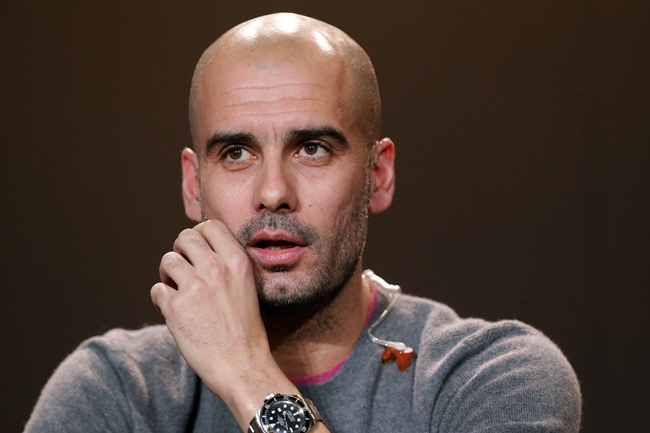 337206
2013-05-25 18:09:27
And the rest of that response (trust me - it gets even better!) to the question on whether Germany deserves four Champions League places:

CG: Germany took a place off Italy purely because Uefa's coefficient system - which rewards the same number of points to Europa League competitors as it does for those in the Champions League - was so ludicrously flawed.

There is no doubt that the Bundesliga is on the up and Serie A has since struggled in Europe - and this season Germany has proven its worth in the Champions League - but the league should hever have been granted a fourth place until they earned it in the Champions League ... not in a Mickey Mouse Cup that no one outside Germany and the minor nations takes seriously.