live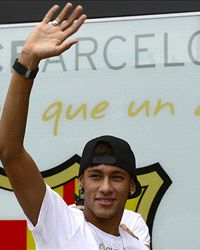 Real time, real news: Goal.com LIVE! brings you the action as it happens.
337446
2013-05-25 20:42:06
Our matchwinner is in tears. And he's not the only one, as our man Jay Jaffa reports:

"I underestimated the Bayern support; there's a girl crying next to me!"

I think there's going to be plenty of tears shed tonight, among both sets of players, and both sets of fans.
337440
2013-05-25 20:38:40
BAYERN MUNICH ARE THE CHAMPIONS OF EUROPE!!
Die Roten
have done it. They have beaten compatriots Borussia Dortmund at the death. It was a truly epic encounter, a credit to the Bundesliga. That will be of no consolation to Dortmund, of course, who, to a man, have fallen to their knees. But so too has Arjen Robben. Franz Beckenbauer said at half-time that the Dutchman seemed destined never to score in a major final, but he's done it tonight. By God, has he done it tonight. Borussia Dortmund 1-2 Bayern Munich.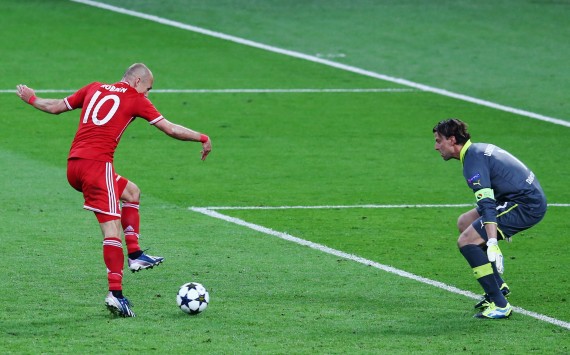 337434
2013-05-25 20:35:19
You have to hand it to Robben for the way in which he finished that chance, having already wasted two one-on-ones. The winger looked almost overcome with emotion as he wheeled away to celebrate the most glorious goal of a career that has had many ups and downs. But one also has to spare a thought for Dortmund: they're fans look utterly distraught.
337431
2013-05-25 20:32:41
IT'S ROBBEN! IT'S REDEMPTION FOR ROBBEN!!! Arjen Robben has most probably just won the Champions League for Bayern. A year after missing a penalty in the heartbreaking defeat by Chelsea, the much-maligned latches onto a backheel from Ribery, eaves a couple of flailing Dortmund legs before coolly rolling the ball past Weidenfeller to put Bayern 2-1 up with just over 60 seconds of normal time remaining. Sensational.
337426
2013-05-25 20:30:30
Weidenfeller saves Dortmund again! Lahm cuts the ball back and Muller cleverly steps over it, allowing the onrushing Schweinsteiger to unleash a fierce drive that Weidenfeller does well to beat away!
337422
2013-05-25 20:26:43
Well, a penny for this guy's thoughts, as he watches his current club battle it out with his next club for the biggest prize in club football ... Is he really making the right decision ditching Dortmund for Bayern this summer?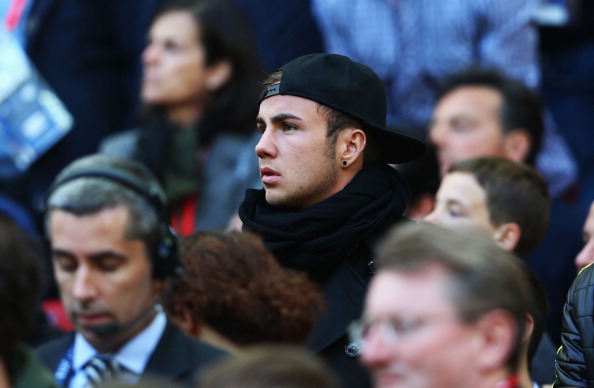 337419
2013-05-25 20:23:02
Dortmund on level terms but perhaps lucky to be so. First, Alaba draws another full-stretch save out of Weidenfeller, before Mandzukic fires into the side netting after being slipped in by Muller, who is furious that the referee did not penalise Subotic for pulling him back. If Rizzoli had, that would have been a red for the centre-half, who was Dortmund's last man. Anyway, 10 minutes to go in this cracking contest!
337416
2013-05-25 20:21:11
Unsurprisingly, things are really heating up in the pub our man Jay Jaffa is watching the game in with fans from both sides:
"Ilkay Gundogan drew the loudest cheers of the night until Neven Subotic's unbelievable goalline clearance. There's a more divided feel to the support in Bierschenke now and every Dortmund fan celebrated Subotic's saving challenge as if it was the winner. What an enthralling final this has been!"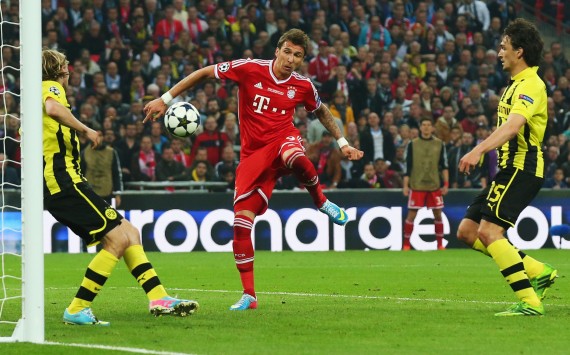 337412
2013-05-25 20:18:43
BRILLIANT FROM SUBOTIC! The sliding Serbian somehow manages to hook the ball off the line, after Muller had skipped around Weidenfeller and fired goalwards. Terrific defending! Moments later, Lewandowski does find the back of the net, with a stunning dipping volley from distance, but the whistle had already blown for a handball by the big Pole. We'll give Neuer the benefit of the doubt and say that's why he didn't get a hand on it!
337406
2013-05-25 20:14:26
To score a penalty in a Champions League final takes real bottle (just ask John Terry!), so for Gundogan to convert what was his first ever spot-kick for Dortmund is seriously impressive. Talk about ice in the veins.
337401
2013-05-25 20:12:53
... AND HE SCORES!!!
Gundogan sends Neuer the wrong way, firing low to the goalkeeper's left to level the Champions League final. What a response from Dortmund! But seriously, what a terribly executed challenge from Dante! He didn't even get near the ball!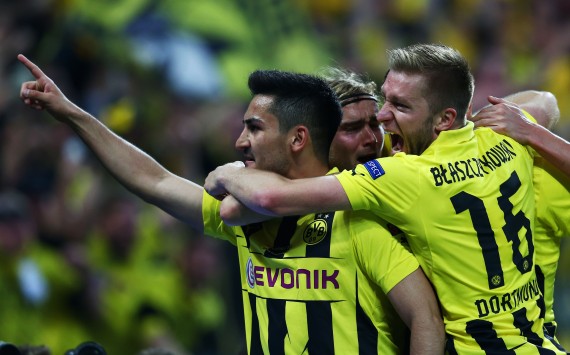 337395
2013-05-25 20:10:12
PENALTY!!!!!!!!!!!!! Reus surges into the area and is clumsily booted in the stomach by Dante. Dreadfully sloppy challenge from the Brazilian. Gundogan is going to the take the penalty ...
337387
2013-05-25 20:03:11
GOOOOOOAAAAAAAALLLLLL!!!!!!!! BAYERN MAKE THE BREAKTHROUGH!!!
Just moments after heading a Javi Martinez flick-on straight at Neuer, Mandzukic fully vindicates his selection in the Bayern starting line-up ahead of Mario Gomez (as if his superior work-rate wasn't reason enough alone!) by being on hand to convert a cut-back from Robben. A simple goal for the Croat - but an absolutely massive one. Just how will Dortmund react to having gone behind?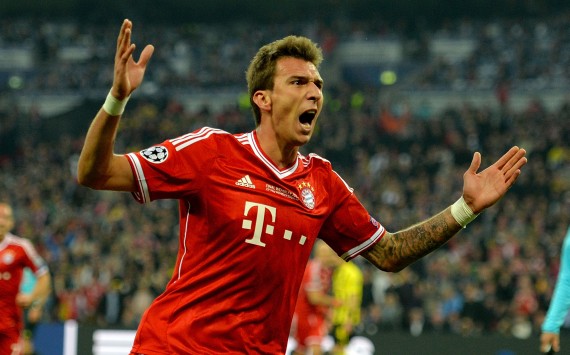 337376
2013-05-25 19:55:53
Franz Beckenbauer is never one to mince his words and he's been disappointed - yet not in the least bit surprised - by Arjen Robben's finishing tonight.

"It just seems like Arjen Robben can't score in decicive matches," the legendary libero told Sky Germany during the break.
337372
2013-05-25 19:53:44
The latest from the Bayern bench is that centre-half Jerome Boateng is struggling with a slightly bruised thigh. He's keen to play on, but that's obviously one to watch. Should he be forced off, one imagines Van Buyten will come on in his place.
337364
2013-05-25 19:49:14
The second half is just under way, but just to give you the thoughts of three-time World Referee Of The Year Markus Merk, who is working the game for
Sky Germany
tonight. He feels that Ribery's elbow on Lewandowski during the first half could easily have been construed as deliberate by match official Nicola Rizzoli.
"Ribery was very lucky," he argued. "If the referee judges this as an intentional act, he can easily give a red card. I cannot understand why a player like Franck Ribery behaves like this in a Champions League final."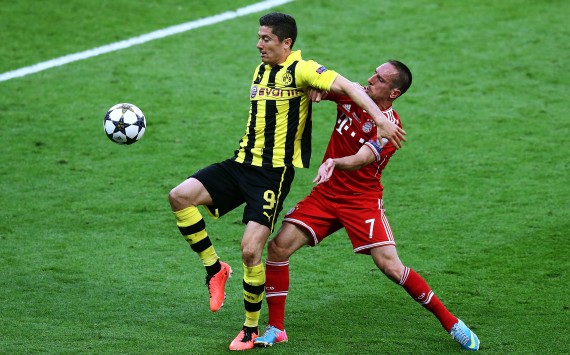 337355
2013-05-25 19:43:13
Jay Jaffa is watching the game surrounded by German fans and he's picked up what he has described himself as a tremendously "precise" prediction from one supporter.

"We've had boos, moans and groans throughout the half from fans unhappy with Bayern's resurgence. The loudest cheers of all have been saved for Roman Weidenfeller though, after two exceptional saves from Arjen Robben. There's no doubt, in this pub at least, that the support lies with Dortmund and a friendly chap named Andreas believes BVB will come out on top, insisting: 'We will get stronger as the game goes on and Lewandowski will score in the final 10 minutes.' About as precise a prediction as you can get!"
337352
2013-05-25 19:40:24
Bayern have really come into the game and have had some great chances, but, for my money, Dortmund shaded that opening 45 minutes. They also shaded the poll Goal ran on Facebook earlier. We asked you who would win at Wembley tonight and 55 per cent of you sided with the underdogs. It really will be fascinating to see if Klopp's men can pull this off in the second half, which is just five minutes away.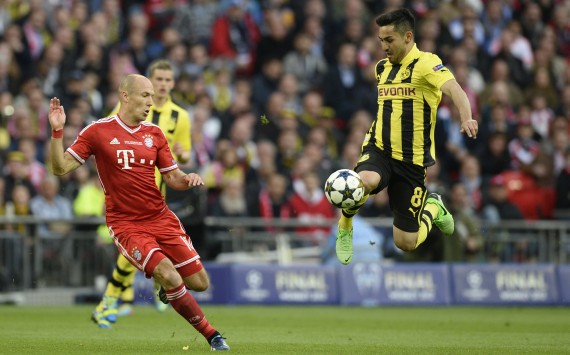 337349
2013-05-25 19:36:54
Half-time at Wembley and we're still scoreless. Quite how is beyond me, because both sides have had some wonderful chances but both Neuer and Weidenfeller have proven unbeatable up until this point. It really does look like it's going to take something special to break the deadlock.

Arjen Robben has looked the man most likely, having had two one-on-ones already, but Goal Germany's Tim Rohn says the Dutchman has annoyed his team-mates no end during that opening 45 minutes.

"There were two chances in which Robben should have passed into the middle. But he decided to take both himself - without success. Mandzukic was furious on one occasion, while Muller just shook his head. Robben's selfishness pleases only Dortmund's fans."
337341
2013-05-25 19:31:40
WEIDENFELLER SAVES WITH HIS FACE! Robben gets in on goal again, this time after Hummels fails to deal with a long ball over the top. The Dutch winger lets rip but Weidenfeller gets his mush in the way and the ball flies away to safety. The Dortmund shot-stopper knew little about that but, you have to say, both goalkeepers have done wonderfully well thus far to keep this one scoreless.