live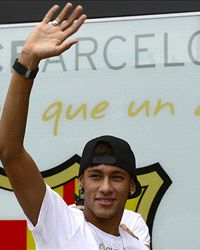 Real time, real news: Goal.com LIVE! brings you the action as it happens.
339115
2013-06-03 15:47:01
There's just much hype and excitement around this transfer that I think the question on everyone's lips is: just how good is this kid?
Well, he's certainly quick, that's for sure. In a recent Paulista game against Sao Paulo,
he was clocked at 34.7 km/h
. To put that in perspective, Usain Bolt's top speed is 44 km/h.
Of course, he's got a lot more to his game than just pace, but what do you make of Neymar? Send us your thoughts on
Twitter
or
Facebook
and I'll post the best/most entertaining comments on here.
339114
2013-06-03 15:40:39
Right, let's get the latest from Goal Spain's Pilar Suarez:

"Marcos Malaquias (one of Neymar's agents) has arrived at the Barcelona office right now with some friends of Neymar. They are going to sign the contract right now."

After that, it'll be a photocall with some officials from his new club before being brought onto the field to meet an estimated 60,000 Barcelona fans, which would eclipse the crowd that congregated at Camp Nou in 2009 to welcome Zlatan Ibrahimovic from Inter. Fair to say Barca will be hoping that Neymar proves a bigger hit in Catalunya than Ibrahimovic, whose spell with with Blaugrana was ... how shall we put it? ... eventful!
339112
2013-06-03 15:34:06
Typically, Real Madrid tried to hijack the deal (is there nothing these two clubs won't do to try to antagonise the other?!) but after a two-year courting period,
Barcelona finally got their man/kid on May 26
.
Now, while Neymar was in action for Brazil against England last night (he impressed in fits and starts in the 1-1 draw in Rio), he's currently in Catalunya and has already undergone a medical and partaken in a photo call, as you can see from this rather cheesy - but obligatory - 'thumbs-up' below ...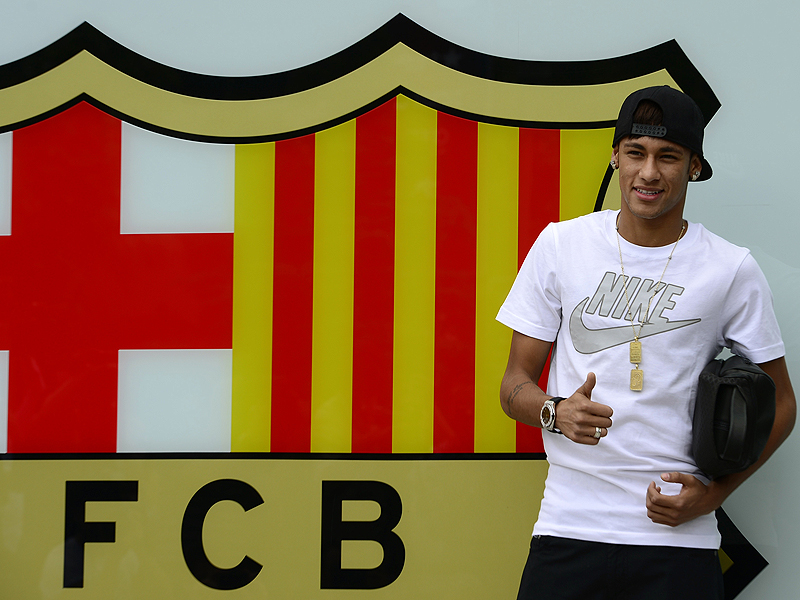 339110
2013-06-03 15:29:23
Hello world, my name's Mark Doyle and welcome to Goal's LIVE coverage of Barcelona's unveiling of their latest Brazilian superstar, Neymar. Or, if you're not into the whole brevity thing, Neymar da Silva Santos Junior.

Yes, that's right, having had their threadbare back-line brutally exposed by Bayern Munich last season, the Blaugrana decided that they had to address their defensive deficiencies - and fast.

So, before the 2012-13 campaign had even finished, they decided to bolster their back four - by signing the most exciting young forward in the game today.
337544
2013-05-25 22:08:04
Right, that's just about it from me, folks. Thank you so much for all your contributions. We hyped this one up. We said it was going to showcase everything that is great about German football. And you know what? It delivered. It was an absolutely absorbing final between the continent's top two sides, a fitting conclusion to what has been a fantastic tournament. Impossible not to feel so, so sorry for Dortmund but they need only to look at what Bayern have done tonight, lifting the trophy just 12 months after throwing it away, to see that it's possible to bounce back from this kind of devastation.
But Bayern deserve this. They've paid their dues and nobody can dispute that they are the best team in Europe. Bayern, we salute you. Over to everyone else now to try to come up with a way to beat this most wonderfully balanced of sides! But, until next season, good night - and good luck.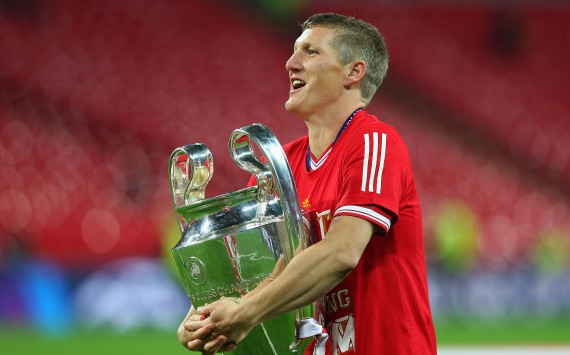 337541
2013-05-25 22:00:18
Dortmund boss Jurgen Klopp has finally faced the press and, judging by his comments, is a tad upset with perhaps something other than the final scoreline.

"First and foremost, congratulations to Bayern Munich because they won so it's not important to speak about what happened in the game," he told ITV1. "After the game you have to respect the result and that's what we do now.

"I didn't see (Robben's) goal. It was a free-kick and we were not in the right formation at that moment. It was late in the game and it has been a really hard season for us. But Bayern Munich had to fight too. We deserved to be in the final and we showed this tonight."
337538
2013-05-25 21:56:17
Sir Alex Ferguson also has a new job... Well, kind of. The former Manchester United boss was entrusted with the honour of presenting the man of the match award after the game and relished the task: "It's my first job since I retired and it's a pleasure!"
Robben humbly received his accolade before commenting: "I think it's such a shame a world-class trainer is leaving the game." Quite.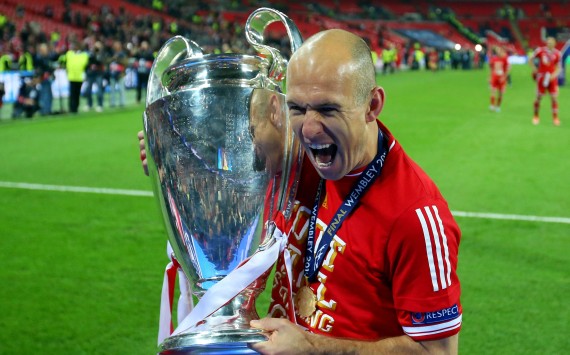 337532
2013-05-25 21:51:00
Heynckes, class act that he is, was also quick to empathise with a devastated Dortmund.

"I told their players: I know your disappointment after losing a final. I lost a final to Liverpool, too.

"During the first half we had trouble to get into the game. At half-time a adjusted our play. I think both teams felt pressure. If you see that you have a 25-point-lead in the league, it is normal you are the favourite. But after 30 minutes we freed ourselves.

"Over the past year, we improved and improved. We improved and modified so many details. I was stricter and I have to say that the players followed me and there is harmony in the dressing room."
337530
2013-05-25 21:48:37
And finally we get to hear from Bayern Munich boss Jupp Heynckes, who will be replaced by Pep Guardiola this summer.
The big news is, though, that he seems to have a job lined up for himself, which restores one's faith in our fickle game, given the man is now a two-time Champions League winner!
"The decision on what I will do after the DFB Pokal match (against Stuttgart next saturday) was already taken last June? Retire? No, you will learn that after the DFB Pokal final."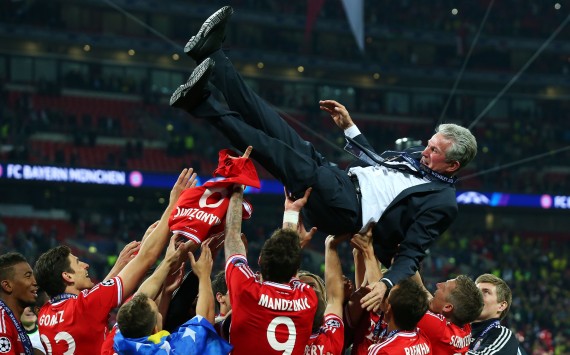 337526
2013-05-25 21:43:18
Here's a
snap feature
from the brilliant Kris Voakes, who praises Arjen Robben for finally conquering his demons to secure European glory for Bayern Munich.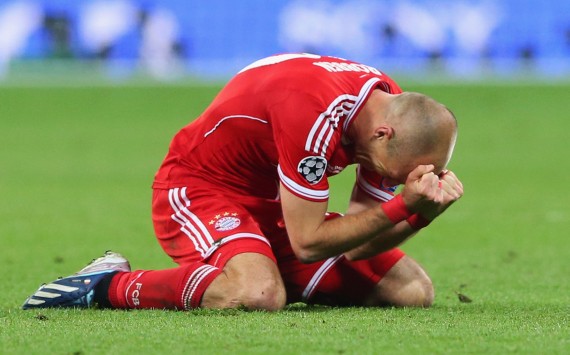 337523
2013-05-25 21:41:26
Philipp Lahm is also relieved that Bayern have finally banished the memory of their heart-breaking - and thoroughly undeserved - loss to Chelsea last season.

"We worked unbelievably hard in last year's final and finally we have been rewarded," the Roten skipper enthused.

"We had to got through so much. But everybody worked so hard in the last months and weeks and now we have finally won it."
337520
2013-05-25 21:39:38
Even better stuff from Manuel Neuer, who arguably kept his side in the game during the opening 25 minutes, who admitted to Sky Sport Germany:

"I have to admit: after it went 1-1, I was scared as s**t! You remember how it went last year. The feeling when we scored was undescribable."
337503
2013-05-25 21:22:53
Terrific stuff from Bayern attacking midfielder Thomas Muller, the kind of socks-around-the-ankles player that I think any true football fan inherently adores.
"It is hard to describe," he told
ZDF
. "I am completely done, I have cramps left and right. But I did not go off the pitch and it paid off. Physically I am over the limit now.
"When you are 68 years old and you have a record season and then you win the Champions League and have the chance for the triple, you can be happy you are 68 and not 25. Because then you can retire."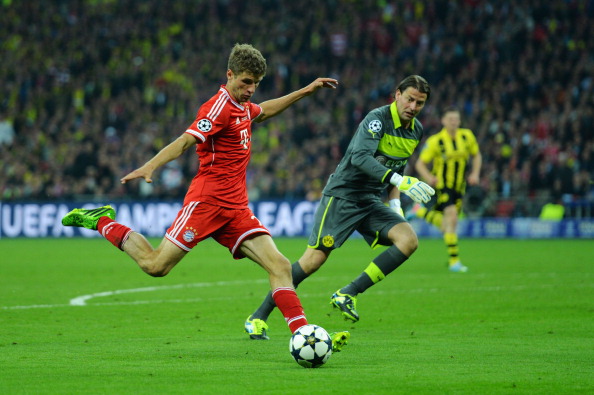 337500
2013-05-25 21:17:08
An word from Goal Germany correspondent Tim Rohn on a night of redemption for Bayern Munich:

"One year after that bitter loss to Chelsea the Bayern are now the ones dancing on the pitch. BVB gets a farewell with much applause and a scraf parade. No matter that Bayern won: For every german football fan in London this will be a very long night."
337497
2013-05-25 21:13:15
Happily, Dortmund's players aren't feeling too down about things. They're proud of what they've done, and rightly so. They've lit up the competition with their fearless brand of football.
"We are proud," Weidenfeller told
ZDF
. "We stood up to Bayern and we've had a great season in the Champions League. We gave everything and did our best to win that trophy. But we will come back again."
Sebastian Kehl added: "We played a fantastic match and gave a great account of ourselves. We can be proud. And of course we will attack again next season."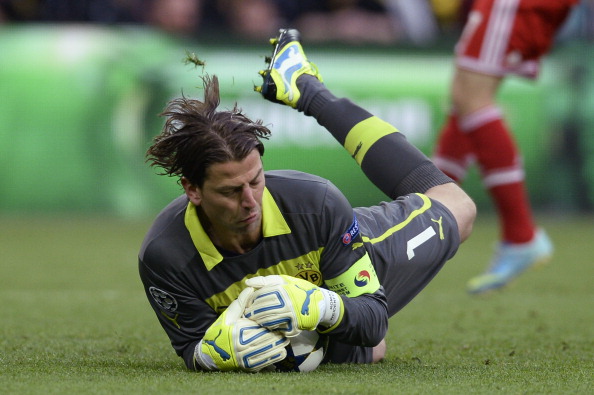 337493
2013-05-25 21:07:00
Some early reaction from the man of the moment, Arjen Robben, who's unsurprisingly overcome with emotion.
"I heard so many people saying in the last weeks saying they would grant me this. They told me: 'You'll score the goal.' It's not quite sunk in yet. There's a lot of emotion.
"You know, this was such a close match. A match with two teams at the same level. It was an even game: they had chances; we had chances. For the goal, though, I just reacted to Franck's flick and then the ball went in."
You'll never hear or read a more simplistic description of the Dutchman's Champions League winner!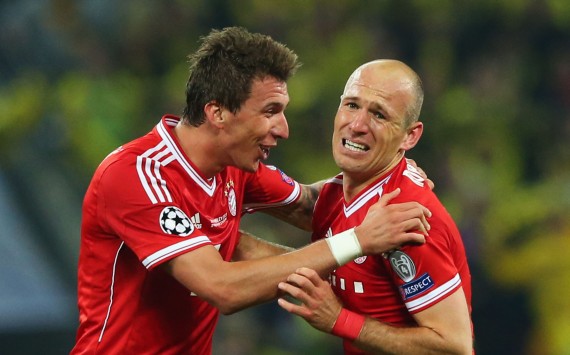 337485
2013-05-25 21:03:08
Now it's Bayerns turn to climb Wembley's not-as-famous-as-they-used-to-be steps to collect their reward for sweeping all before them in Europe this season. They wait for their captain, Lahm, who takes a moment to compose himself before hoisting the Champions League trophy. After the misery of Munich 12 months ago, Bayern are now basking in the wonder of Wembley. Dortmund were magnificent but few could argue that Bayern have not been the best team in the Champions League this season. They deserve this, their inauguration as the new kings of Europe.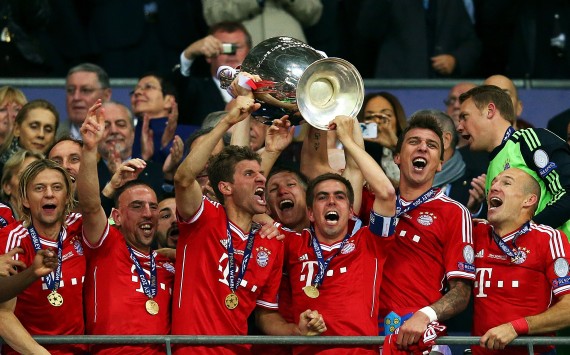 337462
2013-05-25 20:51:41
Dortmund's crestfallen players are currently receiving their runners-up medals while Bayern are dancing down below. Such a contrast. Such a cruel game. But then, such is life. And life, as the Irish poet Keating memorably sang, is a rollercoaster - you've just got to ride it. Indeed, this fantastic Dortmund side will be back. Klopp will see to that - provided they don't keep losing all of their best players to Bayern of course ...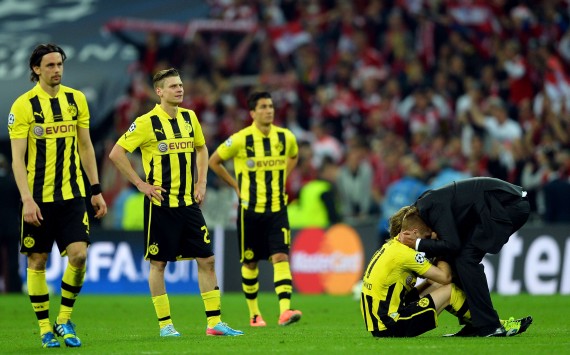 337459
2013-05-25 20:50:07
Is it just me or is there a look of Tardelli about Robben in that pic below (albeit with less hair!)? His joy almost appears painful. Like it's all too much for him to take; that the enormity of what he's done, and what it means to him, is almost unbearable.
337452
2013-05-25 20:46:07
We may have had a dramatic late winner at Wembley but that hasn't stopped us getting our
match report
and
player ratings
out bang on time. Both goalkeepers were absolutely sensational tonight but, for me, perhaps for sentimental reasons, Robben's man of the match. Once Bayern belatedly got themselves into the game, he was their principal goalscoring threat.